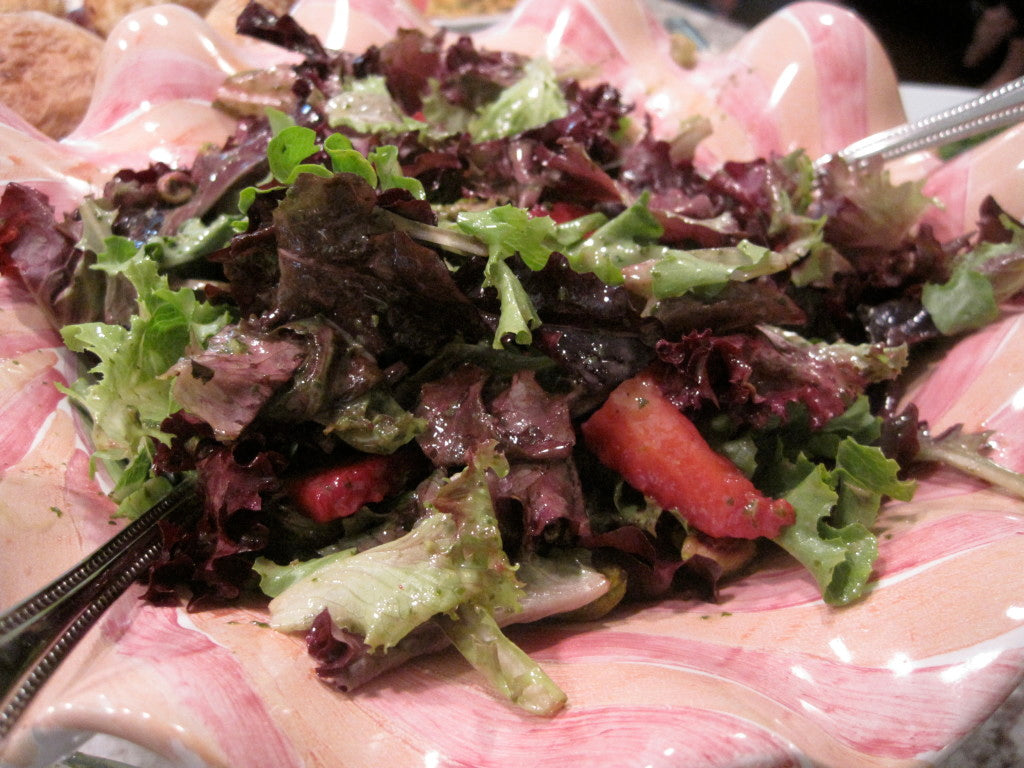 Jazzing up a salad for spring entertaining is as easy as adding a few special ingredients, like toasted pistachio nuts and sliced strawberries.  The mint vinaigrette gives the salad a fresh taste, and the strawberries and nuts provide great contrast in texture and flavor.  I love to serve this salad as part of a brunch menu.  I usually make extra dressing so I have it for a quick weeknight meal.  Add roasted or grilled chicken to this salad and you have yourself a healthy lunch or dinner.
This salad travels well if the ingredients are kept separate and tossed together when ready to serve.
Pistachio & Strawberry Salad with Mint Vinaigrette
Ingredients
1/4 C. shelled pistachios, toasted
1/2 C. strawberries, sliced
5 oz mesclun salad or baby romaine salad mix
1/2 C. mint vinaigrette (recipe below)

For the mint vinaigrette:

1/2 cup olive oil
1/2 cup mint leaves, tightly packed
1/4 cup white wine vinegar
1 Tbs. Dijon mustard
1 Tbs. honey (or agave nectar)
1/8 tsp. kosher salt
fresh ground pepper, to taste
In a large food processor, blend the oil and mint until well combined. Add the remaining ingredients and blend until fully combined.
Toss salad ingredients with dressing in a large salad bowl. Serve immediately.
Notes
Maked about 1 cup of dressing and can be stored for up to 3 days in the fridge (bring to room temp before serving).
http://stylishspoon.com/2011/05/17/pistachio-strawberry-salad-with-mint-vinaigrette/
Copyright Stylish Spoon - www.stylishspoon.com - All rights reserved