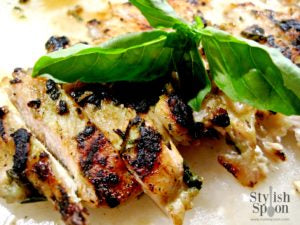 I thought I'd post one of my favorite grilled chicken recipes for all those grilling over the holiday weekend.  Basil & garlic rubbed grilled chicken doesn't sound particularly exciting, but this herb smothered chicken is really delicious.  This recipe is ideal for a last-minute dinner because the chicken absorbs the intense flavor of the basil without any significant marinating time.  I like to slice the chicken and serve it over salad with a simple balsamic vinaigrette.
Basil & Garlic Rubbed Grilled Chicken
Ingredients
3 cloves garlic, minced
1 tsp. kosher salt
½ C. fresh basil, chopped
½ tsp. fresh-ground black pepper
½ Tbs. olive oil (plus additional for grilling)
4 boneless skinless chicken breast halves, pounded to ½" thickness
Place garlic in mortar and mash with salt to form a paste. Add basil and black pepper and continue mashing until well combined. Add in just enough olive oil (about ½ Tbs.) to form a paste. Combine basil paste with chicken in a ziplock bag and turn the bag several times to coat the chicken with the basil. Set aside for 5 minutes while you prepare the grill (or grill pan).
Heat the grill or grill pan over medium-high heat. Rub grill or pan with olive oil. Grill chicken, turning once, until cooked through (about 3-5 minutes per side).
Notes
To save time, ask the butcher at your grocery store to pound the chicken into cutlets for you, which cuts down on the cooking time.
http://stylishspoon.com/2011/06/30/basil-garlic-rubbed-grilled-chicken/
Copyright Stylish Spoon - www.stylishspoon.com - All rights reserved