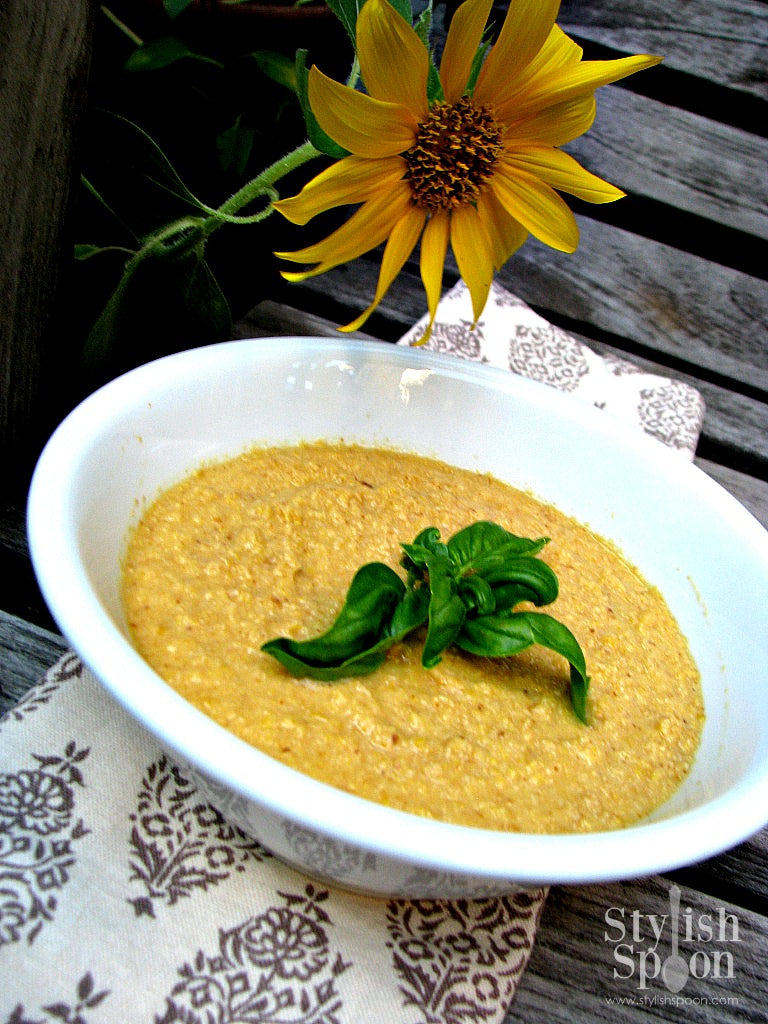 With plenty of fresh corn coming in from my CSA crop-share, I decided to use it all at once by making a vegan corn chowder.  The recipe, inspired by Bobby Flay's Bar Americain Roasted Corn Soup, uses the corn stalks to make a rich broth.  It isn't a quick soup to make, but the recipe can be made in stages (I made the stock and roasted the corn one night, and put it all together the following day) and is worth the effort.  The soup comes out creamy and rich without a hint of milk.  I used a little butter to give the soup a bit of richness, but you can easily use a "buttery" spread in equal proportions to make this soup truly vegan.  My corn was super sweet, but if it's towards the end of corn season or the off season, you may want to add a little agave nectar or sugar to sweeten it up a bit.  This soup makes great leftovers and the taste actually improves after a few nights in the fridge.  Serve it with some warm sourdough bread and a salad tossed with basil vinaigrette for a light late-summer meal.
Vegan Roasted Corn Chowder
Ingredients
9 ears fresh corn on the cob, silks and husks removed
1 small Spanish or yellow onion, coarsely chopped
1 medium carrot, coarsely chopped
2 Tbs. olive oil
1 Tbs. unsalted butter or vegan buttery spread
3 large cloves garlic
2 cups low-sodium chicken or vegetarian stock, or water (optional)
Kosher salt and freshly ground black pepper
2 tsp. agave nectar (optional)
To make the corn stock:

Using a sharp knife and standing each cob of corn vertically in the middle of a medium bowl, cut the kernels off of the cob. Repeat for all of the cobs, placing the kernels in a bowl and setting them aside. Break each cob in half and place in large stockpot with onion and carrot. Cover with 8 cups of cold water. Bring to boil over high heat, reduce heat to medium-low and simmer for 30 minutes, or until stock is reduced to about 3 cups. Strain the stock into a large bowl, reserving stockpot to make the soup.

To make the soup:

Preheat oven to 425 degrees. Line baking sheet with tinfoil and coat with cooking spray. Place kernels on prepared sheet, along with whole garlic cloves and 2 Tbs. olive oil; toss to coat kernels with olive oil. Roast corn and garlic until lightly golden brown, stirring a few times (about 20 minutes).
Heat butter in stockpot over medium-high heat. Add roasted kernels and garlic, and stir to coat with melted butter. Add corn stock and bring to boil, reduce heat to medium and simmer for 30 minutes, stirring occasionally. Add additional cup of stock or water (optional), depending on how much liquid is left after simmering (the more liquid you add the thinner the soup; for a thicker soup add less additional liquid).
Using an immersion blender or regular blender, blend until mostly smooth. Season to taste with salt and pepper. Taste for sweetness and, if needed, add a few teaspoons of agave nectar.
http://stylishspoon.com/2012/08/14/vegan-roasted-corn-chowder/
Copyright Stylish Spoon - www.stylishspoon.com - All rights reserved