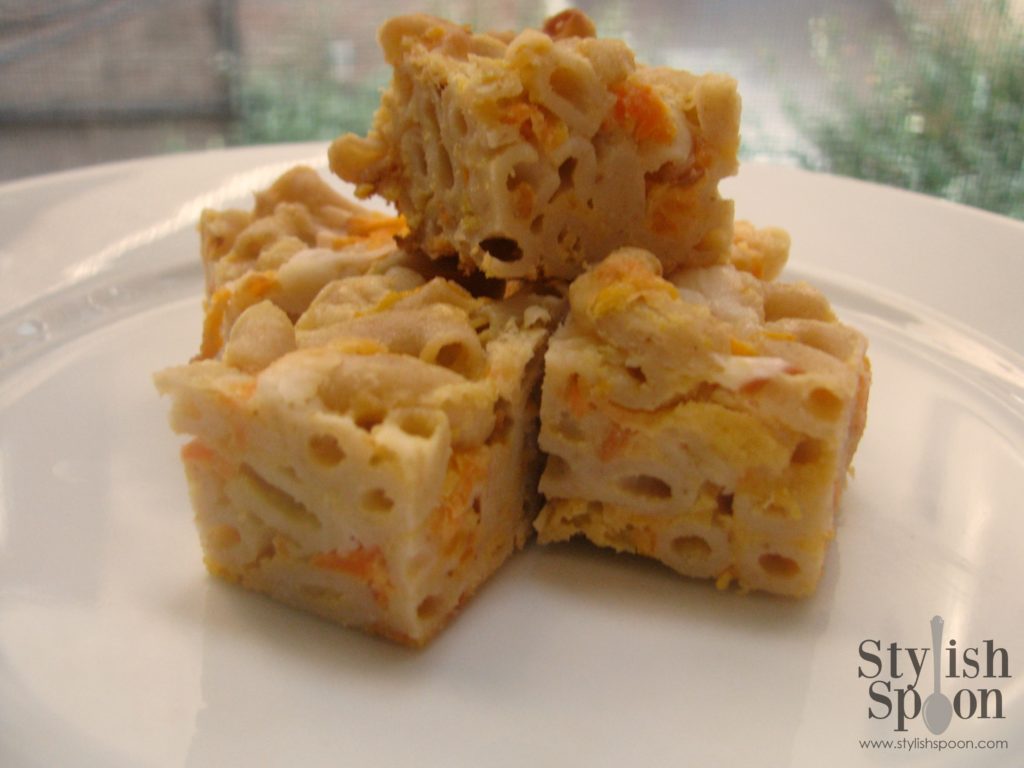 I came across a recipe for Carroty Mac and Cheese by Melissa Clark and thought it would make a great addition to the make-ahead kids menu rotation.  It's such a great recipe that I played around with different cheeses and adding some Siracha for heat and have come up with a great retro, comfort food appetizer by cutting the casserole into bite-size squares.  This recipe is highly adaptable – make it with whatever cheese you have laying around.  I like to use up leftover smaller pieces of smoked gouda, aged goat and others by shredding them and mixing them all together.  It creates a complex flavor that is far more sophisticated than the standard mac and cheese.  I've also made this with gluten-free (brown rice) pasta and didn't miss the wheat at all.
Bake this recipe in two baking dishes to make the casserole thinner and easier to cut into small squares.  Wait for the casserole to cool before cutting it into pieces if you plan to serve it as bite-size appetizers – it will give you cleaner lines like the ones I made pictured above. When making this for a family meal, bake the mac and cheese in one 16″ baking dish for thick, hearty pieces.
Smokey Carrot Mac and Cheese
This comfort dish gets a sophisticated kick from sriracha.
Ingredients
12oz whole wheat elbow macaroni
2 1/2 cups coarsely grated carrot (about 3 large)
3 cups grated cheese (smoked Gouda, cheddar, pepper jack, etc.)
1/2 cup (1 stick) unsalted butter, cut into pieces
6oz fat free (0%) Greek yogurt (such as Fage)
1/4 cup whole milk
2 large eggs
1 teaspoon kosher salt
2 Tbs. Siracha
3/4 teaspoon mustard powder
1/4 teaspoon freshly ground black pepper
1/4 cup finely grated Parmesan cheese
Preheat oven to 400°F and grease 16-inch rectangular baking pan. Arrange a rack in the top third of the oven.
Cook macaroni according to package instructions in a large pot of heavily salted boiling water; add carrot 3 minutes before pasta is finished cooking; drain well.
While pasta is hot, stir in all but 1/2 cup of the cheese and the butter. In a bowl, whisk together the yogurt, milk, eggs, salt, mustard powder, and pepper. Fold mixture into the pasta.
Scrape the mixture into the prepared pan. Sprinkle the remaining cheddar and the Parmesan over the top. Bake until the casserole is firm to the touch and golden brown, about 30 minutes.
Notes
Use a combination of cheeses, such as smoked gouda, cheddar and jack to enhance the smokey flavor.
Subsitute gluten-free pasta for whole wheat pasta to make this dish gluten-free.
Optional: Omit sriracha and sprinkle with sriracha sea salt after removing from oven, while mac and cheese is still warm.
http://stylishspoon.com/2012/12/29/smokey-carrot-mac-and-cheese-bites/
Copyright Stylish Spoon - www.stylishspoon.com - All rights reserved