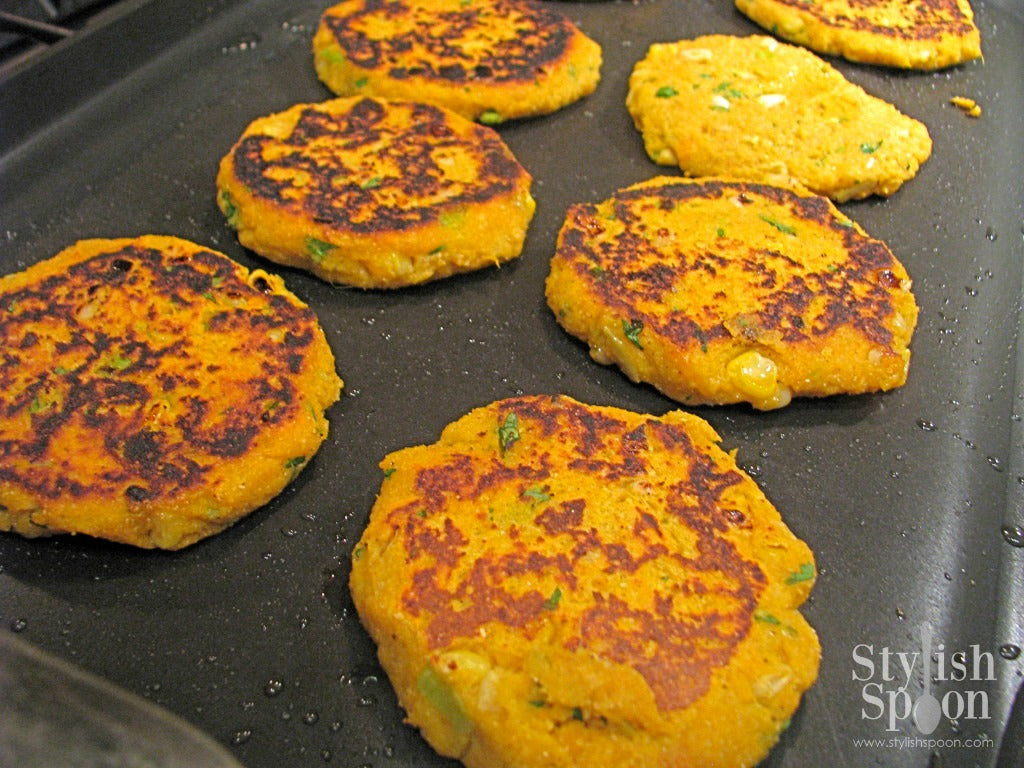 This past summer I took the abundance of corn from our crop-share, cut it off the cobb and froze it for mid-winter cooking.  I socked away so many bags that I ended up with a freezer full of corn, ice cream and lamb (from our lamb share).  I've been trying to clear out the stock (though we keep acquiring more ice cream, which I don't see as a problem), so I've been putting corn in just about everything.  I used the corn for several batches of chili, quesadillas, succotash, warm black bean salad – and still have several bags left.  Making sweet potato and corn cakes was a nice change of pace and made for a satisfying vegetarian meal that the whole family enjoyed.  This recipe is inspired by the recipe from Budget Bytes, which I adapted and made gluten-free by using more corn meal and omitting the bread crumbs.  These corn cakes are lightly seared in oil, rather than fried, to keep them healthy.  The creaminess of the sweet potatoes provides a nice contrast for the toothsome corn kernels and the yogurt sauce gives the dish a little tang.  I made my standard (very simple) yogurt sauce using Greek yogurt, lime juice rather than the usual lemon, salt and pepper.  For those without a freezer full of corn, use any store-bought frozen corn in this recipe.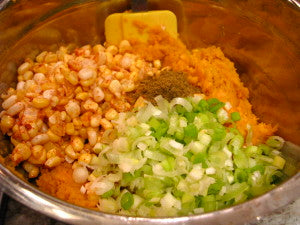 Sweet Potato Corn Cakes with Yogurt Sauce
Allow time to refrigerate the mixture before cooking to give the ingredients time to bind (it prevents the cakes from falling apart while cooking). These corn cakes are best served immediately, rather than reheating. Serve them as an appetizer, or pair with salad or braised greens for a complete meal.
Ingredients
For the corn cakes:
4 large sweet potatoes (about 3 lbs.)
1 1/3 cup white corn meal
1 cup frozen corn kernels
1 large egg
3/4 cup chopped scallions
1/4 bunch cilantro, chopped
1 1/2 tsp. cumin
1 tsp. salt
1/4 tsp. cayenne pepper
4 Tbs. vegetable oil (for frying)
Cilantro sprigs for garnish (optional)
For the yogurt sauce:
1/2 small clove garlic
6 oz. Greek yogurt (fat free, lowfat or regular)
1/4 cup cilantro, chopped
juice of 1/2 lime
salt and pepper to taste
Preheat oven to 350 degrees. Pierce potatoes with knife several times and wrap each individually in tin foil. Bake potatoes on a rimmed baking sheet lined with foil for 30-50 minutes, or until soft when pierced with a knife. Alternatively, cook sweet potatoes in the microwave by wrapped one potato in a damp paper towel and cooking on high for 4-5 minutes, or until soft. Repeat with remaining potatoes. When cool enough to handle, slice potatoes in half and scoop out flesh into a large bowl.
Add corn meal, corn, egg, scallions, cilantro, cumin, salt and cayenne pepper to bowl. Stir until well combined. Refrigerate for at least 30 minutes.
Meanwhile, make the yogurt sauce. Place garlic in bowl of food processor and pulse until minced. yogurt, 1/4 cup chopped cilantro, lime juice and salt and pepper to taste. Blend until smooth, scraping down sides as needed. Refrigerate until ready to serve.
Preheat oven to 250 degrees and line a baking sheet with tin foil; place in oven. Heat 2 Tbs. oil on large nonstick griddle (or in large skillet over medium-high heat). Shape sweet potato mixture into medium patties (about 1/3 cup each), and flatten until about no more than 1" thick. Working in batches, cook in oil until golden brown, about 3 minutes per side. Keep cooked corn cakes warm in oven on prepared cookie sheet. Repeat cooking with remaining oil and patties. Serve warm with yogurt sauce. Garnish with cilantro sprigs, if desired.
http://stylishspoon.com/2013/02/20/sweet-potato-corn-cakes-with-yogurt-sauce/
Copyright Stylish Spoon - www.stylishspoon.com - All rights reserved
This recipe has been featured on the Natural Family Today Real Food Roundup (March 6, 2013 edition).  Check out the link for other great whole food, Paleo and raw recipes.