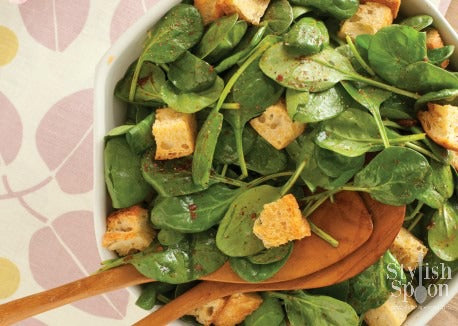 This simple yet sophisticated salad with spinach, a sun-dried tomato vinaigrette and homemade croutons was part of the Mother's Day menu that I created for Vegetarian Times last Spring.  Using leftover oil from jarred sundries tomatoes gives the dressing lots of flavor without much effort.  The toasty, crunchy croutons make this salad a real stand out.
Spinach Salad with Sun-dried Tomato Vinaigrette
To soften stale bread before cutting, wrap it in a damp paper towel and microwave for 10 seconds. The croutons can be made up to a week in advance, and the dressing will keep for 2 days in the fridge.
Ingredients
1/2 baguette, cut into 1" cubes (3 cups)
2 Tbs. oil from jarred sun-dried tomatoes
2 Tbs. olive oil
1/2 clove garlic, minced (1/2 tsp.)
1 Tbs. chopped sun-dried tomatoes (3 tomato halves)
1 Tbs. red wine vinegar
1 Tbs. balsamic vinegar
4 Tbs. olive oil
1/2 tsp. agave nectar or honey
5 oz. baby spinach (4 cups)
To make croutons: Preheat oven to 350˚F. Coat rimmed baking sheet with cooking spray. Toss together bread cubes, oil from tomatoes and olive oil until bread is well coated; place on prepared baking sheet in single layer. Bake 15 to 18 minutes, or until croutons are crisp and golden brown.
To make vinaigrette: Blend garlic, sun-dried tomatoes, vinegars, oil and agave nectar in food processor until mostly smooth. Season with salt and pepper, if desired.
Toss together spinach and vinaigrette in bowl. Top with croutons, and serve immediately.
http://stylishspoon.com/2013/03/13/spinach-salad-with-sun-dried-tomato-vinaigrette/
Copyright Stylish Spoon - www.stylishspoon.com - All rights reserved
Photo credit: Vegetarian Times