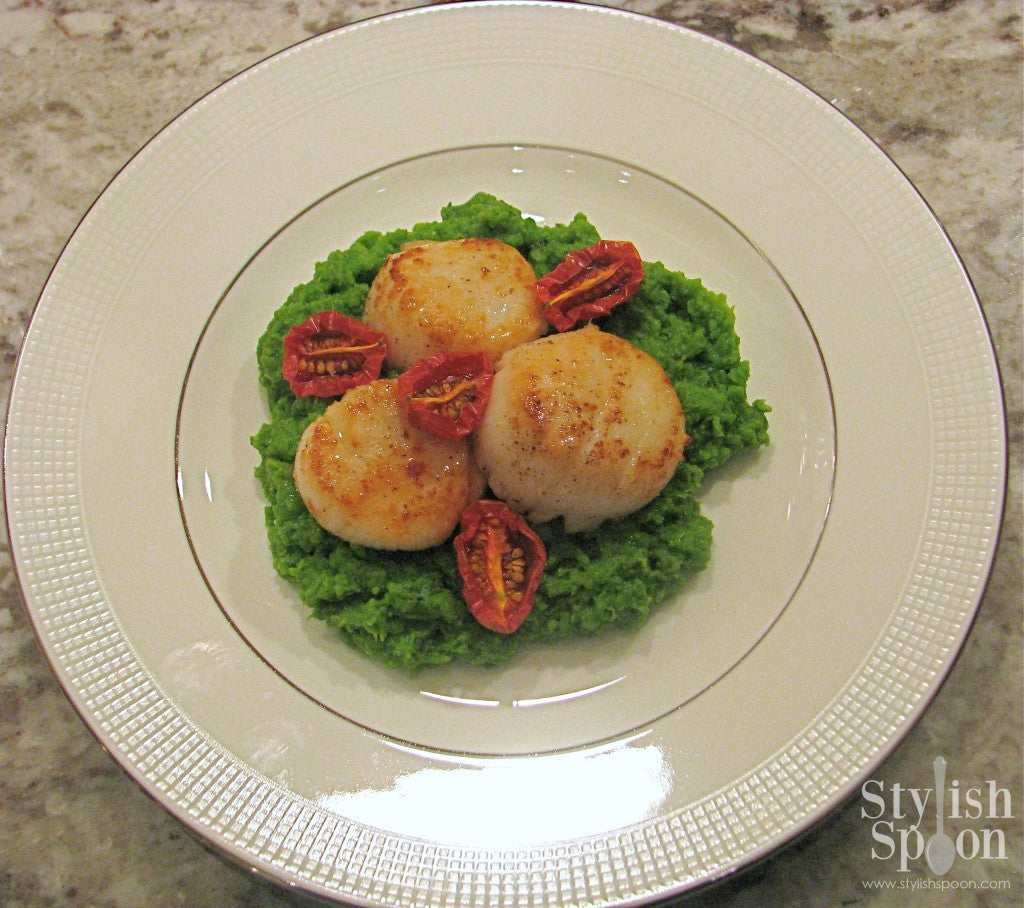 I first started making this recipe back in 2009 and it has since become one of my favorite spring entertaining recipes, served to rave reviews.  This dish is great for so many reasons.  First, it's super fast, which is especially convenient for a weeknight dinner when you only have a few minutes after rushing in the door from work to prep before friends arrive, or for a family meal that includes impatient kids (know any of those?).  It's the meal I made most often for entertaining as a new mom because it requires so little time in the kitchen.  Second, this dish is super healthy – low fat, lean protein and the bulk of the dish is made of veggies.  It works for almost any food limitations or anyone with food allergies since it's gluten-free, dairy-free, egg-free, low carb and Paleo.
As I said when I first posted this recipe, it tastes like spring on a plate.  I realize that is a subjective description (I went to a restaurant the other night that said a dessert tasted like "spring in a bowl" and it actually tasted like one of the green juices I order from the juice bar at the health food store, which isn't bad but is in no way dessert even for the healthiest eaters.)  What makes this dish so springy is the subtle herb and bright pea combination.
I like to serve this dish with homemade popover. Ciabatta rolls or a nice, crusty loaf of whole grain bread is what I serve when I am short on time and/or too lazy to make popovers.  A simple salad with bib lettuce, cucumbers and mint vinaigrette (made in advance) makes getting dinner on the table in 20 minutes totally doable.
This would make a lovely meal for Mother's Day – it's the perfect time of year to serve it.
Seared Scallops with Basil Pea Puree
This dish tastes like spring on a plate. It's sophisticated, yet so simple. It's a great recipe for entertaining because it can be made in minutes. Serve it as an entrée, or serve a smaller version (3 scallops per plate) as a first course.
Ingredients
1 package grape tomatoes or 6 plum tomatoes
(2) 10oz packages frozen peas or 4 C. fresh shelled peas
4 Tbs. fresh basil (about 12 large leaves)
½ tsp. kosher salt
Fresh ground pepper, to taste
15 large sea scallops, patted completely dry
2 Tbs. olive oil
Preheat oven to 250 degrees. Slice tomatoes in half and place cut side up on a cookie sheet lined with parchment or coated with a nonstick spray. Drizzle with olive oil and sprinkle with a pinch of kosher salt. Place in oven for 2-2.5 hours, or until the tomatoes are shriveled and dry with a tiny bit of juice left inside. Tomatoes can be oven-dried up to 2 days in advance.
Place thawed peas in a colander and rinse with cold water. Shake to remove excess water. Add peas to blender with fresh basil, salt and pepper. Puree peas until smooth. To heat pea puree, place in a small saucepan over medium heat, stirring frequently. Once warmed through, reduce heat to low and keep warm until ready to serve.
Heat a large nonstick skillet over high heat. Once hot, coat pan with olive oil. Add scallops to pan in a single layer with room between each scallop. Cook for 2-3 minutes per side, depending on the size. Scallops should have a nice crust on both sides and be barely firm to the touch. (Do not overcook the scallops or they will become rubbery.) Serve immediately over basil-pea puree and garnish with oven-dried tomatoes.
Notes
The basil-pea puree can be made up to 8 hours in advance and warmed as the scallops cook. If you are short on time you can skip the oven-dried tomatoes, thought they really are worth the minimal effort but advance planning required. The slow oven drying process really concentrates the flavor of the tomatoes, but you can substitute a few raw tomato wedges instead to achieve the same pop of color.
This recipe can easily be doubled, but the scallops will need to be cooked in two batches (otherwise the pan will not be hot enough and the scallops will be steamed rather than seared).
http://stylishspoon.com/2013/05/06/seared-scallops-with-basil-pea-puree/
Copyright Stylish Spoon - www.stylishspoon.com - All rights reserved