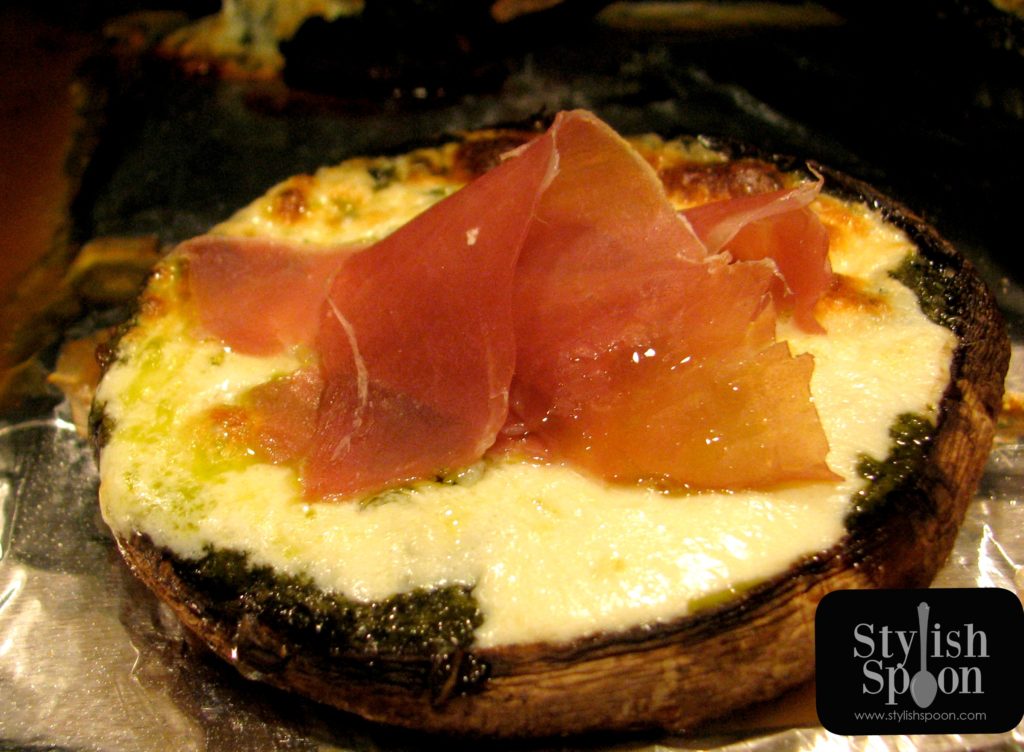 Portobella mushrooms have long been reeigated to the status of vegetarian grill item.  I'll admit to having served them as such, though I do love a good grilled portobella mushroom at a BBQ and I am not a vegetarian.  But I like to think of portobella mushrooms as gluten-free, healthy vessel for delicious fillings.  I make them into "pizzas" (when my husband is not around – he's not a fan of the mushroom), and this recipe is one of my favorite variations on that recipe.  Pesto provides a complex, bright flavor, while prosciutto adds some salt and melted mozzarella give this dish some ooey gooey goodness (yes, that is a technical term).  Serve these mushrooms along with sauteed spinach or kale for a light dinner, or use babybella mushrooms and make these bite-size appetizers for a party.
Pesto, Mozzarella & Prosciutto Portabella Mushrooms
These Italian-inspired mushrooms make for a nice, light summer dinner when paired with sauteed greens or a salad. Make these into a bite-size appetizer by using mini babybella mushrooms instead of portobella mushroom caps.
Ingredients
6 large Portobello mushroom caps
16 oz fresh mozzarella cheese, sliced into 6 rounds
3/4 cup pesto
1/8 lb. prosciutto sliced paper thin
Preheat oven to 350 degrees. Line rimmed baking sheet with tin foil and set aside. Carefully remove any dirt from mushroom cap using a damp paper towel. Remove gills from inside mushroom by gently scraping with a spoon, leaving sides of mushroom intact. Place cleaned mushrooms on baking sheet.
Fill each mushroom with 2 Tbs. pesto and top with 1 slice of fresh mozzarella. Bake 15 minutes in preheated oven, or until mushrooms are softened and cheese is melted and golden brown in spots. Top each mushroom with a slice of prosciutto. Serve immediately.
http://stylishspoon.com/2013/05/08/pesto-mozzarella-proscuitto-portabella-mushrooms/
Copyright Stylish Spoon - www.stylishspoon.com - All rights reserved