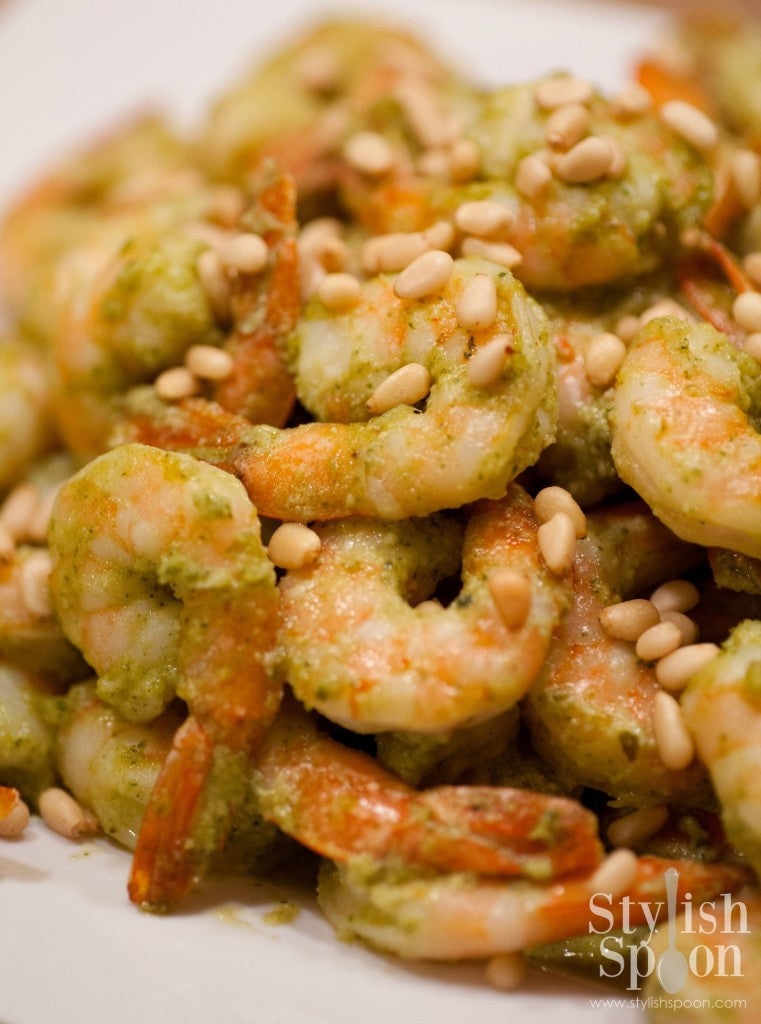 When I'm entertaining, I like to spend as little time as possible in the kitchen, and as much time as I can with my guests.  A recipe like this pesto shrimp dish is perfect for entertaining because it's quick, easy, relatively inexpensive and delicious.
Use store-bought pesto to make this pesto shrimp recipe even easier. Just be sure to make a lot – pesto shrimp is always a huge crowd pleaser and even when I serve it as an appetizer people come back for a plateful.
Serve pesto shrimp as part of the wine and cheese tasting menu featured on Stylish Spoon, or for any other cocktail party.  It's also a great dish for weeknight entertaining; just serve with a side of quinoa with asparagus and feta or rice pilaf for a complete meal.
10 Minute Baked Pesto Shrimp
Using store-bought pesto makes this dish a real time saver. To quickly defrost frozen shrimp place them in a colander and rinse in cold running water.
Ingredients
2 lbs. extra-large uncooked shrimp, defrosted in frozen
1/2 cup basil pesto
1/8 cup pine nuts (optional)
Preheat oven to 450 degrees. Line baking sheet with tin foil and coat with cooking spray; set aside. Combine raw shrimp and pesto in large bowl, tossing to coat. Spread shrimp in single layer on prepared baking sheet. Cook for about 10 minutes, or until shrimp are pink and just cooked through. Garnish with pine nuts, if using.
http://stylishspoon.com/2013/10/01/recipe-10-minute-baked-pesto-shrimp/
Copyright Stylish Spoon - www.stylishspoon.com - All rights reserved
The baking method for this recipe is inspired by a recipe from 
Big Girls Small Kitchen
, adapted from Mark Bittman's recipe for baked shrimp.