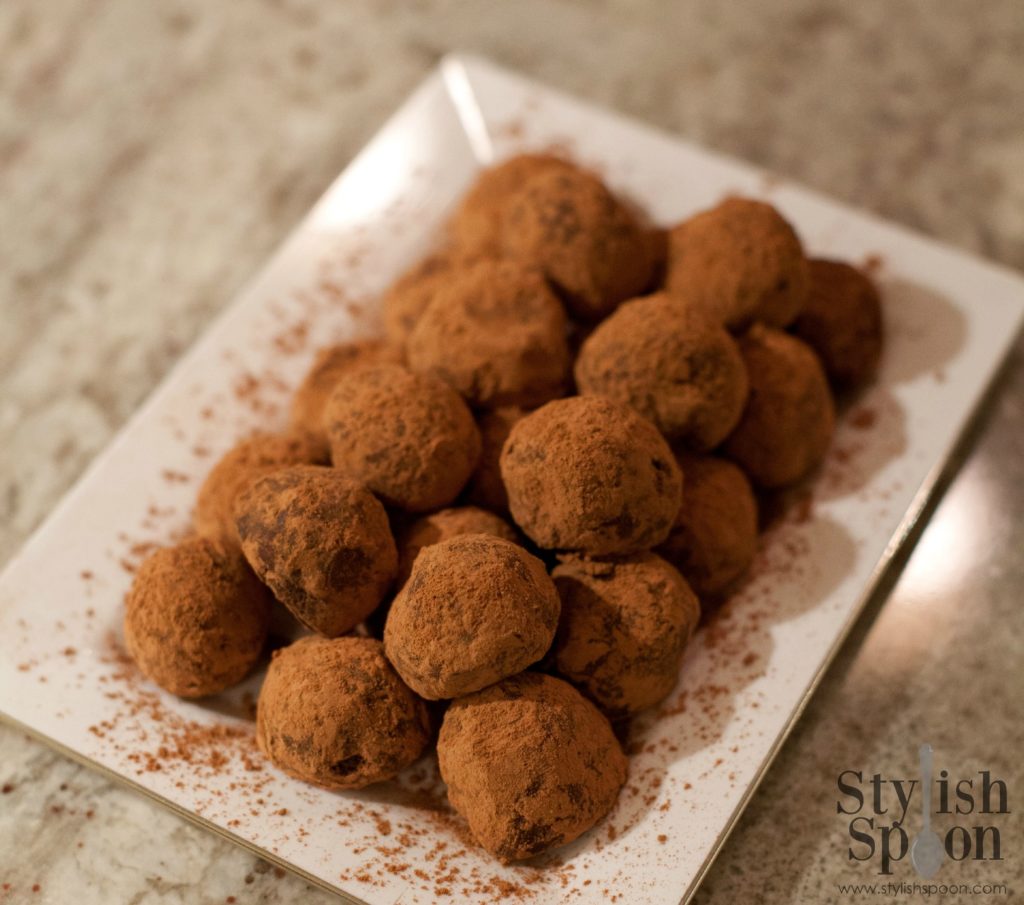 I only make homemade chocolate truffles a few times a year. It's not because they are difficult – homemade chocolate truffles are actually pretty simple to make – but because they are so delicious that I would prefer not to have these cocoa dusted orbs of rich chocolate goodness tempting me every time I open my fridge. I am hard pressed to think of a meal that chocolate truffles wouldn't be delicious after. A piece of rich dark chocolate is, in my book,  the perfect dessert after any meal!
Homemade dark chocolate truffles are so decadent and delicious that they are worth the little effort they take. High-quality chocolate, heavy cream and butter merry themselves for a rich chocolate flavor and an exquisitely creamy texture.  Don't worry about not having perfectly round truffles. The most challenging aspect of the process is rolling them into balls between your palms without the creamy chocolate completely melting into your hands. Accept that your hand will be covered in chocolate before you endeavor to make these chocolate truffles, and realize they will not be perfectly round.  Dusting your hands with cocoa powder helps, but it's still a tricky process if you are looking for perfection so let it go. When something tastes this good, it really doesn't need to look perfect. After all, you want them to look slightly homemade – anyone can pick up a bag of Lindt truffles, but few care enough to make you homemade chocolate truffles that will rock your world.
Homemade chocolate truffles can be made up to a week in advance and stored in an air-tight container in the fridge until dessert time (if you can stop yourself from eating them until then).  Be sure to bring them to room temperature before serving to enjoy the true melt-in-you-mouth texture of homemade chocolate truffles.
Serve the chocolate truffles (homemade or store-bought) as a sweet ending to a wine and cheese tasting party, or for any cocktail party where you need an elegant pop-in-your-mouth dessert that doesn't require a fork.
Recipe :: Homemade Chocolate Truffles
Ingredients
1/4 C. heavy (whipping) cream
2 Tbs. unsalted butter
1 Tbs. powdered sugar
8 oz. bittersweet dark chocolate (60% or higher), chopped
unsweetened cocoa powder
Combine cream, butter and sugar in a small saucepan. Bring to boil over medium-high heat. Remove from heat, add chopped chocolate to cream mixture, stirring until chocolate has melted completely. Do not put saucepan back on heat – chocolate will seize.
Pour chocolate mixture into medium bowl and chill in refrigerator until firm, about 4 hours or overnight.
Remove from refrigerator. If mixture is not pliable let it stand at room temperature for about 20 minutes. Line a cookie sheet with waxed paper or plastic wrap. Using an extra small spring-loaded scoop or melon baller, scoop chocolate mixture out into small round balls, about ¾" in diameter, onto the prepared cookie sheet. Cover with plastic wrap and return to the refrigerator for 10 minutes to harden.
Place the cocoa powder in a small bowl. Coat your hands with cocoa powder. Roll each truffle between palms of your hands, gently, to form round balls. Place each truffle, one at a time, in the cocoa powder and gently shake bowl to cover with cocoa. Chill truffles and store in an airtight container. Bring to room temperature before serving.
Notes
Recipe can easily be doubled to make 4 dozen. Use a serrated knife to chop the chocolate. And don't worry about trying to make your truffles perfectly round or perfectly uniform – you want them to look homemade!
http://stylishspoon.com/2013/10/02/recipe-homemade-chocolate-truffles/
Copyright Stylish Spoon - www.stylishspoon.com - All rights reserved