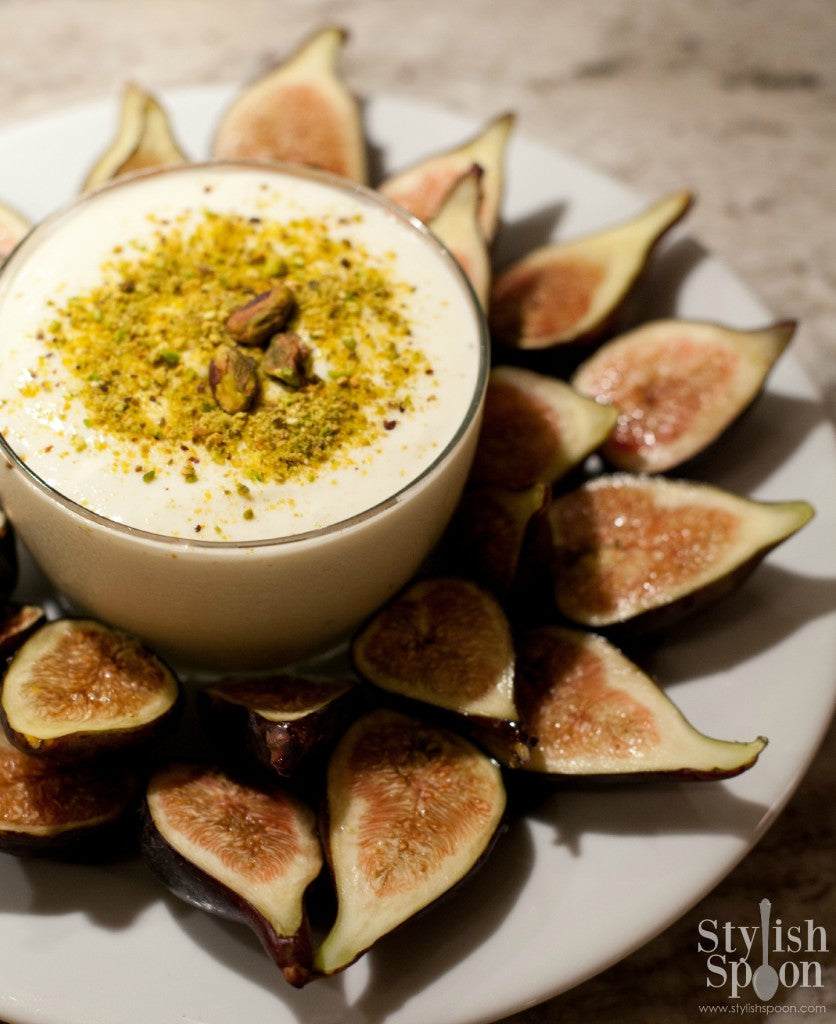 This ricotta-pistachio dip is actually the same ricotta filling that I use to make low-fat tiramisu. Whenever I make tiramisu I save a little ramekin of the filling and eat it with a spoon.  It is delicious.  Creamy and sweet, similar to cheesecake batter.  I finally decided to make a batch of just the ricotta filling, add pistachio oil and serve it as a dip for fresh figs drizzled with honey.  I served this ricotta-pistachio dip as part of Stylish Spoon's wine and cheese tasting party menu and no one could believe that it was low-fat.  It tastes very luxurious and the pistachio oil adds just the right amount of nuttiness while still keeping the dip smooth.  I served this ricotta-pistachio dip at Roxbury Farm's spring gathering and served it with strawberries in lieu of the figs.  I had many requests for the recipe – people were raving about the dip.
Serve this ricotta-pistachio dip with fresh figs if they are in season.  Figs have a complex favor; they are slightly sweet and tastes like a cross between red grapes and an apple.  They have a smooth, thin edible skin, and a luscious center full of tiny edible seeds.  When you can find them fresh, look for figs that are plump, heavy for their size and give slightly to the touch.  Strawberries can easily be substituted for the figs.
Ricotta-Pistachio Dip with Fresh Figs
Serve this creamy dip with fresh figs, when available, or with strawberries. The dip is reminiscent of raw cheesecake filling and makes a wonderfully light dessert when served with fresh fruit. The dip can be made up to 2 days in advance and refrigerated in an airtight container.
Ingredients
1/2 cup ricotta cheese (low-fat and fat free work well)
8 oz Neufatchel cheese or light cream cheese
1/2 cup sugar
1 tsp. pistachio oil
1 Tbs. raw shelled pistachios, crushed, for garnish (optional)
2 lbs. fresh figs or strawberries
1/2 Tbs. honey
Combine ricotta, Neufatchel cheese, sugar and pistachio oil in food processor until well mixed. Pour dip into a small serving bowl and top with crushed pistachios, if using. Serve with fresh figs, strawberries or other fruit drizzled with honey.
Notes
Pistachio oil is available at well-stocked grocery stores (such as Fairway) or at small specialty shops.
http://stylishspoon.com/2013/10/02/recipe-ricotta-pistachio-dip-with-fresh-figs/
Copyright Stylish Spoon - www.stylishspoon.com - All rights reserved