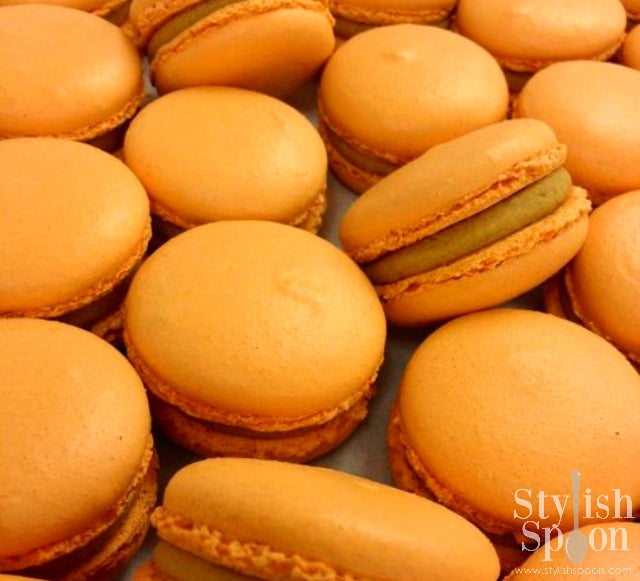 It's no secret that Bouchon Bakery is one of the best bakeries in NYC, but do you know about their pumpkin pie macarons? Bouchon sells some pretty incredible seasonal macaron flavors (hello mango lassi in the spring!). And my absolute favorite macaron flavor that Bouchon or any other bakery makes – the one that I anxiously wait for all year – is Bouchon Bakery's pumpkin pie macaron.
I am a serious macaron fan. I have sampled macarons from over a dozen famous bakeries in Paris and too many to count in NYC (in the name of research, of course). I have even taken a macaron-making class at the Institute of Culinary Education. In my opinion, Bouchon Bakery makes THE BEST macarons (Daniel Bouley used to be tied for best macarons in my book but sadly his retail bakery closed several years ago). And, while it is no secret that I am totally obsessed with anything pumpkin flavored (including pumpkin pancakes, pumpkin cream cheese, pumpkin hot chocolate, and even pumpkin beer), Bouchon's pumpkin pie macarons are one of my very favorite pumpkin treats.
Pumpkin macaroons will be available to Bouchon Bakeries in NYC beginning next week (during the week of October 7, 2013).  Follow Bouchon on Twitter to receive notice of the exact day.  Pumpkin pie macarons are only available for a few weeks during the fall but can be frozen and enjoyed later on.  Call ahead to make sure pumpkin pie macarons are in stock if you are making a special trip to Bouchon, which they are most definitely worth.
NYC Locations:
Bouchon Bakery at Time Warner Center, 10 Columbus Circle, 3rd floor, 212-823-9366; Bouchon Bakery at Rockefeller Plaza, 1 Rockefeller Plaza, 212-782-3890.