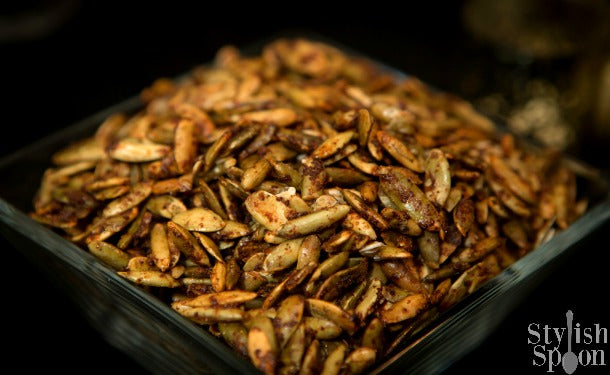 Give traditional toasted pumpkin seeds a stylish twist with a simple sweet and spicy coating.  This particular spice combination, inspired by a recipe from Bon Appetite, has just the right amount of flavor and kick and is completely addictive.  The spice blend is great on fresh pumpkin seeds, but the average pumpkin does not yield 2 cups of seeds, so I use raw green pumpkin seeds (often labeled "pepitas") in this recipe, which are readily available at health-conscious grocery stores, such as Trader Jo's.
These sweet and spicy toasted pumpkin seeds are the perfect snack with any cocktail or beer. Serve them as part of Stylish Spoon's spooky and stylish Halloween cocktail party menu.  Sweet and spicy toasted pumpkin seeds can be made up to a week in advance, making them an easy make-ahead snack for any cocktail party.
Sweet & Spicy Toasted Pumpkin Seeds
A quick and easy party snack that's totally addictive! Fill small cello bags with this sweet and spicy mix for a stylish and tasty party favor.
Ingredients
Nonstick cooking spray
2 C. raw pumpkin seeds (or pepitas)
1/4 C. sugar
1 egg white, beaten until frothy
1 Tbs. chili powder
1 tsp. cinnamon
1/2 tsp. salt
1/4 tsp. cumin
1/8 or 1/4 tsp. cayenne, depending on preference for spice
Preheat oven to 350°F. Line baking sheet with tin foil and coat with nonstick spray. Combine pumpkin seeds with remaining ingredients in medium bowl and toss to coat. Pour pumpkin seeds onto prepared baking sheet and spread in single layer. Bake until pumpkin seeds are golden brown and dry, about 15 minutes. Remove from toasted pumpkin seeds from oven and separate with a fork while still warm. Cool completely before storing in an air-tight container for up to 2 weeks.
http://stylishspoon.com/2013/10/10/recipe-sweet-spicy-toasted-pumpkin-seeds/
Copyright Stylish Spoon - www.stylishspoon.com - All rights reserved