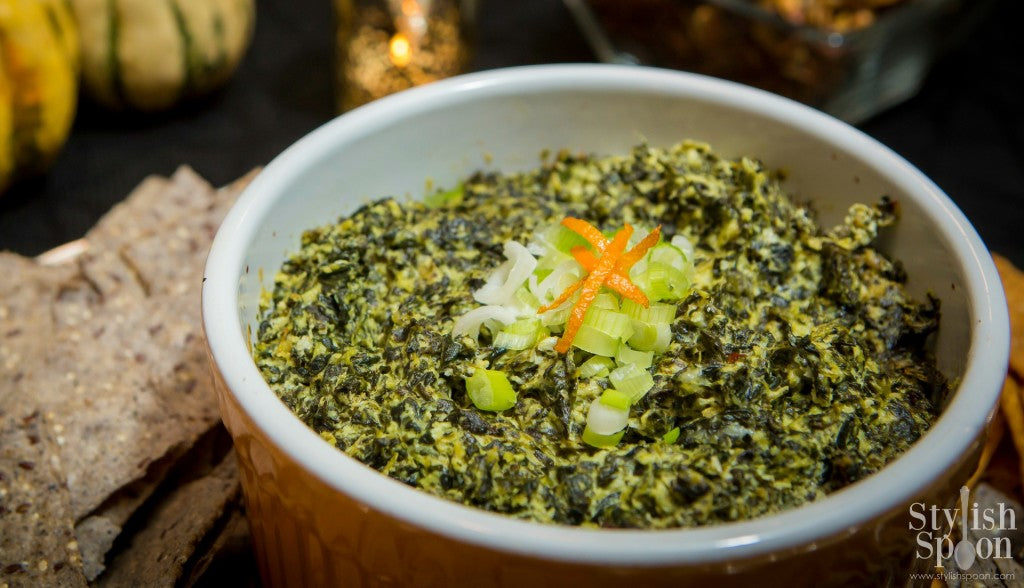 Hot creamy dips are real crowd-pleasers, and this hot spinach dip does not disappoint!  It's a fast and easy recipe that can be made a few days in advance; just pop it into the oven 30 minutes before your guests arrive and your kitchen will be filled with a delicious, warm smell.  It has all the creamy goodness of traditional spinach dip, but is lightened a bit by substituting low-fat mayo, cream cheese and Greek yogurt for the usual full-fat versions.
Although this dip is cream cheese based, it freezes surprisingly well.  I often double the recipe and freeze half (unbaked) so I have a delicious dip on hand for impromptu holiday entertaining. Serve this hot spinach dip with black (black bean) and orange (sweet potato) chips as party of Stylish Spoon's Halloween Cocktail Party Menu.  (My personal favorite sweet potato chips are from Food Should Taste Good.)  Or serve this hot spinach dip with any type of whole-grain cracker, pita or baguette for any occasion that warrants a cozy dip.
Ideal for a special occasion, this easy dip serves a crowd. Leftovers are great as a sauce for grilled chicken or a topping for baked potatoes. Low-fat ingredients can be used without sacrificing taste.
Ingredients
2 boxes (10 oz. each) frozen chopped spinach, defrosted and squeezed dry
1 medium onion, chopped
1 clove garlic, minced
8 oz. Neufchatel or low-fat cream cheese, softened
6 oz. plain Greek yogurt (fat free works well)
1/2 C. mayonnaise (low-fat works well)
1/2 C. shredded Parmesan cheese, packed
1 tsp. Kosher salt
1/2 tsp. Siracha (optional)
1/4 tsp. fresh-ground black pepper
1/8 tsp. (or a pinch) ground nutmeg
3 dashes Worcestershire sauce
2 scallions, chopped (optional)
Preheat oven t0 350 degrees. Combine cream cheese, yogurt, mayo and Parmesan in food processor. Blend until smooth. Add onion, garlic, salt, Siracha, pepper, nutmeg and Worcestershire and pulse until combined, leaving some texture to the mixture. Add spinach and pulse until well incorporated into the mixture. Transfer mixture to 6" soufflet or casserole dish. (At this point you can refrigerate the uncooked mixture for up to 2 days).
Bake dip in preheated oven for 30 minutes, or until warm and bubbly. Garnish with chopped scallions, if using. Serve immediately.
Notes
Squeeze as much moisture out of the spinach as possible to get it completely dry.
http://stylishspoon.com/2013/10/14/5705/
Copyright Stylish Spoon - www.stylishspoon.com - All rights reserved