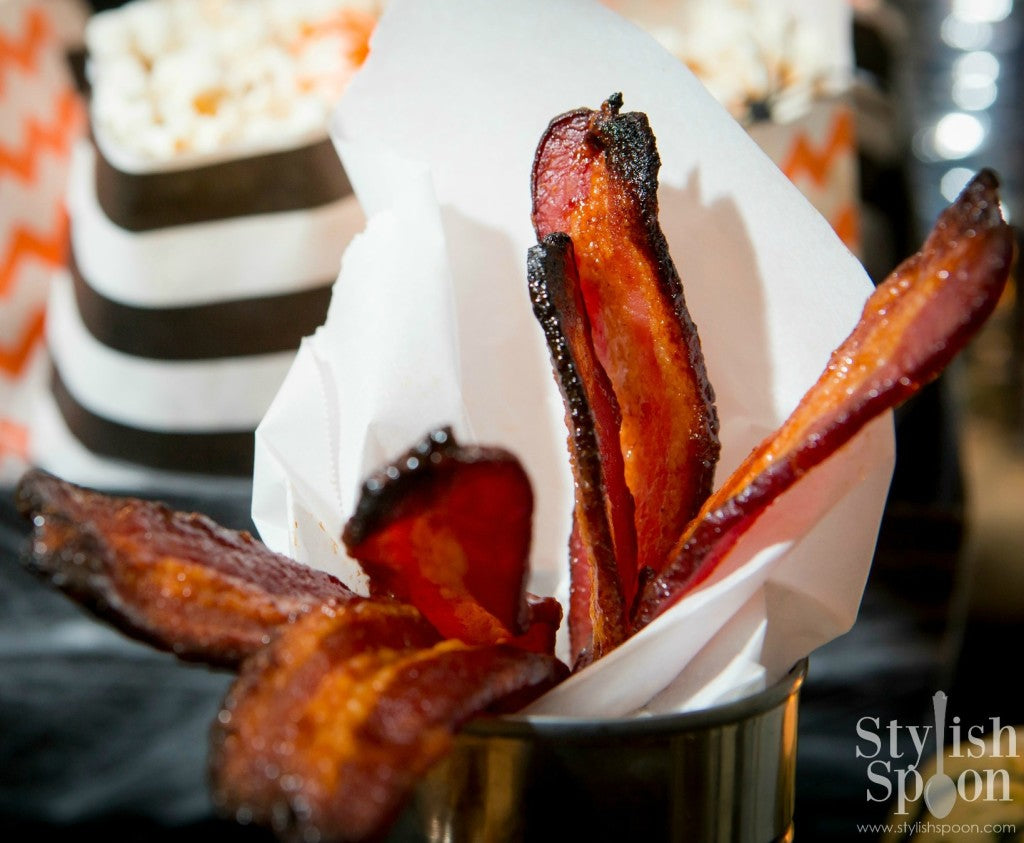 Bacon-lovers rejoice!  There is a way to make bacon into party food. Rub it with brown sugar and a pinch of smoked paprika, bake it on a cooling rack set above a cookie sheet and watch it turn into crispy, caramelized deliciousness right before your eyes. Immediately after eating this caramelized bacon my sister-in-law insisted that I tell everyone to double the recipe.  As she said, "there is no such thing as too much bacon!"  This recipe for caramelized bacon technically serves 12, but if you have true bacon lovers on the guest list (like my sister-in-law), you should probably double the recipe. Serve caramelized bacon standing up in a glass wrapped in parchment paper (it's mostly crisp enough to stand up; a few pieces may have a bend). You can also stack the strips of caramelized bacon a rectangular platter over a small bed of arugula to add a little color, but when something is this good, it really doesn't need a fancy presentation.
Serve this caramelized bacon as part of Stylish Spoon's Halloween cocktail party menu, or for any fall/winter holiday cocktail party.
Ingredients
12 slices (about 1 lb.) extra-thick cut bacon
4 Tbs. brown sugar
1 tsp. smoked paprika
Preheat oven to 450 degrees. Line 2 baking sheets with tin foil. Place a metal cooling rack (the kind you use to cool cookies) over the foil on each baking sheet.
Combine brown sugar and paprika in a shallow dish. Separate slices of bacon. Generously rub both sides of each slice with sugar mixture. Lay 6 slices of bacon on each cooling rack. Bake for 15 minutes, or until brown, lacquered and crispy. Cool and leave at room temperature until serving (up to 6 hours), or refrigerate wrapped in parchment paper if making in advance.
http://stylishspoon.com/2013/10/15/recipe-caramelized-bacon/
Copyright Stylish Spoon - www.stylishspoon.com - All rights reserved