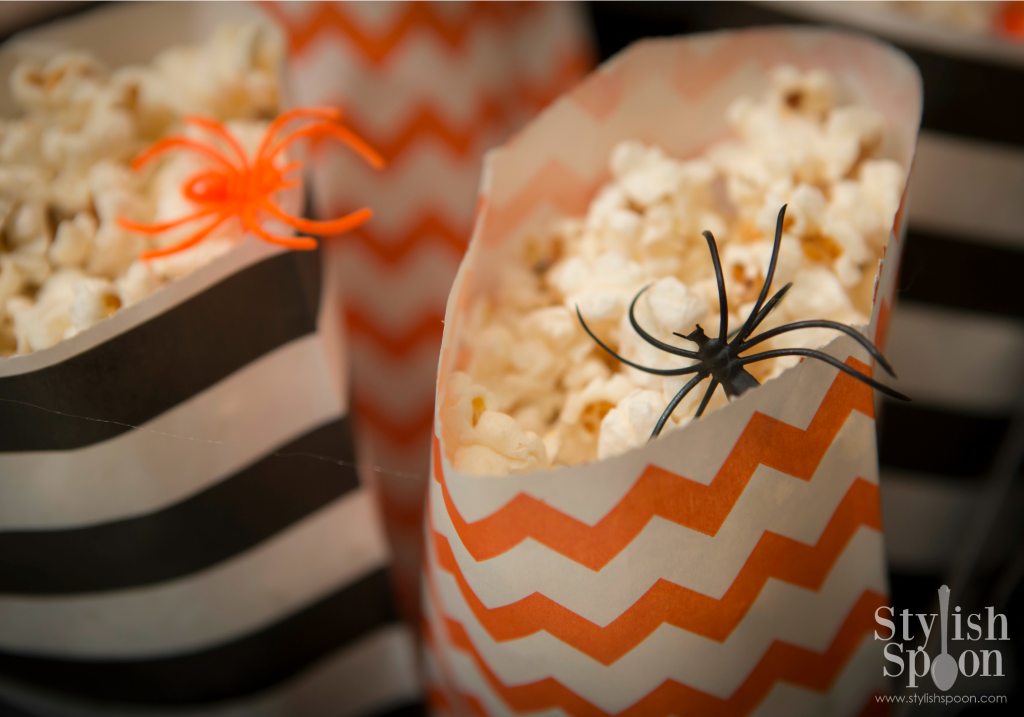 Popcorn isn't just for movie night; it's a salty snack that goes perfectly with most cocktails and beer. Popcorn is one of the most over-looked party snacks. So forget chips and pretzels, and instead serve individual bags of popcorn for a fun and festive party snack. Popcorn comes in so many different flavors these days that you don't even need to make your own unless you want to.  From kettle corn to parmesan and truffled popcorn – there are tons of gourmet store-bought options that make popcorn stylish enough to serve at a cocktail party.
Use printed paper bags to coordinate with your party theme, or simple unbleached paper sandwich bags (they're grease-proof and hold up well to buttery popcorn). For Stylish Spoon's Halloween cocktail party menu we used Orange Chevron & Black Striped Halloween Treat Bags from Papersource ($8.95 for 20 bags), and add a plastic spider ring for a not-too-creepy touch.
This is about as easy as it gets for party food, and everyone loves a good bag of popcorn. Use a fun flavor, like kettle corn, or add your own seasoning or mix-ins.
Ingredients
12 paper sandwich or treat bags (about 5" x 7" each)
(2) 5 oz. bags popped popcorn (10 oz. popped corn total)
Fill each bag with popcorn and serve for an easy party snack.
http://stylishspoon.com/2013/10/16/recipe-individual-popcorn-bags/
Copyright Stylish Spoon - www.stylishspoon.com - All rights reserved