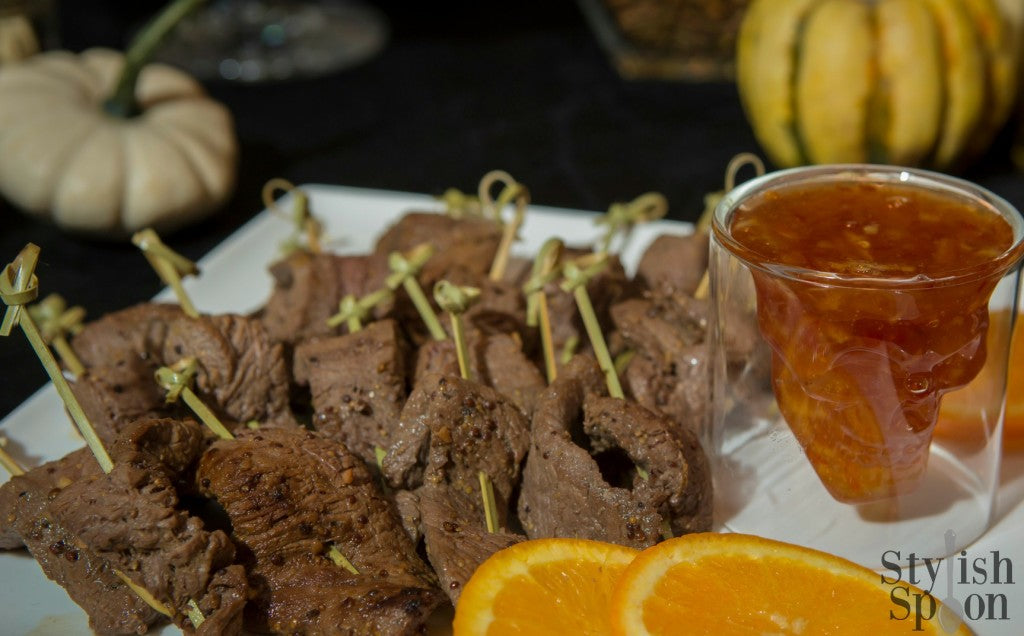 It's pretty much a fact that people love to eat anything on a stick.  Skewer any food and make it go from dinner entree to cocktail-friendly.  Take this recipe for orange-soy steak skewers.  Slicing the steak into bite-size pieces and adding a flavorful (and easy) dipping sauce makes it perfect cocktail party fare.
Steak skewers are also a great way to stretch your meat budget.  People tend to eat less skewers than they would if you served them an entire steak.  This recipe for orange-soy steak skewers is also budget-friendly because it uses an inexpensive cut of steak that is made tender with a citrus marinade that tenderizes the steak.  These orange-soy steak skewers are also super quick to make (less than 10 minutes cooking time total), making them ideal for entertaining.  Serve orange-soy steak skewers as part of Stylish Spoon's Halloween cocktail party menu, or for any cocktail party where you want a filling and crowd-pleasing appetizer made cute by skewering.
Make the dipping sauce up to 5 days in advance; marinate the meat the day before your party; and quickly cook the steak a few minutes before guests arrive (tent with foil to keep them warm).  I have never had any steak skewers leftover after any party where I have served them, though you may have some extra dipping sauce, which you can use as a sauce for grilled steak, salmon or stir-fried chicken later in the week.
Orange-Soy Steak Skewers with Chili Sauce
Double this simple recipe to serve a hungry, meat-loving crowd.
Ingredients
For the Steak & Marinade

1.5 lbs. boneless beef sirloin steak
1 tsp. Montreal steak seasoning
1 tsp. garlic salt
1/4 C. olive oil
3/4 C. fresh orange juice (about 3 oranges)
2 Tbs. low-sodium soy sauce (or Tamari to make gluten-free)
1/2 Tbs. stone-ground mustard
Wooden skewers

For the Chili Sauce

1/2 C. chili sauce
1/2 C. orange marmalade
2 tsp. Worcestershire sauce
Season steak with steak seasoning and garlic salt by rubbing into both sides of steak. Slice beef across the grain into 1/4-inch-thick slices; set aside.
Combine olive oil, orange juice, soy sauce and mustard in a Ziplock bag. Add sliced steak to bag, seal and shake to cover steak with marinade. Marinate in refrigerator for at least 2 hours, or overnight.
Combine chili sauce, marmalade and Worcestershire in a medium bowl and mix well.
Heat non-stick skillet or grill pan over high heat. Remove steak from marinade and discard marinade. Place steak in skillet in single layer and cook 2-3 minutes per side. Let rest until cool enough to handle. Thread steak onto wooden skewers and serve immediately or tent with foil until ready to serve.
Notes
You can cook the steak on the skewers if you soak the skewers in water for 30 minutes before cooking.
http://stylishspoon.com/2013/10/17/recipe-orange-soy-steak-skewers-with-chili-sauce/
Copyright Stylish Spoon - www.stylishspoon.com - All rights reserved
Crystal Skull Shot Glass used as dish for dipping sauce from Fred & Friends ($3.38 on Amazon).