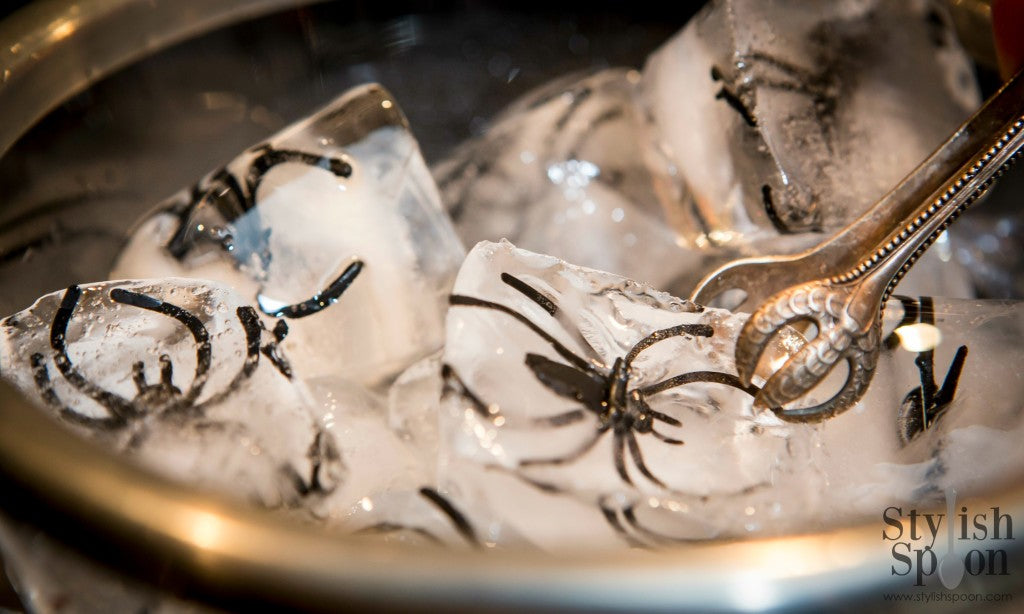 If you've been to my parties, you know that the ice cubes I serve usually have something fun frozen in them. From creepy crawlies at Halloween to cranberries during Christmas and grapes at a wine tasting – there is usually something festive floating in everyone's drink by the end of the night.
Plastic spider rings are one of my favorite Halloween decorations because they're inexpensive and readily available. You can find them in the Halloween section of most well-stocked drugstores, ranging in price from about $1.99 to $3.99 per package of 25-30. Using plastic spider rings in an unexpected way, like in these creepy crawlie ice cubes, gives them a stylish twist. You can use any Halloween theme toy or candy to freeze in ice cubes;  plastic bat rings, skulls rings or plastic pumpkins are all great add-ins.  Just be sure to use something that is large enough to pose a choking hazard, especially if you're serving them to kids and/or in cocktails.

Creepy Crawlie Spider Ring Ice Cubes
Boiling the water that you use to make these ice cubes results in a clearer cubes - the better to see your creepy crawlies through. Use tap water, or filtered/bottled water for even clearer cubes.
Ingredients
2 C. water
2 plastic or silicone ice cube trays
24 plastic spider rings
Boil the water for 10 minutes over high heat. Turn off heat and let cool.
While water is boiling, cut plastic ring off spiders using sharp scissors.
Place one spider in each ice cube mold. Fill ice cube molds half-way with cooled water. Freeze for about 2 hours, or until spiders are frozen in water. Fill molds to top with remaining cooled water. Freeze for at least 6 hours, or overnight.
http://stylishspoon.com/2013/10/20/5787/
Copyright Stylish Spoon - www.stylishspoon.com - All rights reserved