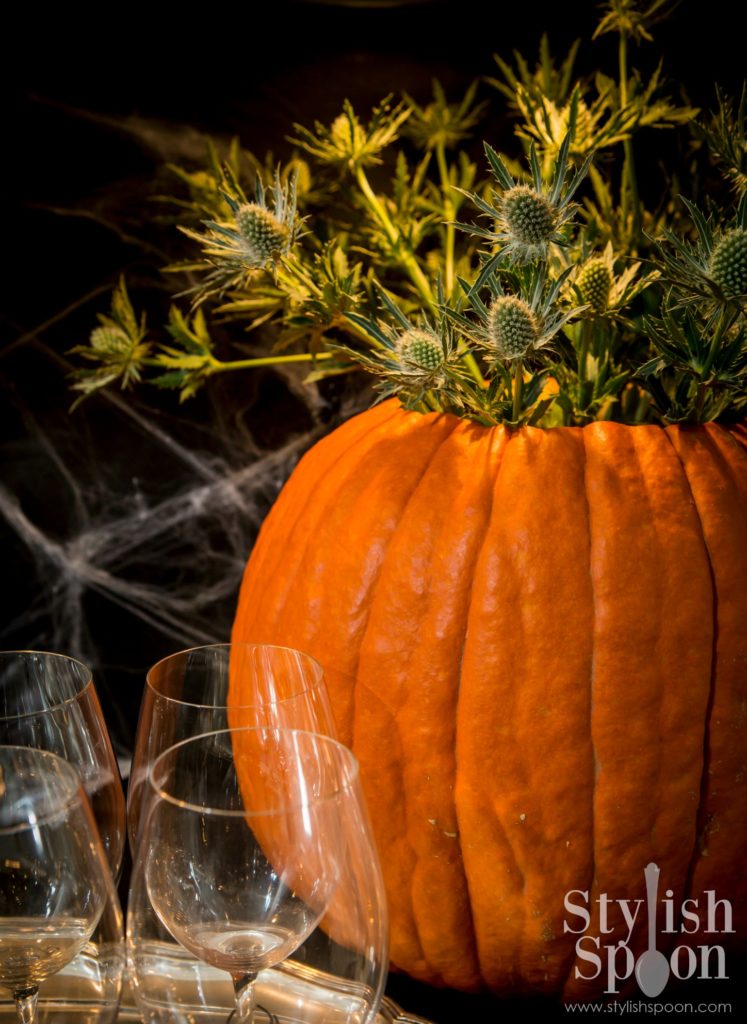 Make a big impact without spending a lot on flowers with a DIY pumpkin vase. Even with a really big pumpkin like the one pictured (19 lbs. before carving) and the thistle flowers, this large-scale centerpiece cost under $20 to make ($7.41 for the pumpkin; $5.99 per bunch of flowers x 2).  For Stylish Spoon's Spooky Halloween Cocktail Party we used thistle flowers because we were going for that eerie, haunted-house feel, but you can fill your pumpkin vase with any fall blooms to go with your party theme.
Choose a large pumpkin for a buffet centerpiece or smaller pumpkins to use as the centerpiece for a dinner table (line three small pumpkin vases down the center of a rectangular table).
Here's how to make the pumpkin vase: Cut a circle around the stem at the top of the pumpkin. I like to use a pumpkin carving set (one of the cheap ones available at most well-stocked drug stores in the Halloween supply section will make the job easier). Scrape the seeds out and clean the inside of the pumpkin (wash and dry seeds to save for toasting, if you'd like). Place a vase or another vessel inside the pumpkin and fill with water. The vase will need to be small enough to fit inside the hole of the pumpkin.  Fill the vase with water and place flowers inside vase.  Cut flowers at a deep angle under water and immediately plunge cut stems into water to make your flowers last longer.  Sit back and enjoy the festive, inexpensive and stylish pumpkin vase centerpiece you created.