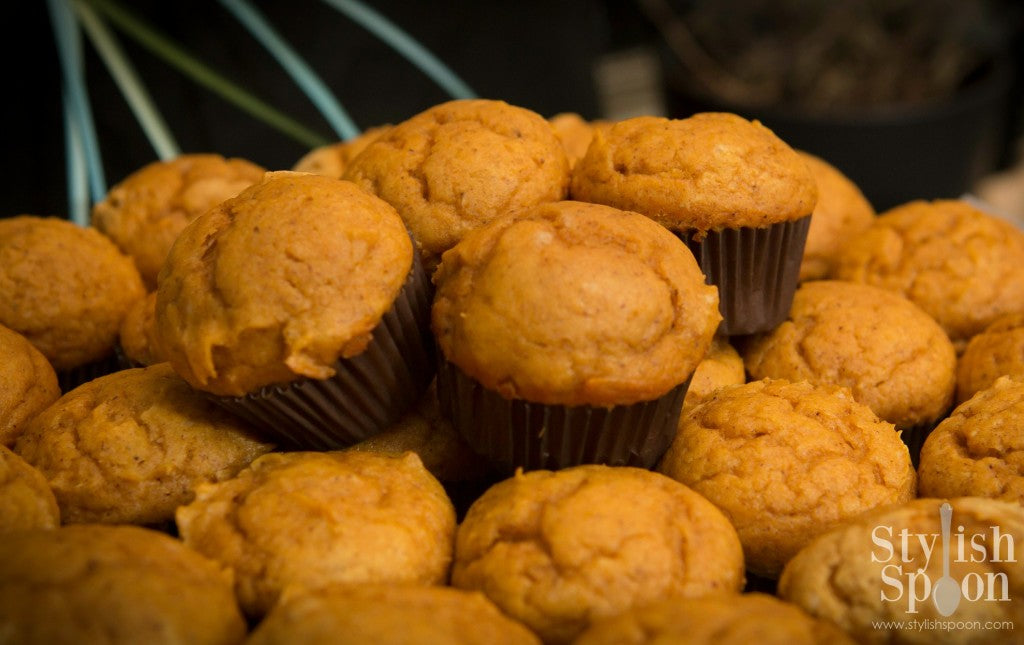 These may just be the easiest pumpkin cupcakes you will ever make.  The base of the recipe is a yellow cake mix, and rather than adding in the eggs and oil called for, you add canned pumpkin and spices.  These pumpkin cupcakes come out tasting like a rich pumpkin treat that is so moist they almost melt in your mouth.  I like to make these as mini cupcakes, which makes them bite-size and perfect for a party.  If you like frostings, you can top these pumpkin cupcakes with a cream cheese frosting for an even sweeter treat.
Serve these pumpkin cupcakes as part of a dessert spread for Stylish Spoon's Halloween Cocktail Party Menu.  Or put a few in cello bags tied with ribbon and give them as Halloween party favors.  These pumpkin cupcakes are also a nice ending for a fall brunch or book club meeting since they aren't too sweet.
Canned pumpkin and a few spices make a boxed cake mix into a part-worthy fall dessert.
Ingredients
18.25 oz. unprepared yellow cake mix (such as Duncan Hines)
12 oz. canned pumpkin
1 tsp. cinnamon
1/2 tsp. nutmeg
1/4 tsp. cloves
Line mini muffin tins with mini cupcake liners. Combine dry cake mix, pumpkin and spices in a large bowl and beat until fully combined. Divide batter among muffin tins and bake according to directions on cake mix package.
Notes
Do not add the cake mix add-ins called for on the box (water, oil, eggs, etc.). The pumpkin puree replaces those add-ins in this recipe. Cream cheese frosting is a great topping for these pumpkin cupcakes. To make a cream cheese frosting, combine 8 oz. softened cream cheese, 1 stick softened butter, 2 cups powdered sugar and 1 tsp. vanilla extract.
http://stylishspoon.com/2013/10/21/recipe-mini-pumpkin-cupcakes-for-halloween/
Copyright Stylish Spoon - www.stylishspoon.com - All rights reserved
This recipe is adapted from a Weight Watcher's recipe.