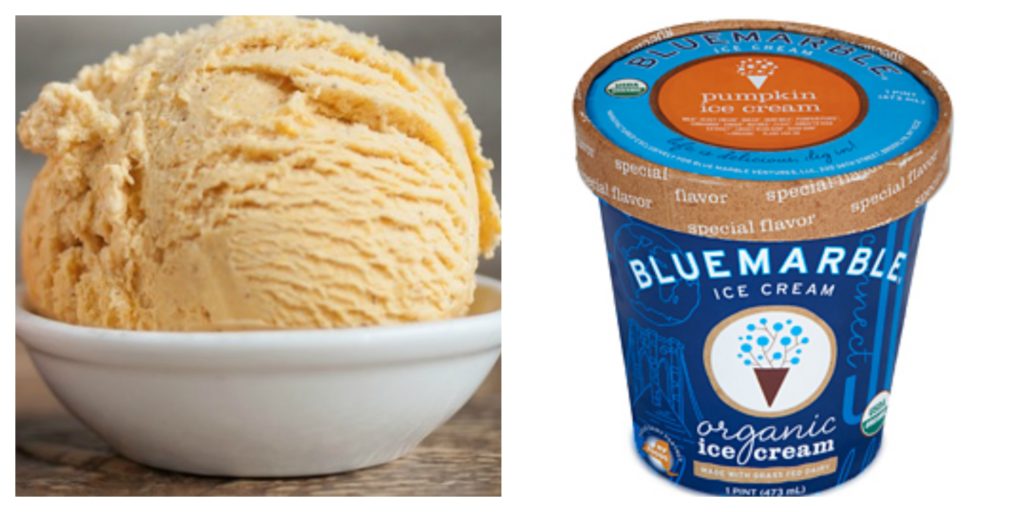 October is my favorite month of the year.  It's the beginning of fall, after the back-to-school rush has passed, with crisp sunny days and beautiful autumnal colors on the trees.  But the real reason I look forward to October?   It marks the beginning of  pumpkin season!  I adore all things pumpkin.  I really do.  I love the sight of pumpkins, and its slightly sweet and warming taste.  Pumpkin pie is one of my all-time favorites, but it doesn't stop there.  From pumpkin beer to pumpkin macrons and pumpkin ice cream – I am a lover of all thinks pumpkin-flavored.
When I saw that one of my favorite brands of ice cream, Blue Marble Ice Cream, came out with a seasonal pumpkin flavor, I just had to try it.  For you people, of course.  I mean aren't you dying to know how it is?  Well let me tell you, it is DELICIOUS!  Blue Marble's ice cream is made with organic milk from grass-fed cows, and has just the right amount of warm spice from the addition of ginger, cloves, allspice and nutmeg.  Blue Marble uses real pumpkin in the ice cream and you can taste the natural, deep flavor.  It is perfectly balanced – slightly spicy, slightly sweet and totally creamy.  For all you pumpkin fans out there, it's definitely worth a try.
Blue Marble pumpkin ice cream is served in Prospect Heights, Cobble Hill and a few other scoop shops around NYC.  Blue Marble is also available at Fresh Direct (on sale this week!), Citarella, Whole Foods (select locations in NYC, NJ and CT), Murray's Cheese, Forager's (DUMBO & Chelsea) and several other NYC markets.