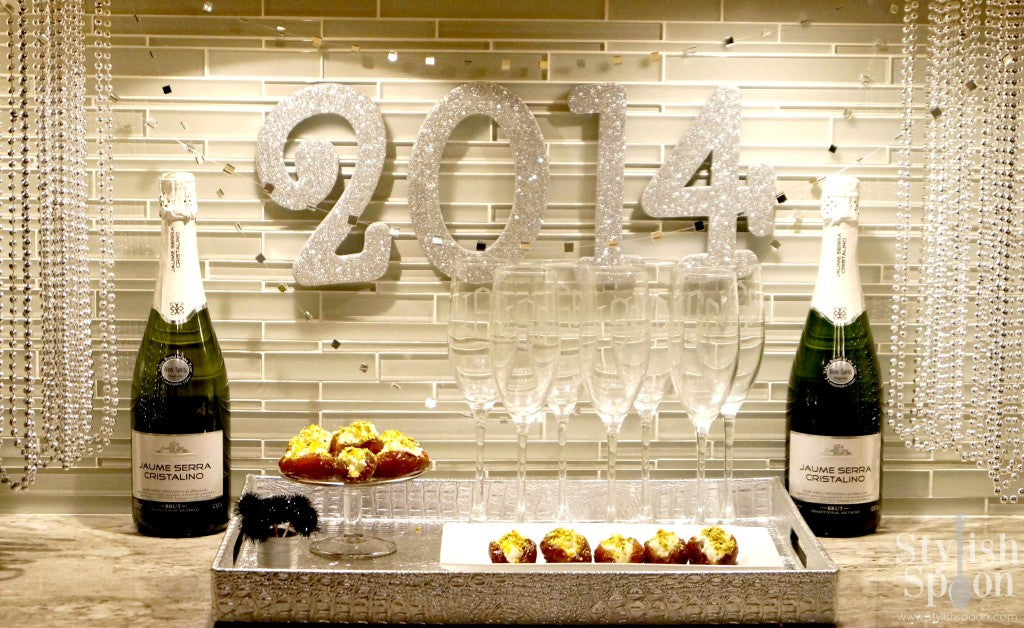 This year, Stylish Spoon was asked to Ring in the New Year with RedEnvelope by showing how to decorate a bar for a festive New Year's Eve party. I have been gearing up for a small but glam New Year's Eve cocktail party, so I was happy to accept the challenge. New Year's Eve is all about glitz so I decided on a silver sparkly setting. I set a festive mood for my New Year's Eve soiree using beautiful barware, paired with a few finds from the party and dollar store and repurposed holiday decorations to create an upscale party scene worthy of ringing in the New Year. Here's how I put together this glam New Year's Eve bar setup together.
First, I decided to keeping it simple by serving a bubbly drink and a few decadent small bites. Sparkling wine is the perfect party drink for a festive celebration and goes well with everything on the menu. I chose cava, but prosecoo or any other sparkling wine works for a New Year's Eve celebration. Serving a single drink streamlined the bar setup – all I need are monogrammed champagne flutes and a few bottles of cava (rest assured, I have several more on ice!). This same setup would also be great with a few bottles of your favorite wine and a set of beautiful personalized Schott Zwiesel Tritan Wine Glasses from RedEnvelope.
For the decor, I added a faux leather silver tray to make the side counter in my kitchen into a designated bar area. I found silver sparkly numbers at the dollar store that came with pink rhinestones that I carefully removed to create the 2014 New Year's number banner as the background. If you can't find pre-made sparkly numbers make your own by using wooden or foam numbers from the craft store and covering them in glitter or tinsel. I added even more glitz with inexpensive silver beaded necklaces. I channeled the beaded curtains of the 70's and used necklaces from the dollar store to make beaded dividers around the outside of the bar area. I used 8 necklaces per side and taped them to the base of my upper cabinets. I also added some Glittery Pom Pom Toothpicks for the bite-size appetizers, and used more of the silver beaded necklaces as a filler to make glitzy Silver Bead Martini Glass Candle Holders for inexpensive tea lights. Finally, I used a mirror garland repurposed from my Christmas tree and taped it to the under side of the upper cabinets to drape around the sparkly numbers for a little added sparkle.
For the menu, I decided on super rich and decadent Ricotta & Pistachio Stuffed Dates, along with a hearty cheese and meat spread, prosciutto-wrapped breadsticks and Maple Spiced Nuts. Peppermint Bark Chocolate Chip Cookies, Chocolate Covered Strawberries and salted caramels will be the sweet ending to the New Year's Eve celebration. Make your own sweet treats, or simplify and order the Gourmet Dipped Fancy Strawberries and Handmade Artisan Sea Salted Caramels from RedEnvelope.
Check out RedEnvelope's entire bar gift collection for future gift ideas and inspiration for your own celebrations.
Wishing you all a happy and stylish New Year's Eve celebration!