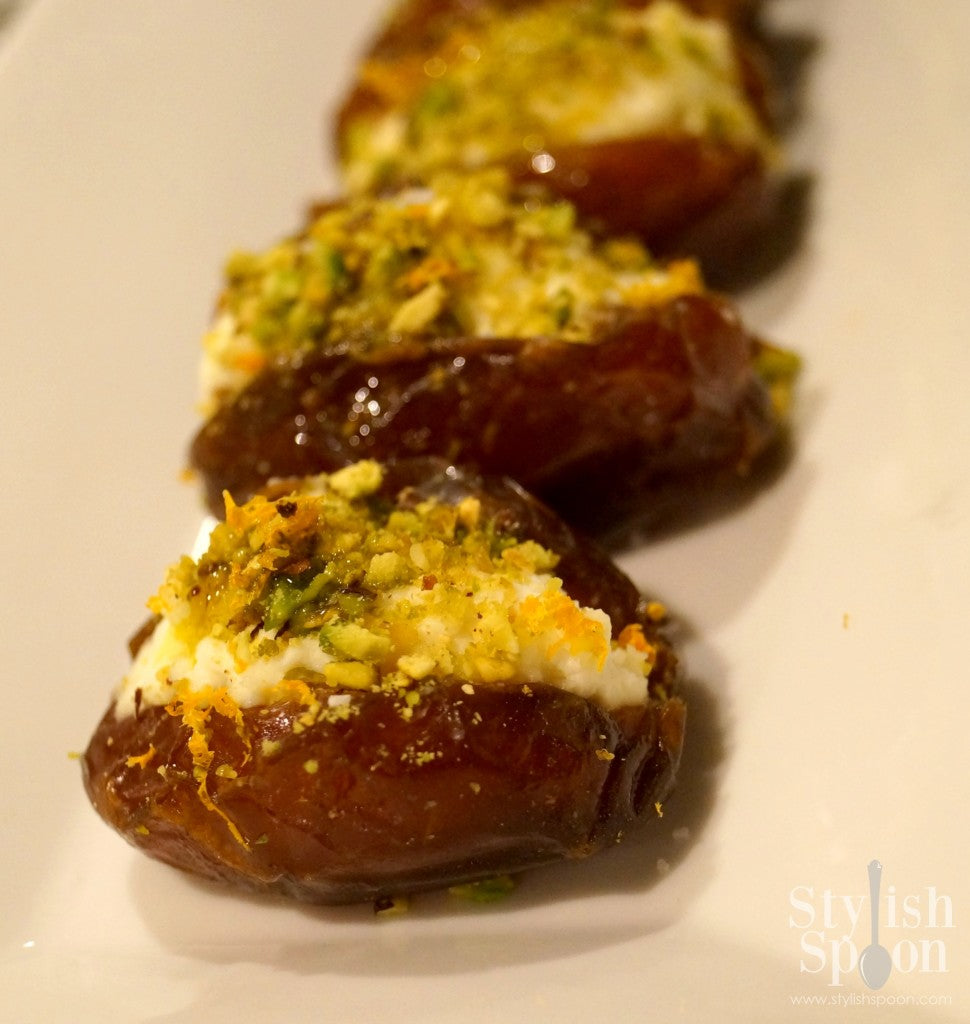 I have about a dozen stuffed date recipes that I keep in the rotation (including Bacon-Wrapped Dates Stuffed with Parmesan), but decided that I wanted to try something new for my New Years Eve Cocktail Party and came up with this amazing recipe. Using creamy ricotta cheese, chopped pistachios, a drizzle of pistachio oil and a little orange zest makes these dates into a delicious and truly decadent appetizer worthy of a special occasion.
Make these ricotta and pistachio stuffed dates for a New Years Eve party, Oscars party or any other cocktail party with a sophisticated menu. Ricotta and pistachio stuffed dates are very simple to make and can be made in advance, giving you more time to enjoy your own party. They also travel well, but be warned that these will likely be the best appetizer at the party so only bring them if you don't mind stealing the host's thunder.
Ricotta & Pistachio Stuffed Dates
Stuffed dates are a great make-ahead appetizer. Pit the dates up to a week in advance, stuff them with ricotta up to 2 days in advance and top with chopped pistachios, orange zest and pistachio oil right before serving.
Ingredients
24 Medjool dates
8 oz. ricotta cheese
1/4 cup shelled pistachio nuts, chopped
2 oranges, zested (reserve orange flesh for another use)
2 Tbs. pistachio oil (optional)
Cut dates lengthwise, remove pits and spread open wide. Place 1 Tablespoon ricotta in each date, sprinkle with chopped pistachios and a few pieces of orange zest. Serve immediately or refrigerate up to 2 days without pistachio and orange zest topping. Drizzle with pistachio oil right before serving (optional).
Notes
Use medjool dates, which are large and super sweet, if you can find them. Many stores with a good bulk food section carry medjool dates, and you can even find them at BJs in the produce section.
http://stylishspoon.com/2013/12/29/recipe-ricotta-pistachio-stuffed-dates/
Copyright Stylish Spoon - www.stylishspoon.com - All rights reserved