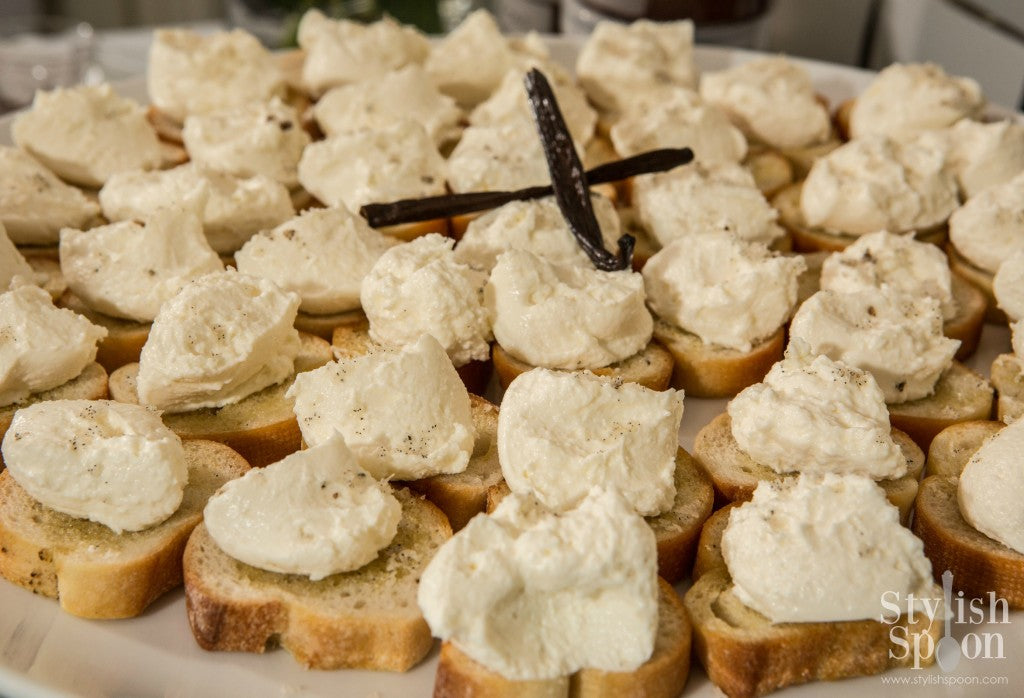 Crostini with whipped ricotta has become one of my go-to appetizers for entertaining a crowd. The creamy texture of the ricotta feels extremely indulgent, and the crisp crostini provides a great contrast in texture. I vary the crostini by topping it with either Stylish Spoon's  Vanilla Bean Sea Salt or Porcini Mushroom Sea Salt.  As far as bite-size appetizers go, crostini topped with a dallop of whipped ricotta and a sprinkle of flavored sea salt is as easy as it gets.
I use the Andrew Carmellini method (owner of Locanda Verde in NYC and author of Urban Italian) for making the ricotta irresistibly creamy and rich by beating it with a small amount of whole milk or heavy cream. Beating the ricotta with an electric mixer puts air in the cheese, making it light and fluffy, while the milk/creams adds a rich flavor.  Locanda Verde charges $15 for a small plate of this same appetizer, which you can make at home and look like a hero.
Be sure to use a high-quality whole milk ricotta in this recipe since it's the star ingredient.  Sheep's milk ricotta is best if you can find it.  If not, any good Italian ricotta (such as Lione Latticini, available at FreshDirect) works well. Salvatore Brooklyn (available at Whole Foods, Murray's Cheese, Stinky Brooklyn, etc.) is my favorite ricotta, and if you use Sal's you can skip the beating and addition of milk/cream since Sal's ricotta is already so rich and creamy.  Also use the best olive oil you have to drizzle over the crostini to make this easy appetizer extra decadent.
Plan on 2-3 crostinis per person depending on what else you are serving. Don't worry about having leftovers – as long as you keep the ricotta separate it lasts for several days (about a week) and you can spread it on toast with preserves or honey, dallop it over pasta or onto enchiladas.  Whipped ricotta is extremely versatile and absolutely delicious.
Crostini with Whipped Ricotta & Vanilla Bean Sea Salt
Beating the ricotta with a touch of milk or heavy cream makes it fluffier and more decadent - it's worth the extra step.
Ingredients
2 cups high-quality whole milk ricotta
1/2 cup whole milk or heavy cream
1 baguette, sliced into 1/2" thick rounds
4 Tbs. olive oil
2 Tbs. Vanilla Bean Sea Salt
Preheat oven to 350 degrees. Place slices of baguette in a single layer on a baking sheet. Drizzle or brush the top of each slice with olive oil. Baked in center of oven until golden brown and slightly crispy (about 15 minutes). Remove from oven and cool.
Combine ricotta and milk (or cream) in medium bowl and beat until light and fluffy (about 2 minutes); set aside.
Place a dallop of whipped ricotta cheese on each piece of crostini. Sprinkle with Vanilla Bean Sea Salt and drizzle with olive oil (optional). Serve immediately.
Notes
Toast the baguette up to a week in advance and keep in an airtight container; make the whipped ricotta up to 2 days in advance.
http://stylishspoon.com/2014/01/16/recipe-crostini-with-whipped-ricotta-and-vanilla-bean-sea-salt/
Copyright Stylish Spoon - www.stylishspoon.com - All rights reserved
Photo by Photos by Serg.