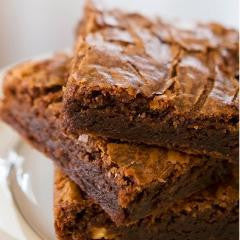 Serving a great store-bought dessert is one of the best ways to simplify a menu for entertaining. Finding a dessert to fit the bill is key. Sorbet and ice cream are good standbys, but when I'm looking for something decadent I always think of a rich chocolate dessert.  When I don't have time to make my favorite Flourless Chocolate Cake, I pick up some of the best store-bought brownies in NYC – the super rich and moist Peanut Butter Swirl Brownies from Las Delicias.  With a rich chocolate flavor, fudgey texture and thinly crackled outside layer, they are technically a brownie, but are a good substitute for a moist, flourless chocolate cake. The peanut butter swirled throughout is incredible; combined with the chocolate it tastes like a dark chocolate peanut butter cup, but better (side note: my niece recently called me out on my propensity for describing something as "like x, but better" but it's the easiest way to give an idea of what taste/texture you can expect so I will continue to use it and endure ridicule from an astute 11 year-old).
They fudgey brownies from Las Delicias are also gluten-free, which is a nice bonus if you or your guests can't tolerate gluten; though they are beyond good enough to serve to gluten-lovers!
I like to cut Las Delicias brownies into small bite-size squares (4 pieces per brownie) and serve them in two neat rows on a rectangular white platter. 
Las Delicias peanut butter swirl brownies and other baked goods are available online.  Also vailable in NYC at Zabars (UWS), Crespella (Brooklyn), and year round at the follwing NYC Farmer's Markets: Union Square Market (Fridays); Columbus &  79th St. Market on the UWS (Sundays).