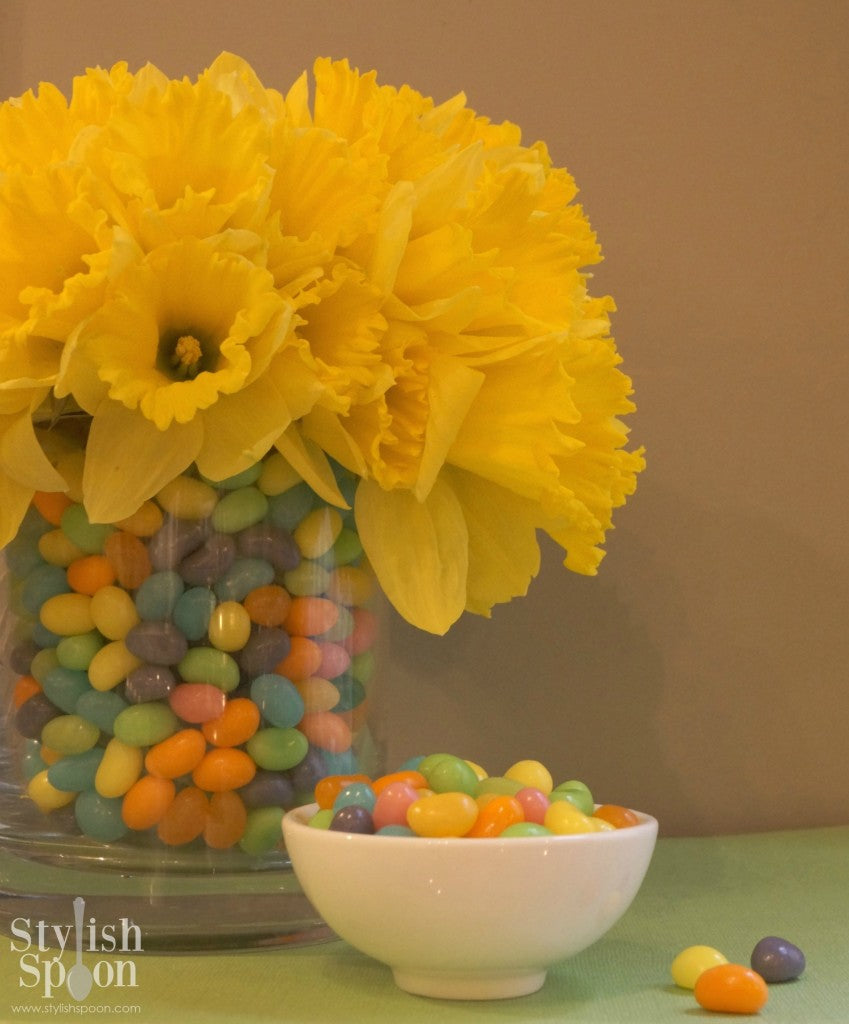 Using jellybeans as a vase filler for daffodils or another spring flower is a simple and inexpensive way to make a fun centerpiece for Easter. Start by finding two vessels that nest and leave enough space between them for the jellybeans. Use a larger clear glass vase and a smaller glass inside to hold the flowers. Add water to the flowers only, and fill the outer vase with your vase-filler (jellybeans or another Easter treat like chocolate eggs or peeps). The daffodils stay hydrated and the jellybeans stay dry so your centerpiece can last through Easter and beyond.
The trickiest part of making a jellybean vase filler is finding a vessel to fit inside the vase to hold the flowers and water. There needs to be enough space between the inner vessel and the vase to fill with jellybeans, and both the vase and inner vessel should be  about the same height so that you can pack as many jellybeans into the sides as possible. While it is a simple DIY Easter centerpiece, don't wait until the last minute to make it. Gathering your supplies will take a few minutes of rummaging through your cupboards. I used a 10 oz. hard plastic disposable plastic cup to hold the daffodils – it was the only thing I could find that was thin enough and tall enough to fit inside my short round vase.
For the vase filler I was looking for a jellybean mix with pastel colors, including yellow to coordinate with the yellow daffodils. You'd think that would be easy to find, but most of the jellybean mixes I found were either not pastel (such as Brach's), had the name of the candy printed on the beans (such as Starburst's) or cost way more than I was willing to spend on a vase filler (such as the lovely Irish Easter Jellybeans from Williams-Sonoma, which cost $15.95 per 20 oz. bag). I found a sour mix that fit the bill (Gimbal's Gourmet Sour Jellybeans – 2 bags for $7 at Duane Reade), but they unfortunately did have red and kelly green jellybeans included in the mix (why?!?). I wanted to pick the red and green jellybeans out of the mix so I enlisted the help of my little one and made it into a sorting game. The great negotiator did persuade me into providing payment for the task in the form of jelly beans. It was inevitable.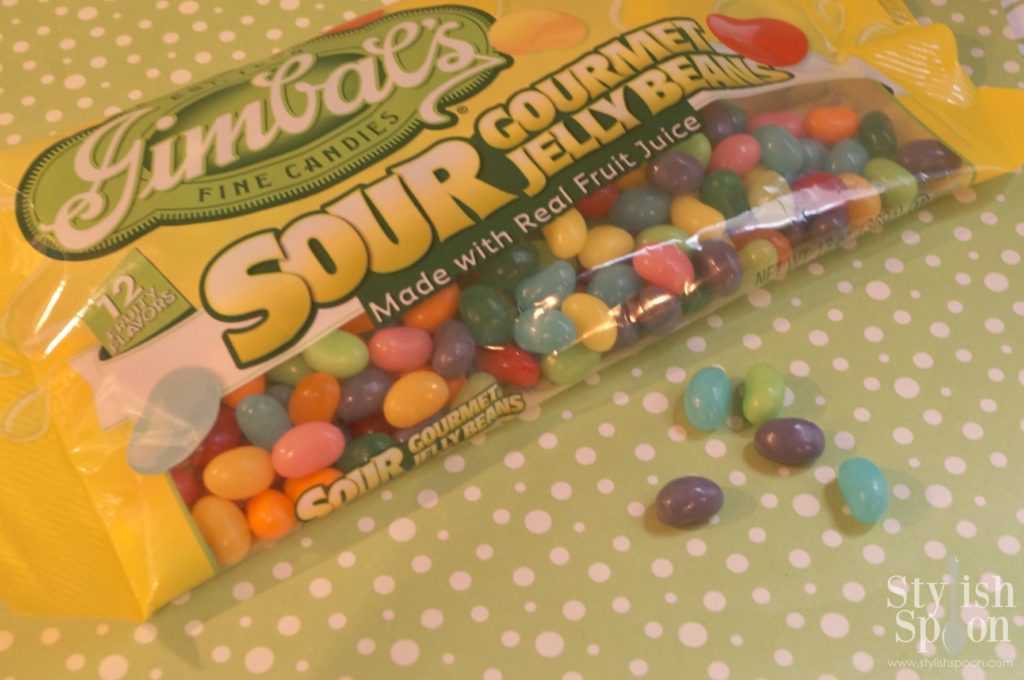 I know you're all concerned about the fate of the remnant red and green jellybeans. Rest assured, they will be repurposed for another jellybean project. Corn syrup and red dye #9 could likely last through a nuclear war, and certainly until December 2014.
Looking for other vase filler ideas?  Check out the Easter Egg Vase Filler Flower Centerpiece and the Wine Cork Vase Filler posts for instructions.