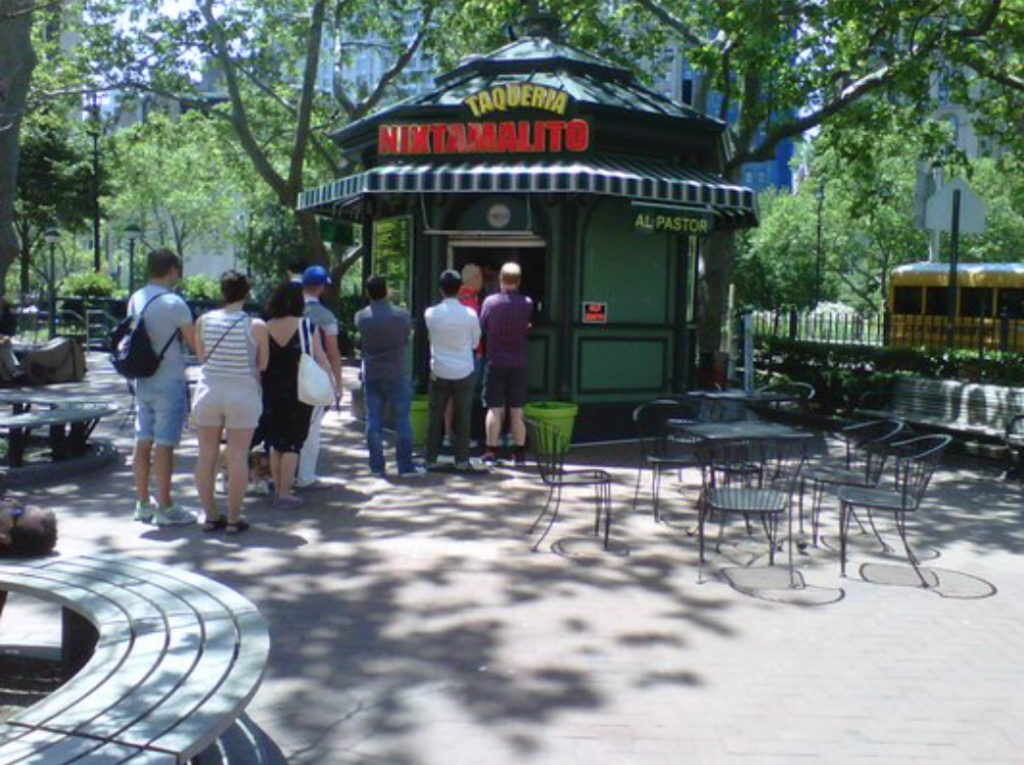 There are slim pickings for decent lunch spots when you're in lower Manhattan by the courthouses and City Hall. If you have time for a leisurely lunch, walking over to Chinatown is your best bet (hello soup dumplings!). But if you're like me, and need to grab a quick bite after appearing in court, during jury duty or after waiting in a long line for your marriage license, Taqueria Nixtamalito is a solid choice for lunch. The taco stand, which is an outpost of their flagship location in Corona, Queens, is across from the entrance to the 4/5/6 Brooklyn Bridge subway stop under City Hall, and is easy to miss. The stand is a permanent structure (not a cart that can be hauled away at night), in a small plaza with a Korean BBQ stand across the way. It's just north of the entrance to the Brooklyn Bridge walkway.
Taqueria Nixtamalito is nothing fancy, but they have good tacos, even better salsas and it's really inexpensive (about $2.75 per taco). The taco stand uses fresh masa (corn dough) to make its tortillas, as opposed to the dried corn flour that's typically used in handmade tortillas around NYC. I'm a fan of their pollo (chicken) tacos, which have large chunks of roasted shredded white meat (sometimes with a touch of dark meat mixed in), especially with an extra side of their salsa verde (made of roasted tomatillos, jalapenos and cilantro).  The chicken is a bit bland on its own, but with their handmade corn tortillas and roasted salsas they're quite good.  The sopa de tortilla (tortilla soup) is also very good – probably my favorite item at Nixtamalito.  The soup has a smokey kick from chipotle chiles, large chunks of shredded white meat chicken, chopped onions, cilantro, shredded cheese, avocado and a few handmade tortilla chips on top. You can ask for the them to skip some of the add-ins, which they do well when they aren't busy; when there's a long line special requests are sometimes missed.  I also enjoy their vegetarian cactus tacos (which taste good but are not very filling on their own with the small amount of cactus they include).
The menu includes many other items, including shrimp tacos (which have big chunks of shrimp, mango, cucumber and a creamy sauce), pork tacos with pineapple (I hear they sound better than they taste), steak tacos (I found the steak to be dry and overcooked), and tamales (which I hear are good but have not tried). They also sell Mexican coke, if that's your thing (though I have heard people complain that they're a smaller format than expected).
Nixtamalito also sells their handmade tortillas by the pound ($3/1 lb.), which I usually pick up when I'm there and keep in the fridge for homemade breakfast tacos. You can definitely taste the difference in the tortillas and they are well worth the schlep home.
Have you been to Taqueria Nixtamalito (aka the taco stand at City Hall)? Tell us what you like to order from there.
Taqueria Nixtamalito, 1 Centre Street (between the Brooklyn Bridge entrance in lower Manhattan & the Municipal building), NYC, 646-652-9986; Monday-Friday – 11:00am- 5:00pm, closed on weekends.
Photo credit (for outdoor stand): Yelp