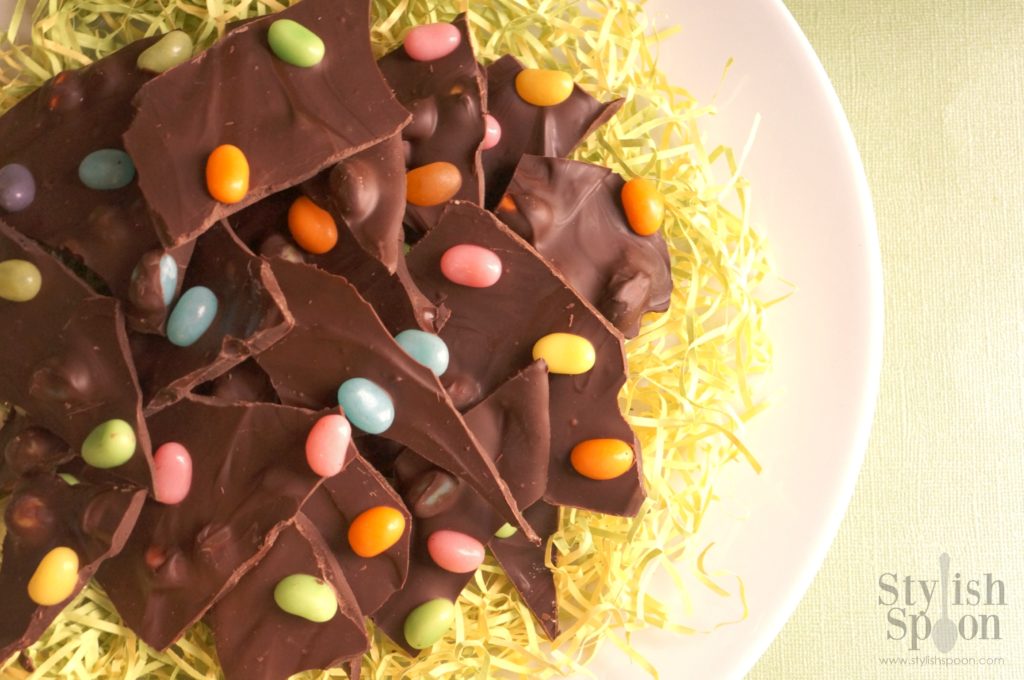 When I think of Easter desserts I think of springy, light and fruity desserts. Strawberry cheesecake, lemon squares or lemon meringue pie to name a few. But I find that no matter what I serve for dessert on Easter, people are always jonesing for a little chocolate. You have to give the people what they want, and my people always was a little chocolate, Easter or not. I usually set out a pretty dish of truffles or chocolate eggs, but this year I decided to make a quick and fun dark chocolate jellybean bark with some of the sour jellybeans leftover from the Easter Daffodil Jellybean Centerpiece. The recipe couldn't be more simple. It involves melting dark chocolate in the microwave, mixing in some jellybeans, and pouring it onto a baking sheet lined with parchment paper. It takes all of 5 minutes of hands-on time, and about 20 minutes in the fridge. Once the bark has hardened you can break it into smaller pieces and either serve it on a bed of Easter basket shreddies, like I did above, on a small plate or in a candy dish.
Dark chocolate jellybean bark also makes for a fun party favor if you put the pieces of bark in clear cello bags and tie them with pastel grosgrain ribbon. If you like yourself a little kitsch you can add tags that say "Bunny Bait" – though I usually just go with "Happy Easter." This recipe is also great for making with your kids. It's a lot faster and easier than dying eggs so if you are looking for a fun (but quick and easy) Easter project, your kids will love making jellybean bark.
Dark Chocolate Jellybean Bark
This fun bark is a great addition to an Easter menu and especially fun for the little ones.
Ingredients
12 oz. 60% bittersweet chocolate chips, such as Ghirardelli
1/2 cup sour jellybeans, divided
parchment paper
Line a baking sheet with parchment or waxed paper and set aside. Place chocolate chips in microwave-safe bowl. Heat in microwave at 30 second intervals until half of chocolate is melted, stirring each time you take it out (about 1 minute total). Once half is melted, stir until chocolate is smooth and shiny (the heat from the melted chocolate will melt the remaining chocolate and this method ensures that the chocolate won't seize or burn). Stir in 1/4 cup jellybeans.
Spread chocolate mixture to 1/4-inch thickness on prepared baking sheet. Sprinkle with remaining 1/4 cup Jellybeans. Refrigerate for about 20 minutes or until firm. Break into pieces. Store in airtight container at room temperature.
http://stylishspoon.com/2014/04/09/recipe-easter-dark-chocolate-jellybean-bark/
Copyright Stylish Spoon - www.stylishspoon.com - All rights reserved