Add a stylish twist to a traditional Easter treat.
I have a secret sweet spot for Peeps.  Last year, one of my friends indulged me and brought Jacques Torres's Chocolate Covered Bunny Peeps ($5/4 pack) as a hostess gift for Easter. I immediately knew that I would be making my own DIY version of chocolate-covered peeps for Easter this year.
I most enjoy Peeps when they're slightly stale.  In the past I've bought them and left the package open so they would harden slightly on the outside, but still have a soft center. The chocolate shell on these chocolate-covered Peeps gives the same effect – a contrasting exterior texture with a soft, gooey center. They are especially delicious fresh out of the fridge, when the chocolate has a bit of a snap to it.
These chocolate-covered Peeps are really easy to make, and take about 45 minutes of hands-on time for 36 chocolate-covered bunnies. Making these yourself instead of buying the luxurious pre-made chocolate-covered bunny Peeps from Mr. Chocolate, even using a good quality dark chocolate, comes out to about 10 cents per chocolate-covered bunny.
If you have the time, make your own chocolate-covered Peeps and add them as a high-end Easter treat to Easter baskets and dessert buffets. You can also put the chocolate-covered Peeps on candy sticks or 8″ skewers and make them into pops. I individually wrapped each chocolate-covered bunny pop and will be handing them out as favors after Easter brunch. Chocolate-covered bunny Peeps are an easy way to make an Easter staple a little more stylish.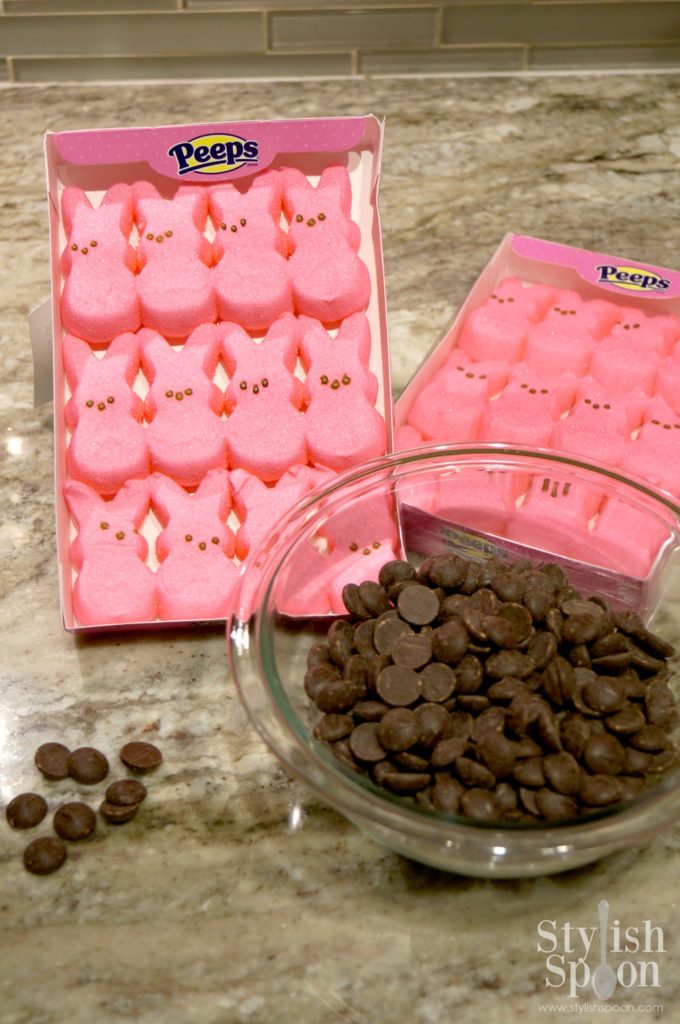 Dark Chocolate-Covered Peeps
Give traditional Easter Peeps a high-end twist with a dark chocolate coating. These can easily be made into pops with a paper candy stick or wooden skewer.
Ingredients
3 packages bunny Peeps
12 oz. 60% bittersweet chocolate chips, such as Ghirardelli
parchment or waxed paper
toothpicks
Line a baking sheet with parchment or waxed paper and set aside. Place chocolate chips in microwave-safe bowl. Heat in microwave at 30 second intervals until half of chocolate is melted, stirring each time you take it out (about 1 minute total). Once half is melted, stir until chocolate is smooth and shiny (the heat from the melted chocolate will melt the remaining chocolate and this method ensures that the chocolate won't seize or burn).
Insert a toothpick into the bottom (non-ear side) of each Peep until half of the toothpick is inside. Dip each peep into melted chocolate, using a spoon to help drizzle chocolate over each Peep. Hold chocolate-covered Peep over melted chocolate bowl and, using another toothpick, gently scrape some of the chocolate off the back side of Peep, then place with the scraped side down onto prepared baking sheet. Repeat with remaining Peeps.
If there are puddles of excess chocolate around prepared Peeps, line second baking sheet with parchment or waxed paper, lift each chocolate-covered peep and let the excess chocolate drip off onto the original baking sheet, without dripping on any other Peeps, and place Peep on second baking sheet. Repeat with remaining Peeps. Place baking sheet in the fridge for 15-30 minutes, or until chocolate has hardened. Carefully remove toothpicks before serving. Peeps can be prepared up to a week in advance and stored at room temperature or in the refrigerator, covered.
Notes
Chocolate easily absorbs smells in the refrigerator (think: garlic), so the chocolate-covered bunnies should be covered after they have hardened. Use leftover chocolate to make a few chocolate-covered strawberries or a small amount of jellybean bark (there will be about 1/4 cup leftover).
http://stylishspoon.com/2014/04/16/recipe-dark-chocolate-covered-peeps-for-easter/
Copyright Stylish Spoon - www.stylishspoon.com - All rights reserved