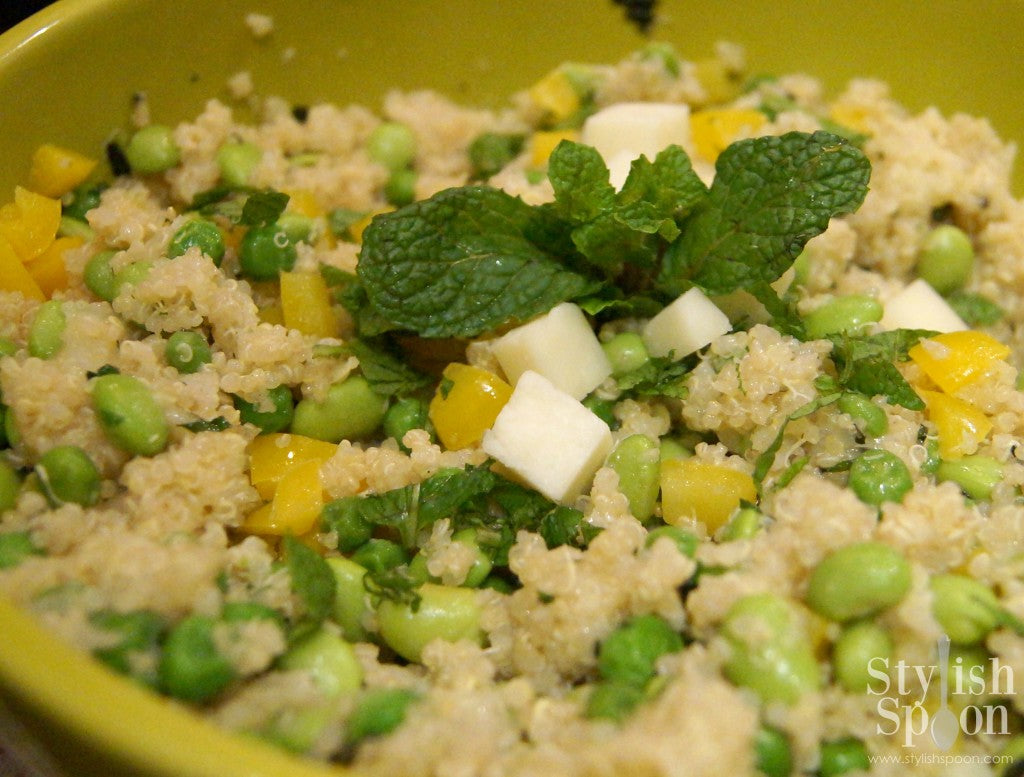 Want to know one of the dirty little secrets of high-end chefs? Many chefs, even those committed to using the freshest local ingredients, use frozen peas in their spring dishes. Ok, so it isn't that dirty, but I remember being surprised the first time I heard that frozen peas are actually preferred by chefs. Why would so-called "local" chefs use a frozen ingredient over a seasonal fresh variety? Because peas are frozen at the peak of ripeness and the texture and flavor hold up remarkably well when frozen. Besides, who wants to shell all those darn peas?!? Not this girl, and neither does anyone in a professional kitchen given that frozen peas taste so great.
So forget that the peas in this recipe are frozen, be grateful that you don't have to waste an hour of your life shelling peas for a healthy side dish, and enjoy the fresh taste of spring in this bright quinoa salad.
I used both frozen peas and edamame in this recipe to add a little extra protein to the dish and a slight contrast in texture (edamame has a more of a bite than softer peas), but you can just use frozen peas if you prefer. Mint gives the salad a little brightness, while Pecorino (a semi-firm sheep's milk cheese) adds a nice salty bite to the salad and makes it feel a little more indulgent.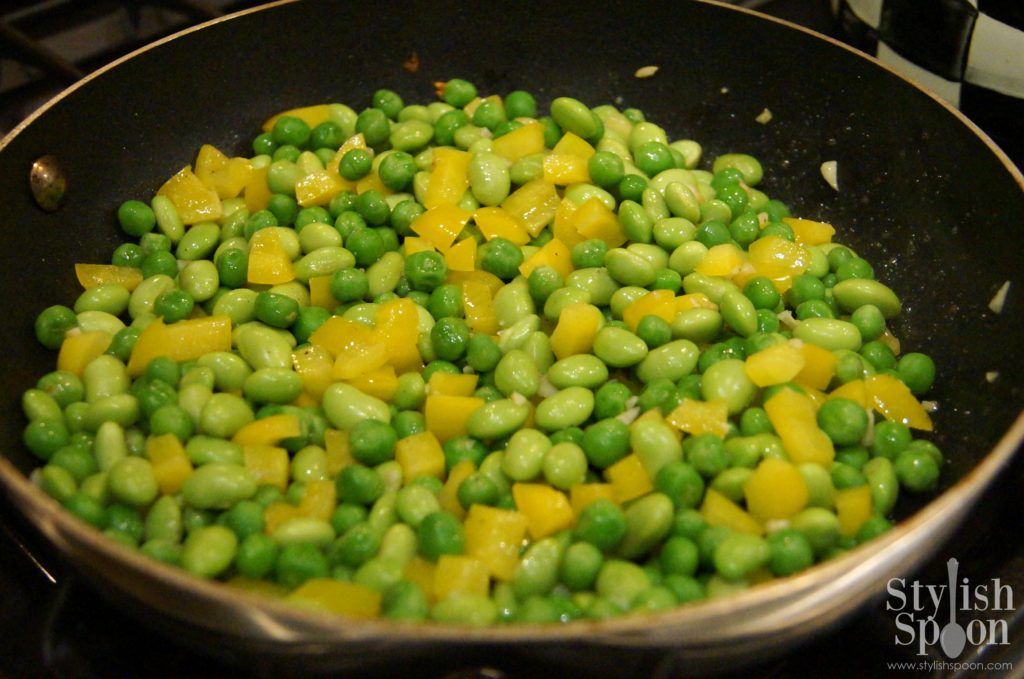 I featured this recipe in a spring dinner party menu that I created for a friend, which included whipped ricotta crostini with vanilla bean sea salt as an appetizer, a Mangalista (pork) roast, sautéed ramps, a simple mixed green salad with truffle oil vinaigrette and local vanilla bean ice cream with rhubarb sauce.
You can easily double the recipe for a larger crowd. This spring quinoa salad with peas, mint and Pecorino can be made up to 3 days in advance. The grains do absorb some of the liquid (the vinaigrette) so add an extra drizzle of olive oil and/or a squeeze of lemon before serving if the grains seem dry.
Recipe :: Spring Quinoa Salad with Peas, Mint & Pecorino
Serve this light salad with roasted or grilled meat, or on its own for a light lunch. The grains will absorb some of the liquid so drizzle with additional olive oil and/or a squeeze of lemon juice if the grains seem dry before serving.
Ingredients
1 1/2 C. chicken or vegetable stock (preferably low sodium)
1 C. quinoa
1 C. frozen shelled peas
1 C. frozen shelled edamame (or 1 additional cup of peas)
1/2 C. yellow bell pepper, chopped (about 1/2 pepper)
1 large clove garlic, minced
1 Tbs. olive oil
2 Tbs. champagne vinegar (or white wine vinegar)
1/8 C. fresh mint (packed), minced
salt and pepper, to taste
Bring stock to a boil in a medium saucepan over medium-high heat. While waiting for stock to boil, place quinoa in a fine-mesh strainer and rinse under warm water for 2 minutes to wash away the natural (but bitter) outer layer of the grain. Once stock is boiling, add quinoa and return to a boil. Reduce heat to low, cover saucepan and simmer until quinoa has absorbed most of the liquid, about 15 minutes. Remove from heat, uncover, fluff with a fork and set aside to cool at room temperature.
While quinoa is cooking, sauté vegetables. Coat skillet with nonstick spray and heat over medium-high heat. Add peas and edamame and sauté until cooked through. Add yellow peppers and cook until just slightly soft.
In a medium bowl combine garlic, olive oil, vinegar, mint, salt and pepper. Whisk until well combined. Add cooled quinoa, sautéed vegetables and stir gently with a fork to keep quinoa fluffy; fold in Pecorino. Serve slightly warm or at room temperature.
http://stylishspoon.com/2014/05/14/recipe-spring-quinoa-salad-with-peas-mint-pecorino/
Copyright Stylish Spoon - www.stylishspoon.com - All rights reserved