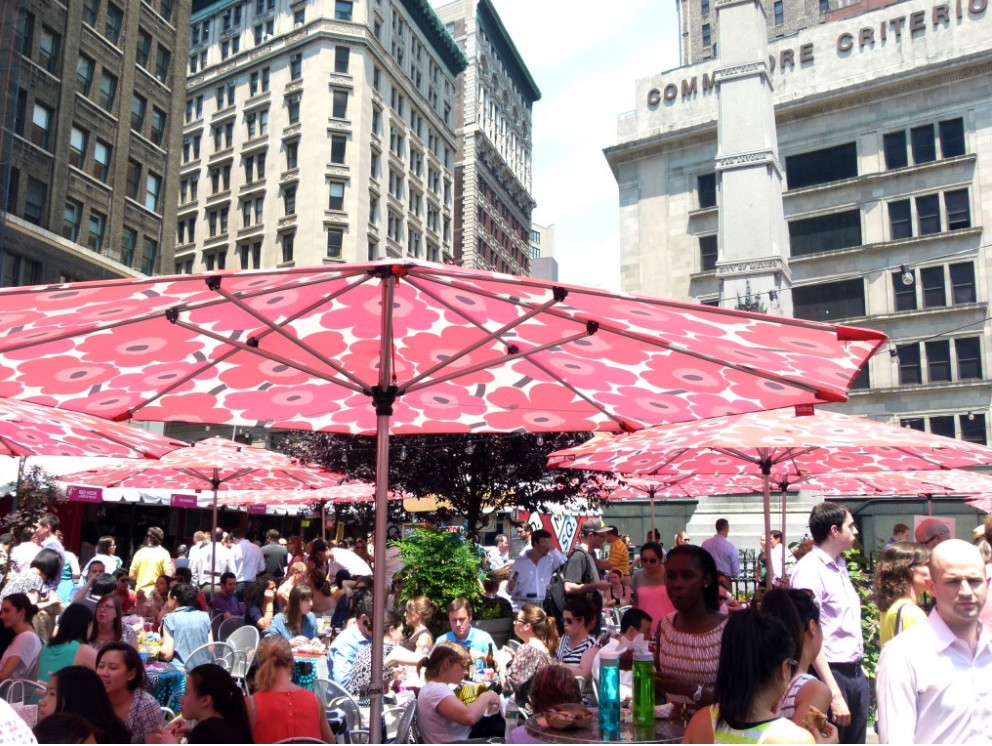 Madison Square Eats, the semi-annual pop-up outdoor eatery at Madison Square Park, is in full swing. Great food and booze vendors from around NYC converge in this fleeting street fair type festival – with way better food than your average NYC street fair.
From pork of all kinds, to gourmet hot dogs, interesting rice bowls, vegan chili, classic lobster rolls and Mexican fusion – there's something delicious for everyone at the Madison Square Eats fest. Try a cup of chilled soup from 100 Sardines by George Mendes (of Aldea), a side of truffle fries from Bar Suzette, a lobster roll from The Red Hook Lobster Pound, a gluten-free corn coconut and curry summer roll from Two Tablespoons, and end your tasting fun with some delicious macarons from the Macaron Parlour (highly recommend the passion fruit flavor) or a slice of "crack pie" from Momofuku Milk Bar.
The biggest downside is that, much like most cool things in NYC, the Madison Square Eats area gets jam packed. There are tables and chairs in the area, but at peak times they are hard to come by unless you have impeccable timing. You can head over to a bench in Madison Square Park if you can't find a table or take it to go – but who can wait that long to eat the mouth-watering bounty?!
For a complete list of vendors visit MadParkNews.com or UrbanSpace; most vendors are cash only, but there is an ATM on site; open 5/2-5/30/14 daily from 11am-9pm; take the N, R or 6 train to 23rd street (it's tucked into the North West corner of Madison Square Park).
Photo via: MadisonSquarePark.org