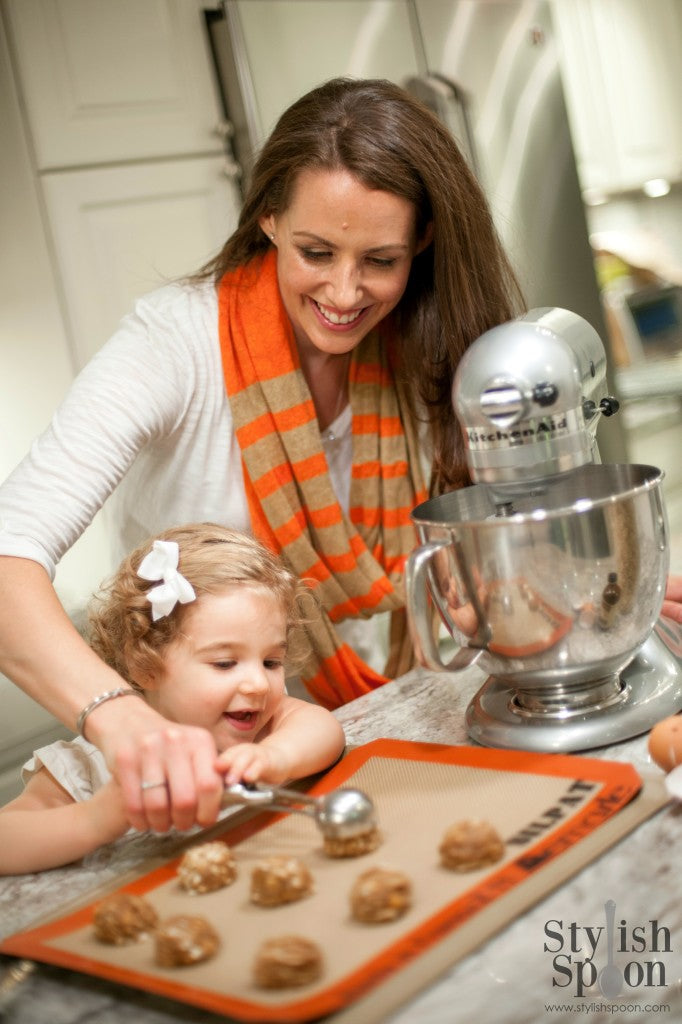 I'm posting this recipe in time for Father's Day because I'm only half joking when I tell people that my husband married me for the oatmeal butterscotch cookies I make. People laugh, then they try a cookie, and inevitably nod in agreement saying "I can see why." The oatmeal cookie recipe came from a woman I worked with years ago in a law firm in Albany during the summer between my second and third year of law school. She was the resident baker at the firm and a really lovely woman. When I asked for the recipe she told me the oatmeal cookie recipe was a "secret" family recipe, but agreed to share it with me since she knew how much I love to bake.
I held onto the recipe for years, thinking it was a guarded family recipe that was generously shared with me and only me. I made the recipe so many times that I memorized it (have to keep the husband happy!), and then one day I realized that the beloved recipe is exactly the same as the original "Vanishing Oatmeal Raisin Cookie" recipe inside the lid of the Quaker Old Fashion Oats canister. I'm going to give the woman who shared the recipe the benefit of the doubt (she really was a lovely woman) and say that perhaps she's a descendent of the Quaker family?! At any rate, now I don't feel guilty sharing the "secret" oatmeal cookie recipe since it's basically available to all the oat consumers out there.
It appears that the Quaker people are up to snuff with the healthily living trend, and the original recipe has apparently been modified since the recipe for Vanishing Oatmeal Raisin Cookies on Quakeroats.com uses half of the butter originally called for and 1/4 cup less of the brown sugar. The recipe in this post is the original Vanishing Oatmeal Raisin Cookies recipe which you can find all over the interweb (including on food.com).
Shortly after I started baking these oatmeal cookies, I adapted the recipe slightly by substituting butterscotch chips for the raisins, and using Sunsweet Lighter Bake (a jarred fruit puree) instead of the butter called for in the original recipe. The latter makes the cookies slightly healthier. I wouldn't tout these as a health food; they're a cookie, after all, and are as moist and chewy as a good oatmeal cookie should, even with the lighter bake.
The little miss and I will be baking yet another batch of these oatmeal butterscotch chip cookies for Father's Day. It's the gift that never gets old. I usually double the recipe, and save the frozen raw cookie dough for a particularly rough work week for my husband so he can come home to the cookies he married me for, even when I'm too busy to bake. I freeze the cookie dough by scooping half of the dough into mounds on a rimmed baking sheet lined with parchment or waxed paper, freezing the raw cookie mounds until frozen solid, and transferring them into a freezer bag. You can also add the baking instructions to the outside of the bag (Bake at 350 degrees for 10-12 minutes) to make baking the second batch of cookies even easier. I usually defrost the frozen cookie dough before baking by pull them out the day before and defrosting them in the fridge.
I hope you all enjoy this oatmeal butterscotch chip cookie recipe as much as our family does. If you're stumped on a Father's Day gift make a batch of these cookies for your favorite dad. Happy Father's Day to all the dads out there!
Oatmeal Butterscotch Chip Cookies
These are the cookies my husband may have married me for. It is the original recipe for Quaker's Vanishing Oatmeal Raisin Cookies, with a few modifications (see notes in recipe).
Ingredients
1 cup (2 sticks) butter or margarine, softened (I substitute 1/2 cup Lighter Bake for all of the butter)
1 cup firmly packed brown sugar
1/2 cup granulated sugar
2 eggs
1 teaspoon vanilla
1 1/2 cups flour
1 teaspoon baking soda
1 teaspoon cinnamon
1/2 teaspoon salt (optional)
3 cups oats (quick or old fashioned, uncooked)
1 cup butterscotch chips (or raisins)
Heat oven to 350 degrees F.
Beat together butter and sugars until creamy.
Add eggs and vanilla; beat well.
Add combined flour, baking soda,cinnamon and salt; mix well.
Stir in oats and raisins; mix well.
Drop by rounded tablespoonfuls onto ungreased cookies sheet. (I use a spring-loaded scoop to make them all uniform; I coat my palm with a little nonstick spray and flatten the mounds slightly).
Bake 10-12 minutes or until golden brown.
Cool one minute on cookie sheet; remove to wire rack.
http://stylishspoon.com/2014/06/08/recipe-oatmeal-butterscotch-chip-cookies-diy-fathers-day-gift/
Copyright Stylish Spoon - www.stylishspoon.com - All rights reserved
Photo credit: Beth Robyn Photography