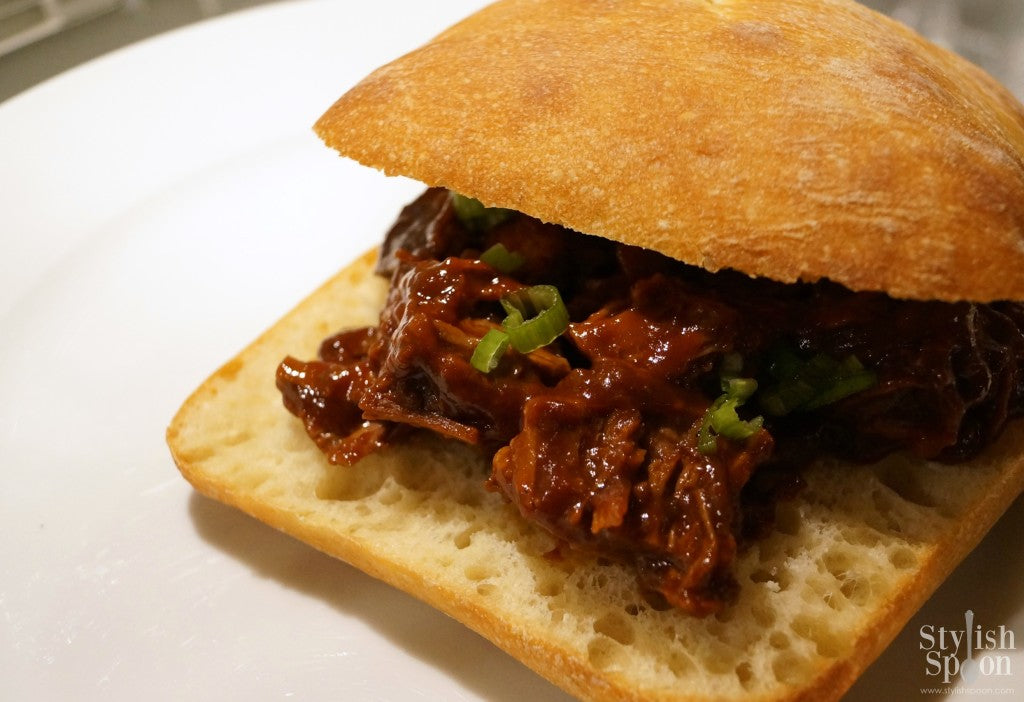 Last Father's Day, my husband wanted a leisurely family dinner at home (i.e. a meal without having to get up 3x to wait in line for the potty with the little miss). One of his favorite meals is the barbecue brisket and smokey mac-n-cheese at the high-end barbecue restaurant, Blue Smoke, in New York City. I have an amazing beef brisket recipe that I have been making for the past few years, ever since my friend Cynthia shared the recipe with me. The beef brisket recipe is Sweet and Sour Brisket, and it's delicious! The method for cooking the brisket is simple. It requires very little preparation, but it does take hours of slow braising to make the brisket fall-off-your-fork-tender. I used the cooking method from that beef brisket recipe, and substituted liquid smoke, BBQ sauce and smoked paprika instead of the sweet and sour ingredients to come up with this BBQ beef brisket recipe. I have to say this BBQ brisket recipe now one of my favorite recipes. The BBQ brisket is smokey, has great depth of flavor and an incredibly tender texture.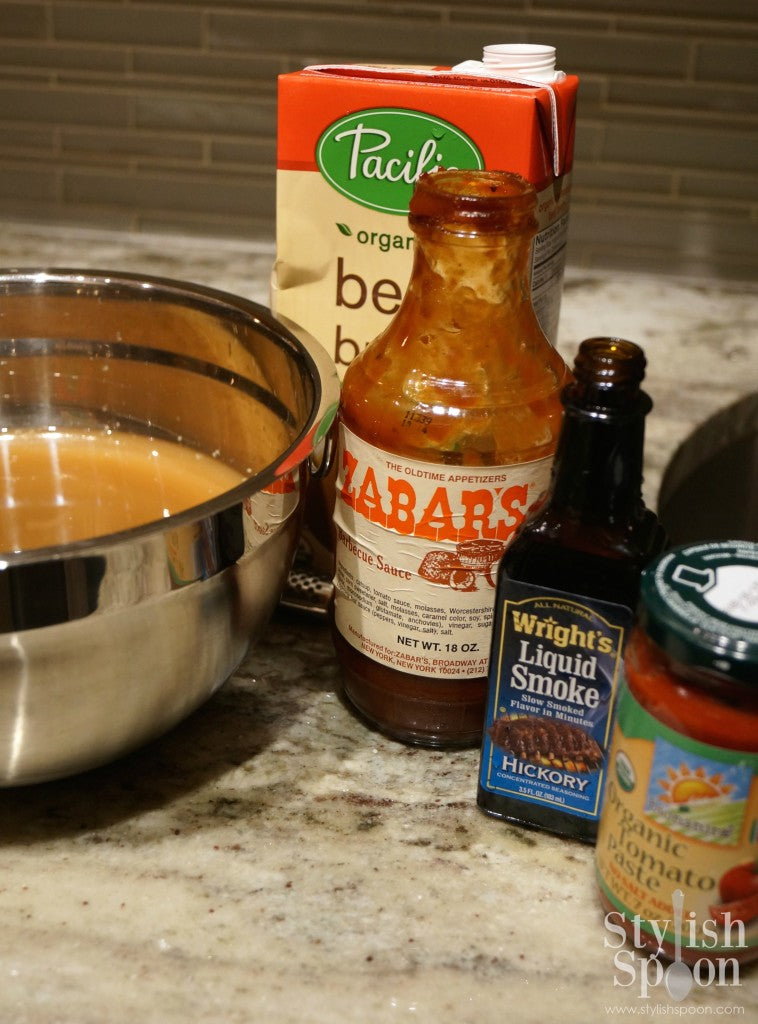 One thing to note about this recipe for BBQ beef brisket is that the smell of liquid smoke while slow braising is strong – there's a reason why people don't typically barbecue indoors! For all you apartment dwellers, keep the windows open and the bedroom doors closed while the BBQ brisket is in the oven, unless you'd like your pillow to smell like Dinosaur Bar-B-Cue (Western New Yorkers know the scent I speak of). It's not a recipe that I could make as a "surprise" for my husband – he pretty much knew it was coming from the thick BBQ scent that permeated our apartment for a little over a day, which gave him more time to be excited about the BBQ brisket.
I like to serve this BBQ beef brisket with creamy mac-n-cheese and a tangy slaw.  And if you're making this recipe especially for Father's Day, serve dad's favorite beer with this down-home meal. My husband (who knows his beer) recommends an IPA, or you can make a mojito or mint julep to go with this meal, which is what I usually order when we're at Blue Smoke.
BBQ Beef Brisket Sandwiches
This brisket has all the authentic flavor of a BBQ without without the BBQ pit. Serve this melt-in-your-mouth meat in soft bulky rolls for a BBQ brisket sandwich.
Ingredients
1 (4 - 5 lb.) brisket
1 head garlic, peeled and chopped (about 1/4 C. chopped)
Kosher salt
Fresh-ground black pepper
Smoked Spanish paprika
2 Tbs. olive oil
1 large Vidalia onion, sliced
7 oz. can tomato paste
3 C. beef broth
3 C. BBQ sauce (I generally use either Zabars or Stubb's Original)
2 oz. liquid smoke (such as Wright's Hickory Seasoning Liquid Smoke)
8 bulky rolls, halved horizontally, warmed
Preheat oven to 400 degrees F.
Rub brisket with garlic, salt, pepper and a generous amount of paprika.
Heat oil in a large, heavy pot or Dutch oven over high heat. Add brisket and sear 8-10 minutes per side, or until brown. Remove meat from pot. Add onions to pot and saute, stirring frequently to scrape up brown bits from the bottom of the pot; cook until onions are soft and light brown, about 8 minutes.
Place onions in bottom of a large roasting pan and top with brisket. Combine tomato paste, broth, BBQ sauce and liquid smoke; pour BBQ sauce mixture over the meat.
Bake, covered, for 2.5-3 hours. Cool for 30 minutes; slice across the grain. Serve warm over sliced rolls.
Notes
The brisket can be made in advance, sliced and reheated over low heat.
http://stylishspoon.com/2014/06/11/recipe-bbq-beef-brisket-sandwiches-fathers-day/
Copyright Stylish Spoon - www.stylishspoon.com - All rights reserved