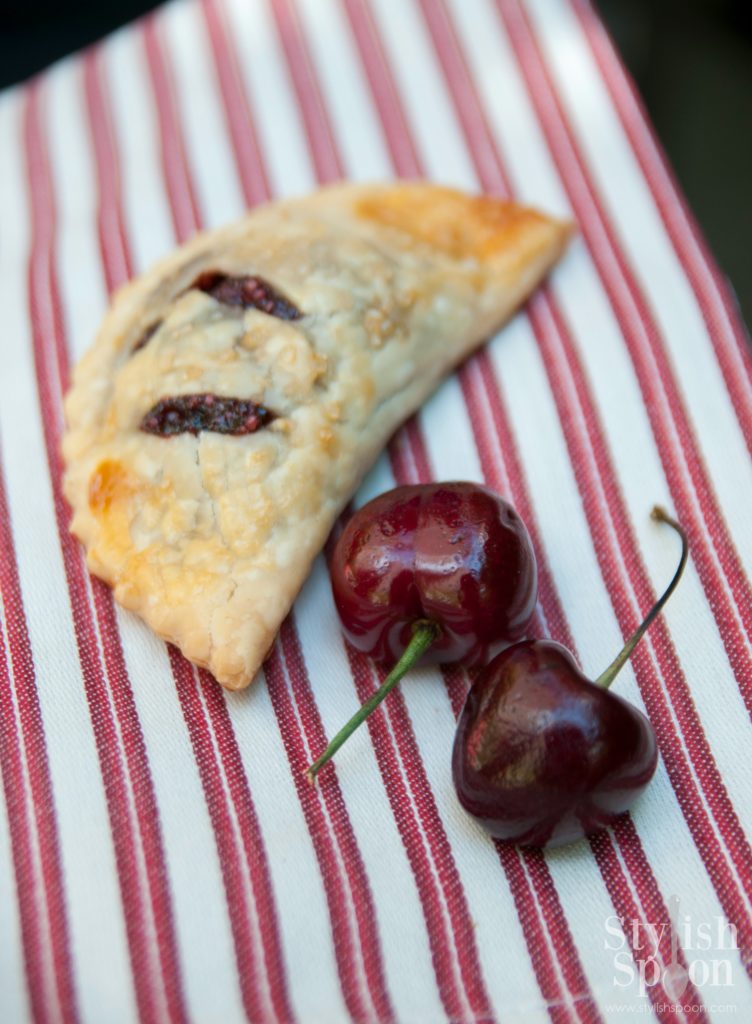 I've been wanting to make hand pies for years. They're just so darn cute and easy to serve since no slicing is required. I finally decided to make cherry hand pies because we thought they would go great with our 4th of July menu. While there's nothing more American than apple pie, there is something about cherry pie that says 4th of July. Maybe it's the color, or the fact that sweet cherries are in season. Whatever it is, it was the right choice since these cherry hand pies were a huge hit. I planned to make my own pie crust for the cherry hand pies, but I was slammed at work so I picked up a package of store-bought pie crust dough. Using a store-bought dough made making these cherry hand pies beyond simple. I made the cherry filling while boiling hot water for my tea in the morning (it only took about 5 minutes), and let the cherry filling cool in the pot. Cooking the filling really is necessary since the cherry juice would otherwise be watery and run out of the hand pies. A few hours later I cut the pie dough into rounds using a round glass vase I had on hand (you could use a glass but mine where a little too small for the size I was going for). I scooped a little of the cooled cherry pie filling onto one side of each dough round, cut a few slits on the other side of the round, and used a little egg wash around the edges before folding the dough in half and gently pressing to seal the cherry filling in the hand pies. I cleaned up the edges of the hand pies a bit with a pastry cutter (I have a wobbly old wooden pastry cutter that was my mom's that I rarely use so I was happy to have an occasion; you could also use a pizza cutter or press the tines of a fork to make a pretty edge all the way around). Without even re-rolling any of the pie dough I had 8 cute cherry hand pies (I saved the remaining dough to use with the rest of the filling since I was short on time). The cherry filling is slightly tart and mildly sweet. Cherry hand pies are best served warm right out of the oven. If you can't serve them right away, under bake the pies by a few minutes, like I did, and then reheat the hand pies slightly in a 350 degree oven before serving.
A very simple recipe for an American classic, and they are great for a picnic or BBQ since they don't require any utensils.
Ingredients
10 oz. frozen sweet cherries
1/2 C. sugar
1/4 C. dried cherries or blueberries
1 tsp. vanilla extract
1/8 tsp. sea salt
2 Tbs. instant tapioca (not starch), such as Kraft Minute Tapioca
14.1 oz. package refrigerated pie crusts (2 per package), such as Pillsbury
1 egg, beaten
2 Tbs. sugar in the raw
Combine cherries, 1/2 cup sugar, dried blueberries (or cherries), vanilla, salt and tapioca in a medium saucepan over medium-high heat. Cook until cherry mixture begins to thickened, about 3-5 minutes. Remove from heat and set aside to cool. Cherry filling can be made up to 3 days in advance.
Preheat oven to 350 degrees. Line a rimmed baking sheet with parchment paper and set aside. Unroll raw pie crust dough on waxed paper. Using a 5" wide round cutter, vase or bowl cut 4 rounds out of pie crust. Gently lift rounds with a spatula, and transfer to prepared baking sheet. Scoop 1 Tbs. cherry filling onto one side of each round, at least 1/2 inch from edge of rounds. Using a sharp knife, slice three slits into center of opposite side of each round. Spread beaten egg around entire edge of each circle using your finger. Carefully fold slit side of each round over filling and press gently to seal edges of semi-circle. Run a crimped pie dough or pizza cutter around edge of semi-circles to clean up edges. Repeat with remaining pie crust dough.
Brush tops of hand pies with beaten egg and sprinkle with sugar in the raw. Bake for 20-25 minutes or until slightly golden brown. Serve immediately or cool and serve at room temperature.
http://stylishspoon.com/2014/07/01/recipe-cherry-hand-pies-4th-of-july/
Copyright Stylish Spoon - www.stylishspoon.com - All rights reserved
Photo credit: 
Beth Robyn Photography