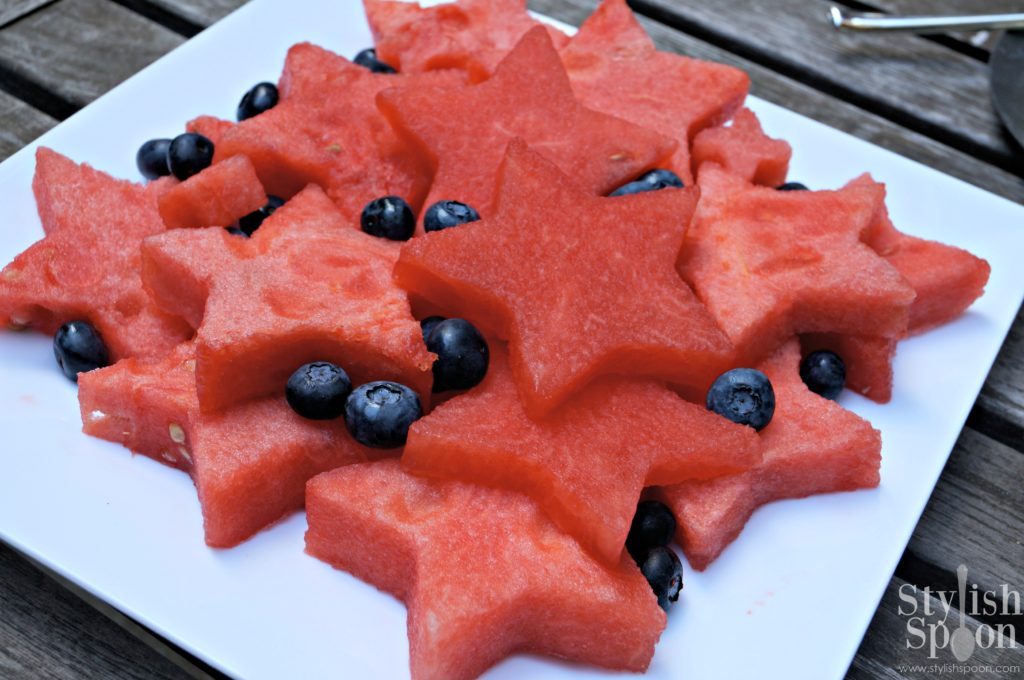 Watermelon is a summer staple, but you can give it a patriotic twist by re-purposing a star shaped holiday cookie cutter to cut out pieces of watermelon for a 4th of July party platter.  It's healthy and a kid-friendly dessert that's easy to add to any 4th of July menu. Add a handful of blueberries or blackberries to the platter and you have one more festive dish to serve this 4th of July.
I find that the easiest way to make large stars is to slice a whole watermelon in half and carefully cut all of the rind off each half. Place the cut side of the watermelon half on a cutting board, then slice the rind off in long strips down the sides all the way around. Repeat with the remaining watermelon half. (Here's a good tutorial on the best way to cut a watermelon). Once the rind is off, slice the watermelon into 1″ thick slices and then use a cookie cutter to cut stars out of each slice.
Use other cookie cutter shapes for other holidays – hearts for Valentine's Day, numbers for kids' birthday parties, or stars on sticks for a fairy theme party. The possibilities are endless!
Use leftover watermelon scraps to make watermelon-tomato gazpacho, or add them to a smoothie. You can also just blend the leftover watermelon scraps to make watermelon juice, which is one of my favorite summertime drinks.