Yes, I know summer is basically over, but this is the time of year when I get the best tomatoes from my crop-share. When I've had my fill of freshly sliced tomatoes drizzled with basil infused olive oil, caprese salads and tomato & cantaloupe salad, I like to make parmesan baked tomatoes as a simple and healthy side dish. My mother-in-law, who is typically generous with the butter and cream in her cooking, made these surprisingly light parmesan baked tomatoes for us a few years back because they were one of the few naturally gluten-free recipes in her repertoire. She served the parmesan baked tomatoes as a side for grilled steak, along with a creamed corn casserole (I told you she liked her butter and cream!) for a late-summer dinner when we were visiting. I have been hooked on these simple parmesan baked tomatoes ever since. Use the best tomatoes you can find, since baking the tomatoes intensifies their flavor.
I recently served these parmesan baked tomatoes with pesto chicken burgers and roasted corn quinoa salad when we had my friend Abby over for dinner.  I prepped the tomatoes in advance and put them in the oven while we were eating an appetizer so it was an easy side dish for a relaxed Sunday suppa.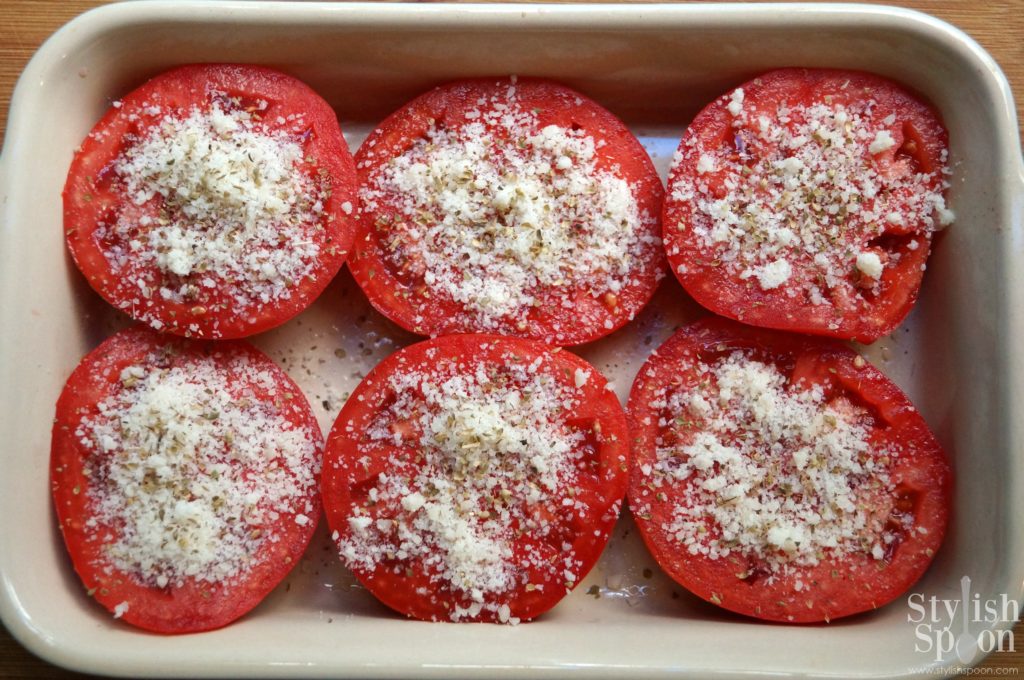 Make these deliciously sweet tomatoes when you have a late-summer bumper crop. Serve them as a side dish or on slices of toasted bread as an appetizer.
Ingredients
3 medium tomatoes
2 Tbs. grated parmesan cheese
1/2 tsp. dried oregano
salt
pepper
Preheat oven to 450 degrees. Slice tomatoes in half and place cut side up in a baking dish coated with nonstick cooking spray (note: if tomatoes are very wobbly slice a small piece off the rounded bottom to steady them). Sprinkle each tomato half with parmesan cheese, oregano, salt and pepper to taste. Bake for about 20 minutes, or until tomatoes are soft and cheese is melted and slightly golden. Serve immediately or at room temperature.
http://stylishspoon.com/2014/09/03/recipe-parmesan-baked-tomatoes/
Copyright Stylish Spoon - www.stylishspoon.com - All rights reserved