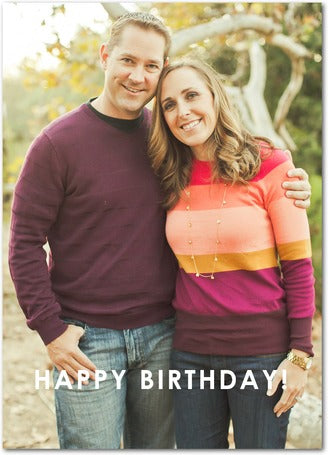 A while back my friend Holly sent me a link for a free Treat greeting card (thanks Hollz!). Treat is a greeting card site owned by Shutterfly (along with Tiny Prints, Wedding Paper Divas, etc.), where you can quickly upload a pic to a greeting card and have the card sent directly to the recipient for the same price as a drugstore greeting card.
After I ordered my first free card for Father's Day, I have been regularly sending Treat photo cards ever since – especially to the grandparents. Shhh – don't tell my dad it only takes 5 minutes to make and send the card because he keeps talking about how great they are every time I send one!
My two favorite things about Treat greeting cards are:
(1) Treat mails the greeting cards for you. I mean how many times have I had the best of intentions of sending a timely greeting card only to forget about the card in the bottom of my work bag for days before remembering to mail it at the exact moment when I pass a mailbox on the street?!? I know I'm not the only one…. Treat charges for the actual price of the postage (current stamp rate) and there's no additional mailing fee.
(2) Treat has timeless and simple photo card designs. So many other sites have designs that are too busy and/or shmaltzy greetings that you can't alter. My go-to card designs at Treat are: Blessed Birthday (pictured above), Sweet Spot (I'm not mature enough for that name) and Cheerful Love. I have ordered many of each style design over the past year or so.
Treat is now offering Stylish Spoon readers a free greeting card (first time customers only, valid through 9/10/14). Get your free Treat greeting card by clicking the hotlink and entering the following coupon code at checkout: TREATNEW (see website for full terms and conditions – this free card coupon code does not include the price of a stamp if you choose to have the card shipped directly to the recipient).
*The opinions expressed in this post are entirely my own and I have purchased all of the cards that I have sent to date through Treat with my own cash money (other than the free greeting card with coupon code!). I have not been compensated by Treat for the review, but this post does contain an affiliate link.  Thank you in advance for using this link and others that support Stylish Spoon.