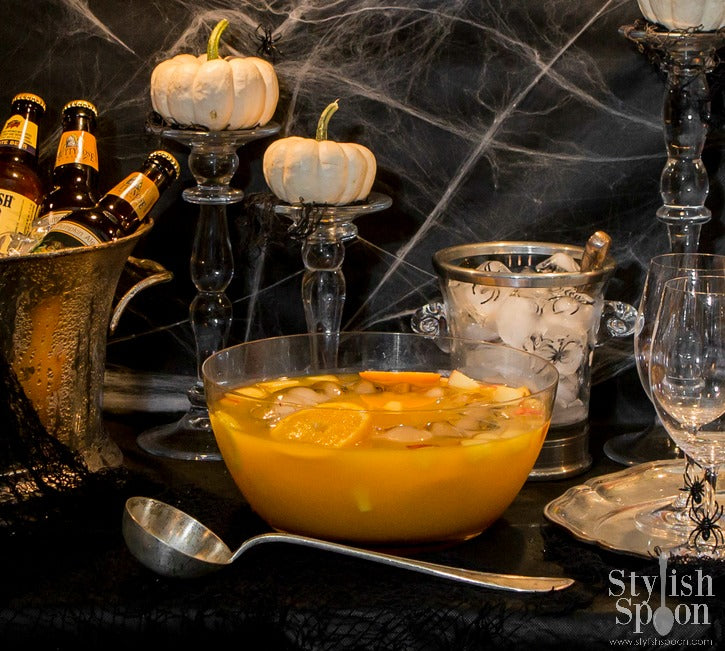 Sangria is my go-to drink for serving a crowd.  No need to run to the bar every time someone wants a drink; make this sangria in advance and let everyone serve themselves.  This spooky Halloween citrus sangria calls for both orange and mango juice to make a refreshing and complex flavorful base for the alcohol. The juices also keep the sangria bring orange so it coordinates well with a Halloween theme.
Unfortunately you can't see it in the pic, but I made an ice ring in a bundt pan with black spiders to make this sangria really spooky (similar to these Creepy Crawlie Spider Ice Cubes).  Serve spooky citrus sangria as part of Stylish Spoon's Halloween Cocktail Party Menu, or as a citrusy punch for any fall or winter party.
Ingredients
2 750 ml bottles white wine, such as Riesling, Chenin Blanc or Pinot Grigio
2 C. mango juice
1 C. orange juice
1 C. brandy
1/2 C. orange liqueur (such as Cointreau or Triple Sec)
¼ C. simple syrup (recipe below)
1 C. mango, cubed
1 orange, sliced

For the simple syrup

2/3 C. water
2/3 C. sugar
For the simple syrup:

Bring water and sugar to a boil in a small sauce pan. Boil until clear; remove from heat and let cool.

For the sangria:

Combine wine, juice, bandy and orange liqueur in a large pitcher. Add additional 1/4 cup simple syrup or to taste; stir to combine. Add fruit and refrigerate for at least 8 hours, or up to 24 hours. Serve straight up or over ice.
http://stylishspoon.com/2014/10/24/recipe-spooky-citrus-sangria-halloween-drink/
Copyright Stylish Spoon - www.stylishspoon.com - All rights reserved