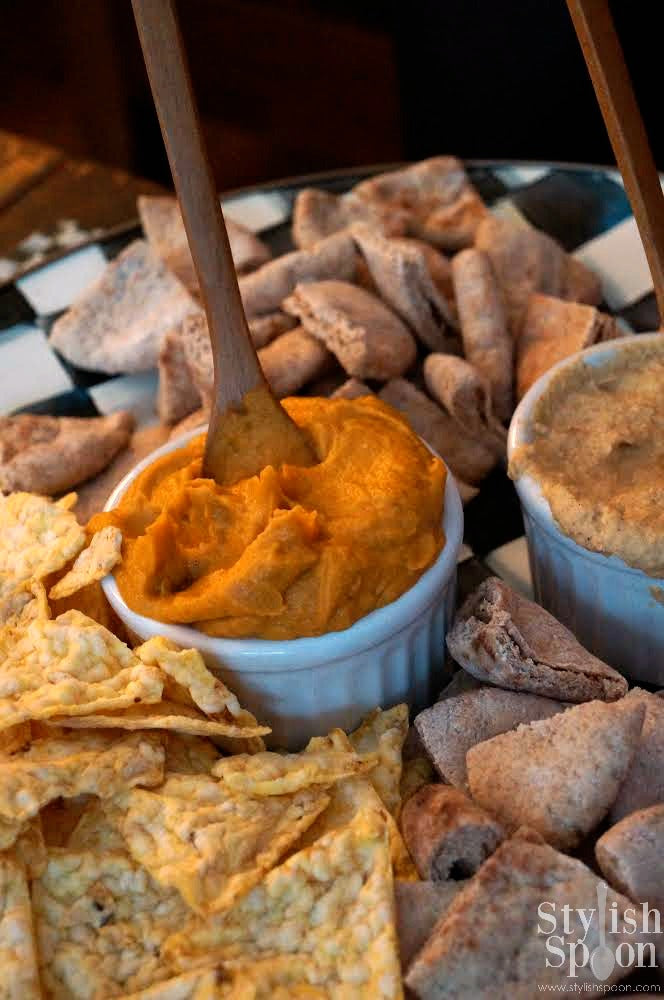 Not everything you serve on Thanksgiving has to be indulgent. This vegan sweet potato spread, for example, has the flavors of fall without any of the guilt, and it's a nice reprieve from all the heavy holiday foods.  The recipe for this vegan sweet potato spread is inspired by a recipe from Josie's – one of my favorite healthy neighborhood restaurants that has a mostly organic menu with a tasty and eclectic mix of flavors. I order in from Josie's often, but it's best to eat in the restaurant because they start the meal with an amazing vegan sweet potato spread that they serve with whole grain bread and focaccia. Josie's sweet potato spread is slightly sweet taste with a complex, nutty flavor. Last Thanksgiving I decided to try to recreate the sweet potato spread at home.  I found a recipe for Josie's sweet potato spread online that I used for inspiration, which I adapted, and the resulting sweet potato spread did not disappoint. The sweet potato spread is flavorful, smooth and luscious.
I brought a big batch of the vegan sweet potato spread, along with a few other appetizers, to Thanksgiving at my sister's house last year, and we all agreed that this recipe is a keeper. I have since brought the sweet potato spread to several parties, and have served it as an app along with a few other spreads many times. It always gets rave reviews. The most common comment is that the dip is so smooth and refined. Although it has tahini in it, it's definitely different than hummus – more sweet than nutty. Serve it with flat bread crackers or whole wheat pita since it's really more of a spread than a dip. The colors and flavor make it perfect for the holiday season, and it's excellent for many people with food allergies since it's dairy-free, gluten-free and nut-free (be sure to tell someone with a sesame allergy that it has tahini in it).
Feel free to use leftover mashed sweet potatoes from Thanksgiving in this recipe. I've used leftover sweet potato spread (when there are any leftovers) on sandwiches and in quesadillas with black beans and cheddar cheese.
Vegan Sweet Potato Spread
This smooth and luscious spread makes a great appetizer.
Ingredients
2 1/2 C. mashed sweet potato
2 Tbs. Tahini
3/4 tsp. Kosher salt
1/4 tsp. ground cumin
1/8 tsp. curry powder
Combine ingredients in food processor and puree and until smooth, scraping down sides (about 2 minutes). Serve at room temperature with flat bread or focaccia.
Notes
Store this spread in the fridge for up to 3 days.
http://stylishspoon.com/2014/11/13/recipe-vegan-sweet-potato-spread/
Copyright Stylish Spoon - www.stylishspoon.com - All rights reserved