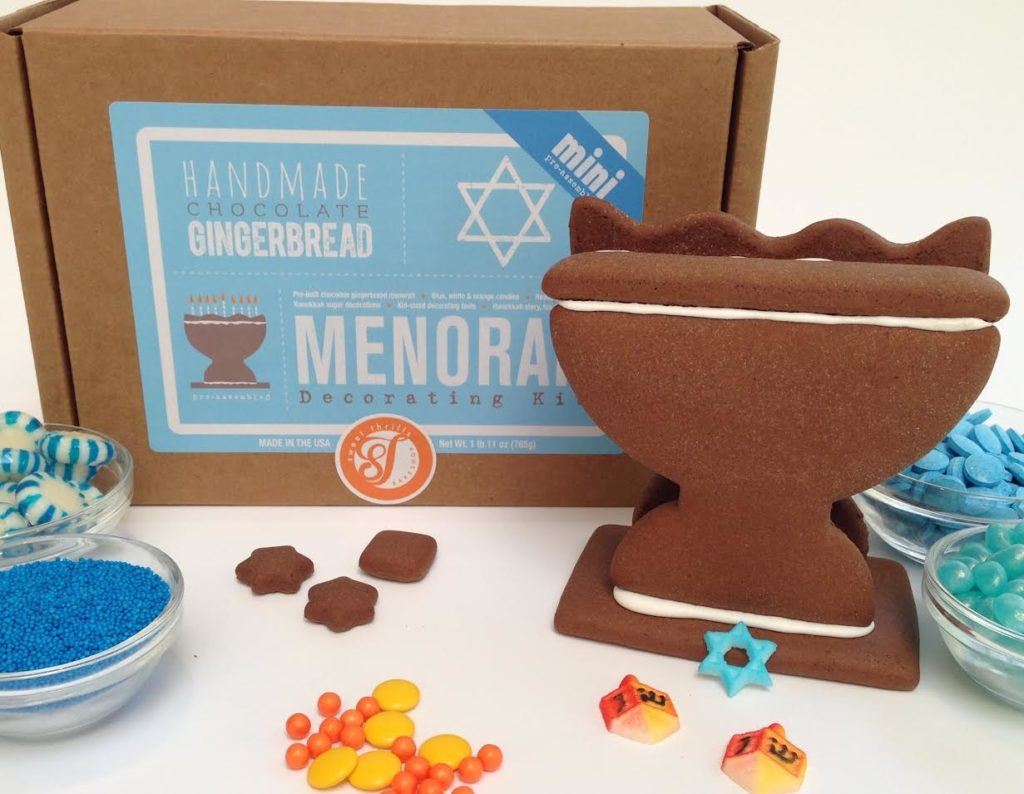 I'm always looking for ways to make our Hanukkah celebration even more fun, and the Gingerbread Menorah Kit from Sweet Thrills Bakeshop is our latest addition. Gingerbread decorating is such a fun holiday project to do with kids.  What kid doesn't want to sit down with a bunch of frosting and candy?!?
The Gingerbread Menorah Kits from Sweet Thrills Bakeshop are Kosher pareve, and include everything you need to decorate – from handmade gingerbread cookies to icing, adorable blue and white candy embellishments (with a few extra for the kids to snack on), blue fontant to make the candles with orange and yellow candies for the flames, sugar dreidels and Stars of David, and gel frosting for decorating. The Gingerbread Menorah Kit also includes simple, detailed instructions that even I could follow. The cookies smell divine the minute you unwrap them (chocolate gingerbread, to be exact), and the entire kit is beautifully packaged, with a cello bag full of smaller bags of candy that are sealed with a simple Star of David stickers, to a coordinating pretty blue bag for the carefully packaged (bubble wrapped) gingerbread cookies.
Be prepared to assemble the menorah cookie base in advance (i.e. don't get your kids all pumped to decorate as soon as you open the box because the frosting needs to dry for the structure to be steady).
I'll be bringing one of the Gingerbread Menorah Kits as a gift for a Hanukkah party were are going to in a few weeks, as it makes a great hostess gift for the whole family.
TODAY ONLY (12/1/14) – 15% off Gingerbread Menorah Kits with coupon code: cyber15.
Gingerbread Menorah Kit (finished size: 8″ x 4″ x 8″), $29.95; Mini Gingerbread Menorah Kit (finished size: 5″ x 2 3/4″ x 5″), $21.95 + shipping (2-day shipping is $14.26); handmande in San Francisco, CA.