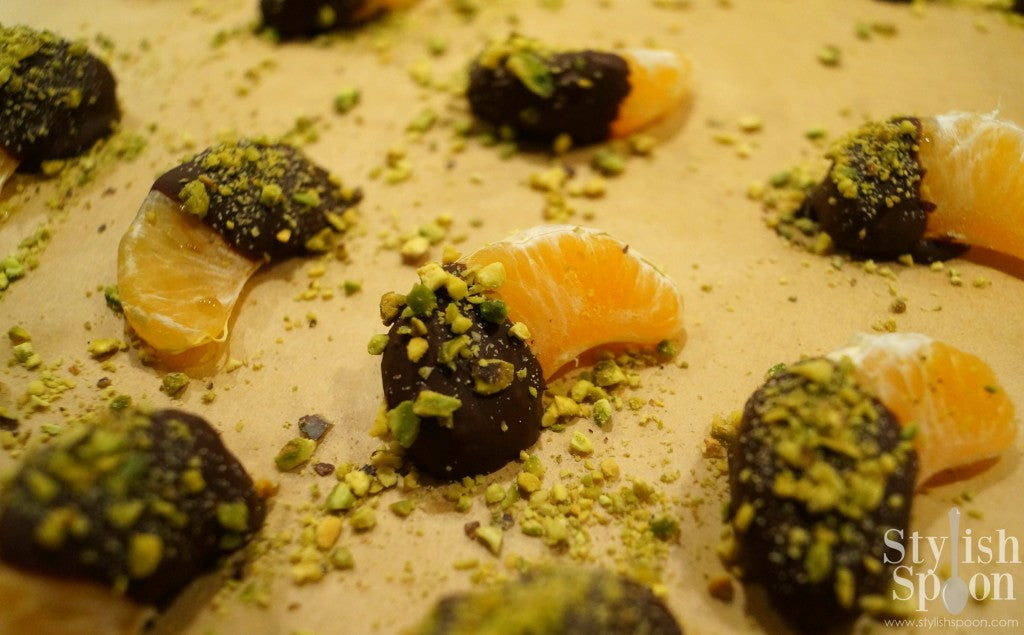 Although the little miss adores cooking almost as much as I do, I find that the best things for us to make together are quick and impressive. Quick so she doesn't lose interest, but impressive enough that she feels like we made sometime really special.
When it came time to think of a quick yet impressive dessert for us to make for a Hanukkah party we hosted last week, I was inspired by the brimming bowl of clementines on our counter. We often make chocolate-covered strawberries, and even pineapple dipped in chocolate and sprinkled with vanilla bean sea salt, but I remembered seeing a picture of chocolate-covered tangerine slices so I thought that chocolate-covered clementines would be a nice change of pace. We already had some chopped pistachios left over after making homemade chocolate truffles a few weeks ago, so we gave the chocolate-covered slices a sprinkle of chopped pistachios (the little miss took over this job) to add a little crunch to the chocolate. They turned out great. These chocolate-covered clementine slices are both decadent and refreshing at the same time; a rich dark chocolate shell with a burst of juice in the center and a slightly nutty flavor. Chocolate-covered clementines are also particularly impressive for a 15 minute cooking project, and they were particularly nice after a heavier meal of brisket and potato latkes.
Chocolate-covered clementines with pistachios are elegant enough for a New Year's Eve cocktail party, yet simple enough to serve as a little treat after a family dinner. Make the clementines at least 2 hours in advance to give the chocolate time to harden and form a crunchy shell for the fruit.
Chocolate Covered Clementines with Pistachios
Chocolate covered clementines are both decadent and refreshing thanks to a burst of fresh juice you get with each bite. Use your imagination and experiment with different types of citrus and nuts to change things up.
Ingredients
3 clementines, peeled and sectioned
8 oz. 60% dark chocolate chips, such as Ghirardelli
1/4 C. chopped raw pistachios (use about about 1/2 cup shelled)
Line a sheet pan with parchment or waxed paper and set aside. Place clementine sections on a paper towel and let them sit at room temperature for about 15 minutes to remove excess moisture from the outside (do not squeeze or remove juice from the center of the sections).
Place chocolate in a microwave-safe bowl. Heat in the microwave at 30 second intervals until half of the chocolate is melted, stirring each time you take it out. Once half is melted, stir until the chocolate is smooth and shiny (the heat from the melted chocolate will melt the remaining chocolate and this method ensures that the chocolate won't seize or burn).
Hold one end of a clementines slice and dip the other side into the melted chocolate. Twist the pieces as you lift them out of the chocolate to let the extra chocolate drip back into the bowl and gently wipe the sections against the edge of the chocolate bowl to prevent chocolate from puddling. Place dipped clementines on prepared parchment lined pan. Repeat with remaining pieces. Sprinkle with chopped pistachios immediately after. Allow the chocolate to harden at room temperature (about 30 minutes), or put them in the refrigerator for 15 minutes to harden.
Notes
Chocolate covered clementines can be kept in the fridge for several hours covered with plastic to prevent the chocolate from absorbing other flavors in your fridge.
http://stylishspoon.com/2014/12/29/recipe-chocolate-covered-clementines-with-pistachios/
Copyright Stylish Spoon - www.stylishspoon.com - All rights reserved