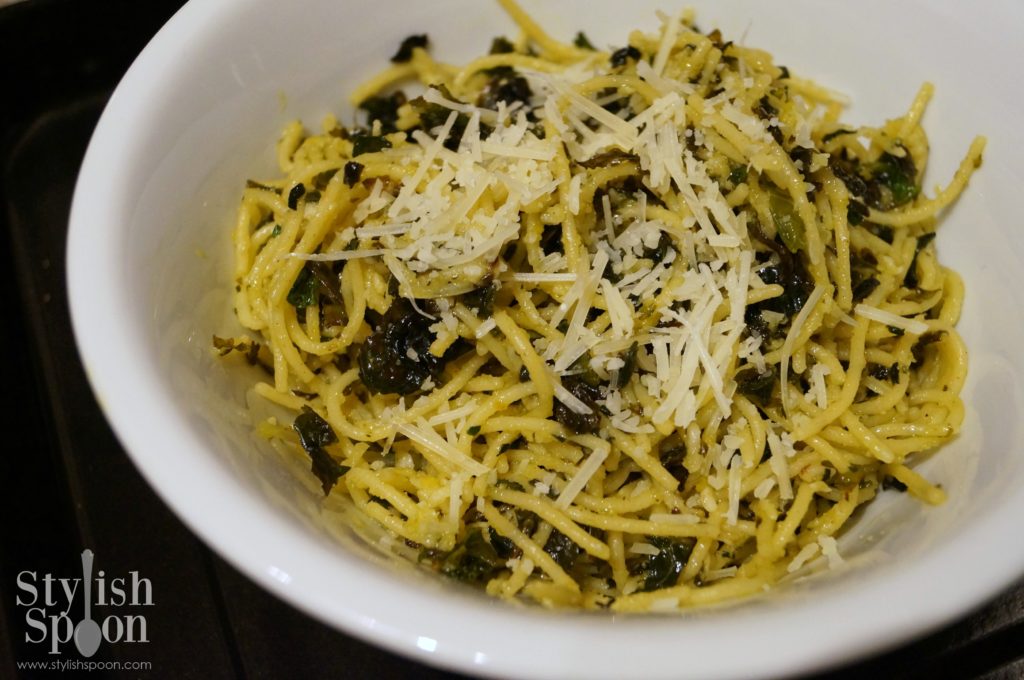 You know when you get home from vacation and you realize that you have some sorry looking veggies in your fridge? I usually clean out my fridge before I go away, but sometimes I am hopeful about the longevity of my veggies and let them linger for a week to see how they fare. Kale does surprisingly well; spinach and lettuce not so much. So when I came back to a fridge with the only edible produce being a limp bunch of kale and a few lemons, I looked around for a recipe for sorry looking kale. You won't believe how many recipes there are for sorry looking kale. Seriously. With a creative titles like How to Defibrillate Dying Kale. I just had to take a look at that post, which included a recipe by Jess Thomas for Simple Spaghetti with Kale, Lemon and Garlic, and it turns out it's a great recipe. Spaghetti, toasted kale, good olive oil, garlic, parmesan and lemon juice. I had all of those ingredients so I was on my way to making my sorry kale into something spectacular.
I used the recipe as a guideline, but ended up playing with it a bit as I went along. I used quinoa spaghetti to make the dish gluten-free (and that's what I happen to keep in the pantry). Since there are only a few ingredients in the recipe, I figured this was a good use for the great bottle of olive oil that I bought after an olive oil tasting class at O Live Brooklyn a few weeks ago. It's the kind of olive oil that you pour into a little bowl and sop up with some toasty bread, or drizzle over crostini right before serving. I was generous with the good olive oil in this recipe and I think it made a huge difference in the taste.  I also used a good deal of lemon zest. While I go through a lot of fresh lemon juice, I am always looking for a use for lemon zest so I don't end up pitching all that flavorful zest, and this seemed like a recipe that would benefit from some zest. I must say that the resulting lemony kale spaghetti was surprisingly delicious. My husband was expecting takeout after some nights away and no groceries, but this turned out to be even better. It was a bowl full of lots of flavor: a little buttery from the olive oil, a little bitter from the kale, slightly sweet and salty from the Parmesan, and definitely zesty from the lemon.
I am partly sharing the recipe for lemony kale quinoa spaghetti so I don't forget about it. I want to eat it over and over again. It's definitely not a low carb dinner, but it's real comfort food. It's the kind of dish that I want to eat after a cold, crappy day, when I have little energy to cook but want something comforting that doesn't feel too heavy.
Lemony kale quinoa spaghetti will also be a great dish to serve mid-week when I have one of my girlfriends over after work. It can be made in 25 minutes flat, including prep time, and I don't need to make a special trip to the store. I'll just wait until I let my kale get all wilted and sorry looking and know that it's time to make this dish again.
Note that if you have some sorry, limp kale and are looking to bring it back to it's formerly hydrated glory there are lots of articles about how to bring wilted kale back to life.  Or you can give in and just make this awesome lemony kale spaghetti and forget the water bath.
Have a favorite dish that you make with limp kale?  Share in the comments!
Lemony Kale Quinoa Spaghetti
Make this flavorful and comforting pasta when your fridge is nearly bare. It's quick enough for a weeknight meal, and delicious enough to serve to friends.
Ingredients
8 oz. gluten-free quinoa spaghetti, such as Ancient Harvest
1 bunch kale (limp is fine), stemmed and finely chopped
6 Tbs. good quality olive oil, divided
1/8 tsp. crushed red pepper flakes, or more to taste
1 medium clove garlic
2 lemons
1/3 cup grated Parmesan cheese, divided
Salt, to taste
Cook pasta according to package directions (I like to add salt to the water after it comes to a boil to add extra flavor to the pasta). While pasta is cooking, heat 2 tablespoons olive oil in a nonstick skillet over medium-high heat. Add kale and cook until just slightly crisp. Add crushed red pepper flakes and garlic and cook for 30 seconds, until garlic begins to soften. Turn off heat and add remaining olive oil, along with zest of 2 lemons and juice of 1 lemon.
Add cooked and drained pasta to kale and toss to coat. Sprinkle with Parmesan, reserving a few tablespoons, and toss again. Season with salt to taste. Serve and garnish with remaining Parmesan.
Notes
Inspired by Jess Thomas's recipe for Simple Spaghetti with Kale, Lemon and Garlic.
http://stylishspoon.com/2015/02/28/recipe-lemony-kale-quinoa-spaghetti/
Copyright Stylish Spoon - www.stylishspoon.com - All rights reserved