The little miss and I love baking together on Saturday mornings, but we were on hiatus because I was on bed rest while awaiting the arrival of the next little lady. It was a long three months, but I managed to keep the little lady in and she is finally here safe and sound. We are all so thankful!
It isn't Saturday, but I am finally starting to feel a bit better so the little miss and I decided on a special treat to make for her preschool end of year class party tomorrow. I showed her a picture of these cute sushi rice krispies treats and she was immediately intrigued. I'm sure it had nothing to do with the Swedish fish topping (gummies rank pretty high in our house).
Making these sushi rice krispies treats looks like a lot of work, but I promise you they are so quick and easy. I am all about quick and easy right now given that I had a baby about 10.5 minutes ago, and have been out of the kitchen (and horizontal) for several months.
You can find all of the ingredients for these sushi rice krispies treats in about 2 minutes at most grocery stores. I found all the necessary ingredients,  except for the green fruit rollups, at the crappy Gristedes around the corner from my apartment. I stopped at another small grocery store a few blocks away and found Teenage Mutant Ninja Turtles Fruit by the Foot that was green and went with that. I had a hungry baby in tow so I wasn't about to go on a mad hunt of the upper west side looking for solid green fruit rollups. I actually liked using fruit by the foot rather than fruit rollups for the seaweed wrap – they were already in thin strips and I just used a pizza cutter to cut down the center to make them even thinner. The green writing on them (Ninja Turtle themed) was thankfully obscured once cut and actually gave the "seaweed" a nice color variation.
These sushi rice krispies treats are nut-free and can easily be made gluten-free, so make them for a class party, school bake sale or kids birthday party. They really are adorable and quite impressive for how little time they take to make.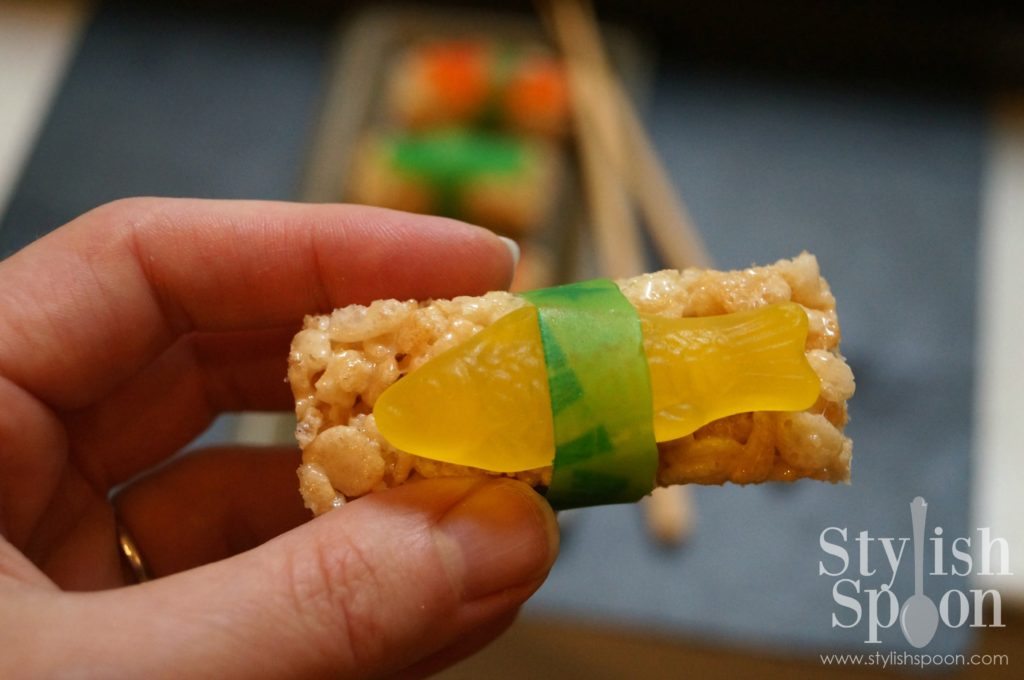 "Sushi" Rice Krispies Treats
Ingredients
5 tablespoons salted butter
1 package (10 oz., about 40) JET-PUFFED Marshmallows
5 or 6 cups Kellogg's Rice Krispies cereal
24 Swedish fish (about 2 movie theater size boxes)
2 rolls green Fruit by the Foot (I used Teenage Mutant Ninja Turtles Fruit by the Foot)
In large saucepan melt butter over low heat (do not brown). Add marshmallows and stir until completely melted. Remove from heat. Add rice krispies cereal 2 cups at a time, stirring between additions until cereal is well coated.
Using wax paper coated with nonstick spray or butter, evenly press mixture into 15 x 10 x 1-inch pan coated with cooking spray. Cool completely.
Invert pan onto waxed paper to remove cooled rice krispies treats. Trim any rounded edges off if pan did not have straight corners.
Place swedish fish in single row on edge of rice krispies treats. Cut rice krispies into rows just big enough to hold fish, about 1" wide. Cut rows into rectangular pieces around fish.
Unroll Fruit by the Foot rolls and, using pizza cutter or sharp knife, cut lengthwise into two thin strips. Take one strip and wrap around fish on rice krispies treats, sticking ends under bottom of treat. Repeat with remaining rice krispies treats. Store in airtight container at room temperature for up to 2 days.
Notes
The original Rice Krispies Treats recipe calls for 3 Tbs. butter and 6 cups of cereal. I generally use 5 Tbs. butter and about 5 cups of cereal to make the treats extra chewy. For the best taste, I use salted butter (not unsalted or margarine). * Make these treats gluten-free by using gluten-free rice krispies or another gluten-free rice cereal. Treats are naturally nut-free using original original ingredients, but check all ingredient packaging to be sure.
http://stylishspoon.com/2015/06/03/kids-parties-sushi-rice-krispies-treats/
Copyright Stylish Spoon - www.stylishspoon.com - All rights reserved