We hosted a sprinkle ice cream party for the little miss's bestie who moved to San Fran last week. Inspired by the decadent sprinkle coated waffle sugar cones at Emack and Bolios ice cream shop (which come in many other flavors, like rice krispie treat, neutella, fruit loops, coco puff and oreo – see picture below and try not to drool), I thought making sprinkle covered ice cream cones would be a fun and easy DIY project for the little miss and I to do together for the party.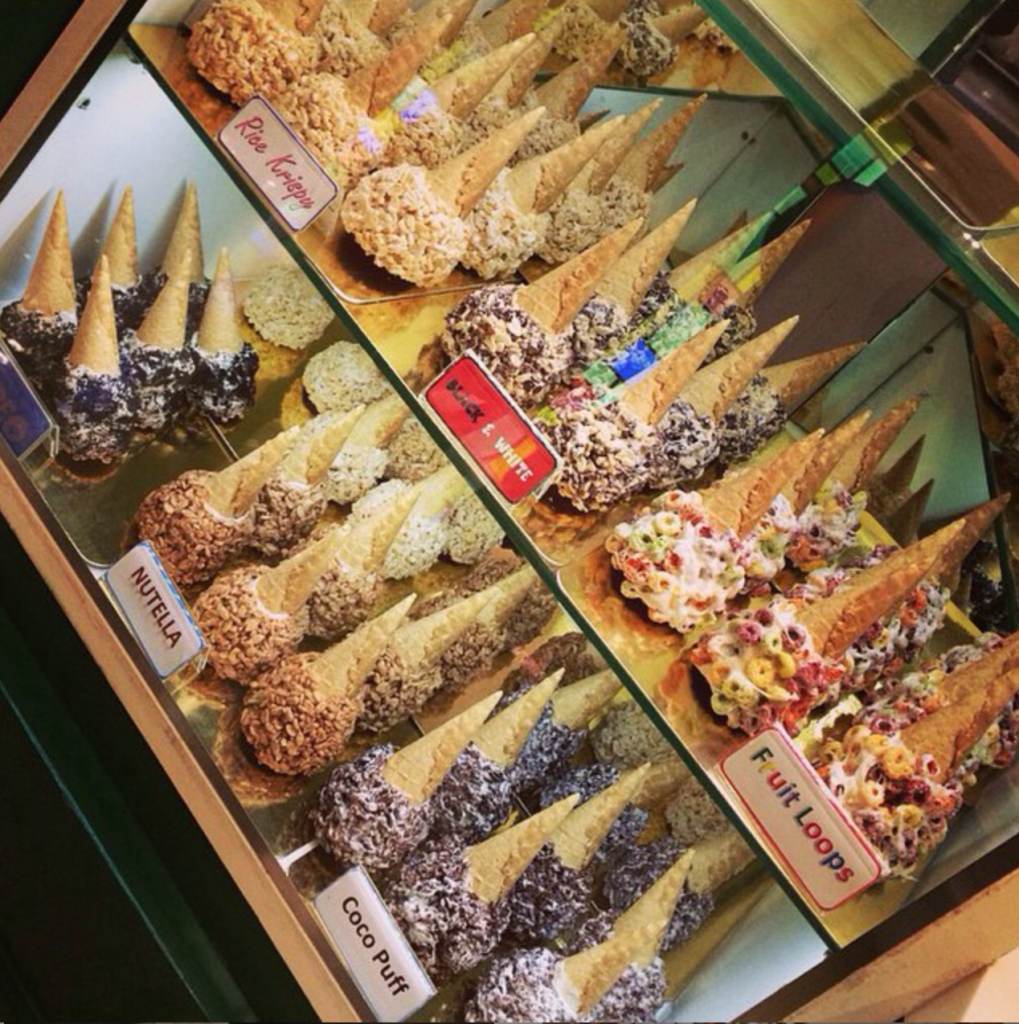 I melted the chocolate in the microwave and filled a rimmed plate with sprinkles. The little miss dipped the sugar cones in the melted chocolate and then into the sprinkles. I assisted with the turning and tapping of the outer rims of the cones to keep them nice and neat. We placed the sprinkle coated ice cream cones on a rimmed baking sheet lined with parchment paper to harden and they were done in no time.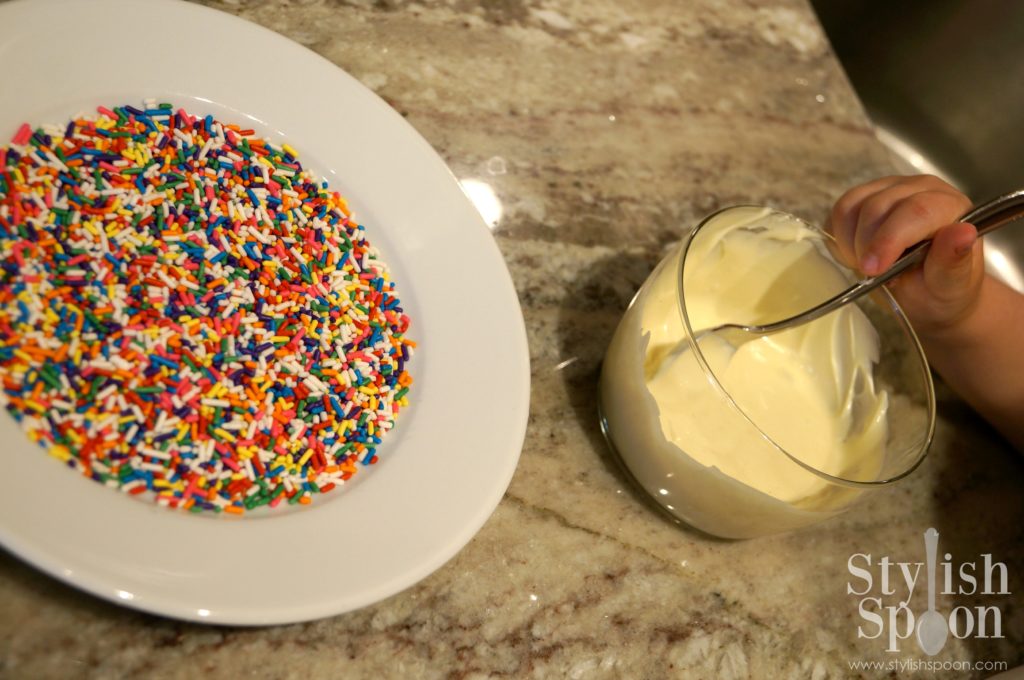 We made two different sprinkle ice cream cone flavors – white chocolate and dark chocolate.  One thing I wish I had remembered to do was to put a little melted chocolate on the inside of each ice cream cone to seal it up and prevent ice cream from dripping out the bottom of the cone. But then again, licking dripping ice cream off the bottom of the cone is half the fun, so it isn't a necessary step.
We used the rest of the melted chocolate to cover pretzel rods with chocolate and sprinkles to give as party favors.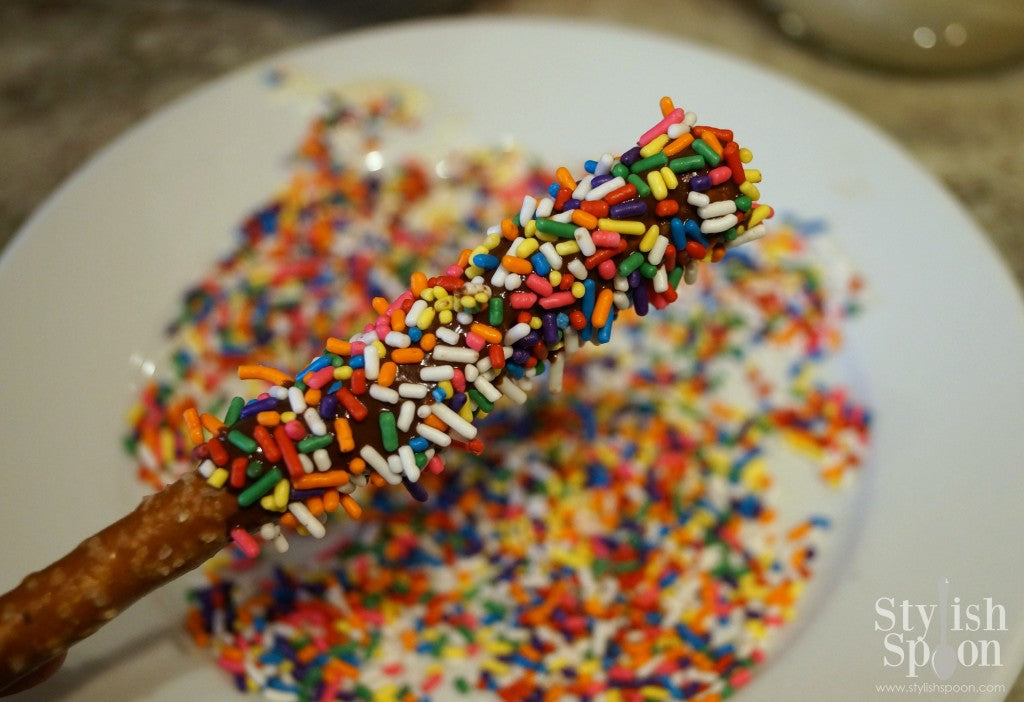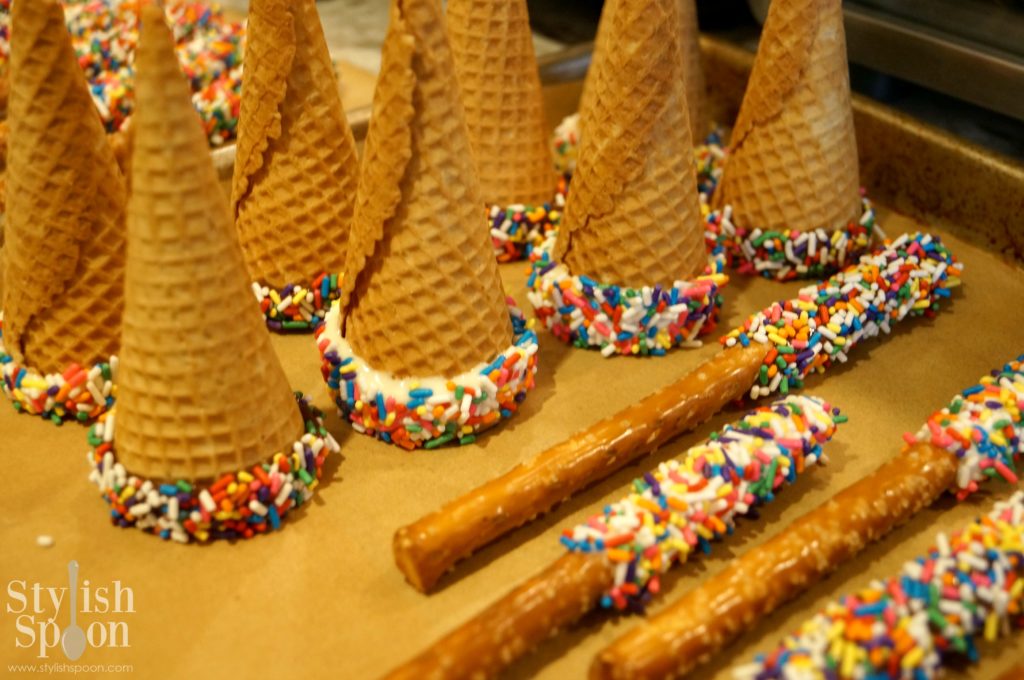 There are so many other toppings that you could use for making coated ice cream cones. Use different color sprinkles or try a different topping, like mini m&ms, crushed Oreos, cocoa nibs, crushed peppermints or a sprinkling of vanilla bean sea salt as a coating for chocolate dipped ice cream cones.
Make sprinkle covered ice cream cones (or any other flavor dipped cones) for a summer party to take your ice cream to the next level. Use red white and blue sprinkles for the 4th of July or another color combo to match your party colors. Sprinkle covered ice cream cones can be made in advance in about 20 minutes, and will put a huge smile on everyone's face.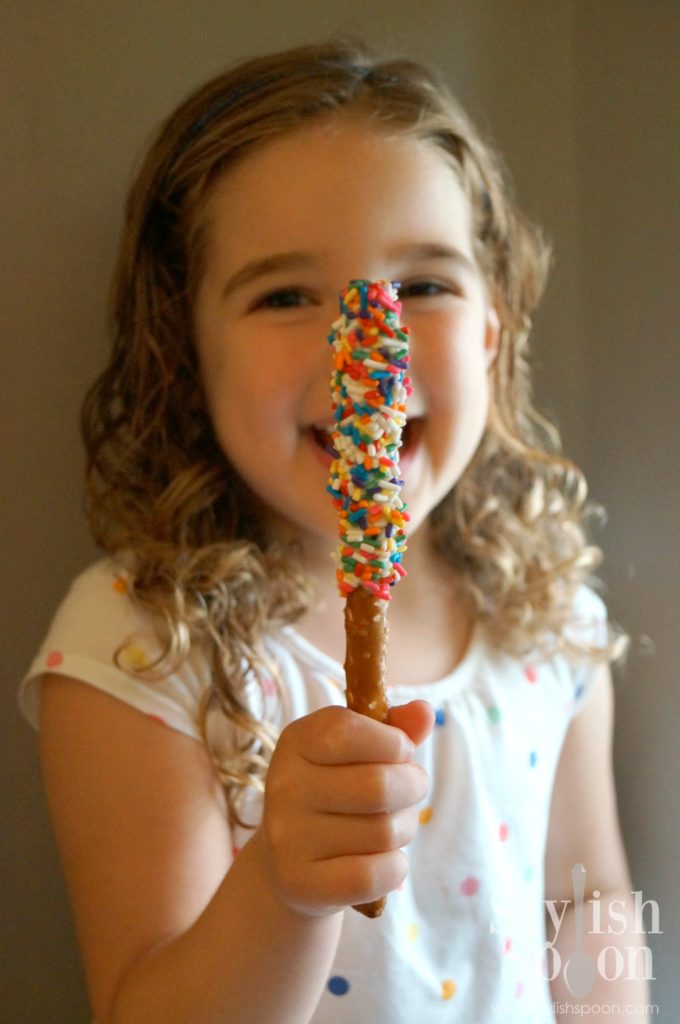 DIY Sprinkle Ice Cream Cones
Ingredients
12 oz. dark chocolate chips
12 oz. white chocolate chips
2 oz. sprinkles
12 sugar cones, such as Keebler
Line sheet pan with parchment or waxed paper and set aside. Place sprinkles on rimmed dish or in bowl big enough to dip sugar cones.
Place chocolate in microwave-safe bowl. Heat in microwave at 30 second intervals until half of chocolate is melted, stirring between intervals. Once half is melted, stir until chocolate is smooth and shiny.
Hold cones by pointed end and dip rim into chocolate, twisting cones as you lift them out to let extra chocolate drip back into bowl. Immediately place chocolate dipped rim into sprinkles, lifting dipped cones and gently tapping them in the sprinkles until fully covered.
Allow to harden at room temperature (about 30 minutes), or put them in the refrigerator for 15 minutes to harden.
http://stylishspoon.com/2015/06/24/diy-sprinkle-covered-ice-cream-cones/
Copyright Stylish Spoon - www.stylishspoon.com - All rights reserved