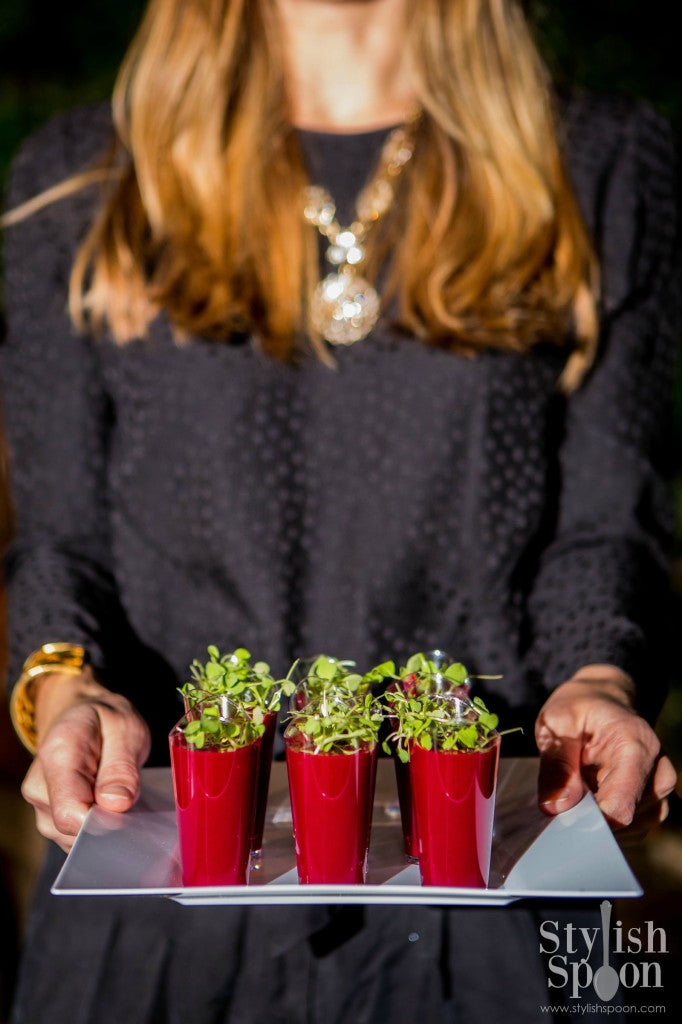 I know, I know. You all think I am obsessed with beets. Half my friends tell me that they think of me every time they see/eat/read about beets after I wrote the 1 food, 5 ways: Beets article for Vegetarian Times. (Thanks to those of you who were my taste testers for the recipes – it took me several tries to get the Red Velvet Beet Brownies just right so my friends had to suffer through some of the earlier batches).  The Firecracker Beet Slaw that I created for the article is one of my favorite summer recipes, especially for picnics, so many of my friends have had it and several have the beet slaw in their regular rotation (my friends Josh and Emmalee said their kids even like the firecracker beet slaw!). But believe it or not, I hardly ever go out and buy beets. Party because my husband is not a huge fan of beets (he thinks they taste a little too "earthy").  But I do get bunches of beets in our crop-share, and I like to use whatever we get in our share. It's half the fun of the crop-share; I challenge myself to come up with new recipes. So I end up cooking beets pretty often during crop-share season (June through November in our neck of the woods).
This beet recipe is fairly new in my repertoire, but it's one that I will make over and over. My friend Jessica first turned me on to beet watermelon soup. Jessica and I do a lunch swap. Whenever we're making something we know the other would like, we double the recipe and bring it for each other for lunch. It's so nice to have a healthy lunch even during weeks when we're too busy to cook, and it gives us the chance to try something new. Jessica brought me chilled beet watermelon soup last summer for lunch, and I loved the sweetness that the watermelon gives the beets. I also love how beautiful the beets make the soup. So when I was going over the menu for my ladies night garden party that I was hosting for my book club and looking for a chilled soup to serve at the party, Jessica suggested beet watermelon soup. The chilled soup shooters were a big hit. They had a striking presentation, especially since I served them in clear plastic shot glasses topped with arugula micro greens. (Note: the micro greens are pretty and add a nice contrasting color and texture for presentation, but the soup is so silky and smooth that I recommend serving the soup with just a little chopped micro greens or mint rather than a whole pinch of greens as a garnish as pictured). The beet watermelon soup shooters were like an amuse-bouche – served at the beginning of the party to wet everyone's appetite and get them ready for the garden-inspired menu.
I love how healthy this soup is. It is naturally dairy-free, gluten-free and vegan. I will warn that you should have some affinity for beets if you're going to make beet watermelon soup. My husband will eat it, and was surprised by how much he liked it given his disdain for beets, but I still recommend serving it to those who don't mind the earthy taste of beets. Beet watermelon soup is not a secret ingredient recipe; you definitely know beets are in the mix when you taste the soup. But the watermelon does give it a wonderfully sweet flavor that is particularly refreshing in the heat.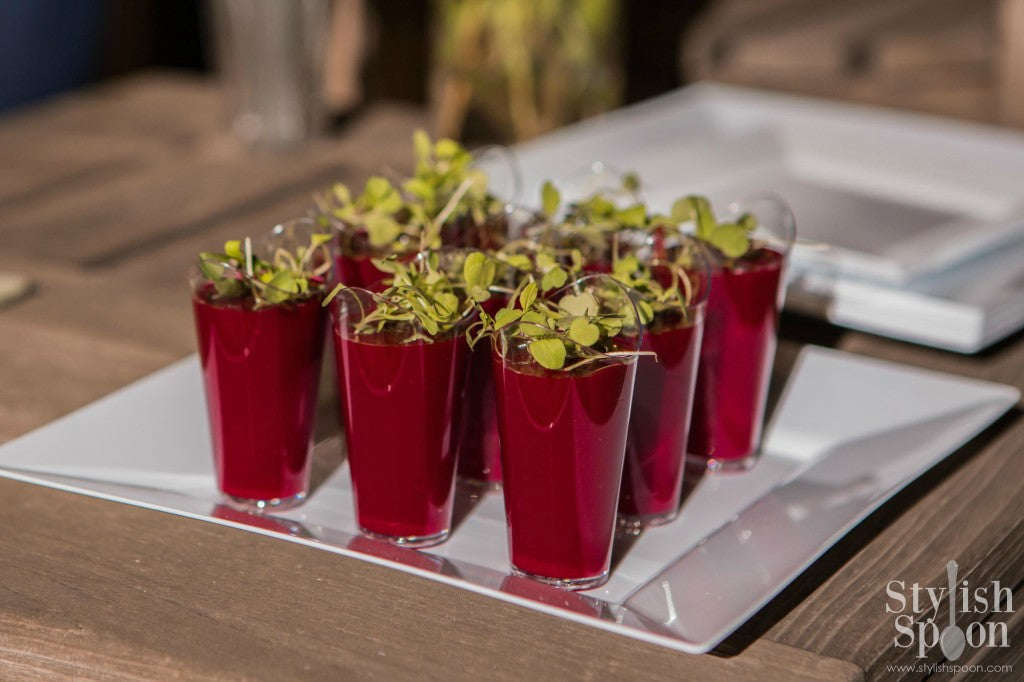 Beet Watermelon Chilled Soup
Watermelon sweetens up earthy beets and make a beautiful and refreshing chilled summer soup
Ingredients
1 Tbs. olive oil
1 medium onion, peeled and diced
1.5 to 2 lbs. beets, peeled and roughly dice
6 C. diced seedless watermelon 
water, to cover beets
kosher salt and fresh-ground black pepper, to taste
Arugula micro greens or chopped fresh mint leaves as garnish (optional)
Add the diced beets to a large stockpot, adding just enough water to cover the beets. Reduce heat to low and simmer for about 30 minutes, or until beets are tender (use a fork to test the beets and make sure it slides easily through the a piece before removing from heat). Stir often to avoid burning and sticking. 
Drain beets, set them aside and wipe stockpot clean. Sweat onions in olive oil in the same pot stockpot over medium-low heat, stirring often, until onions are soft and translucent. Add beets and cook with onions for 2 minutes to combine.
Using an immersion blender or high speed blender (such as a Vitamix), puree beet mixture with watermelon. Add salt and pepper to taste. Refrigerate soup at least 4 hours or overnight. Serve chilled and garnish with arugula micro greens or chopped mint leaves.
http://stylishspoon.com/2015/08/18/recipe-beet-watermelon-chilled-soup/
Copyright Stylish Spoon - www.stylishspoon.com - All rights reserved
Pics snapped by Photos by Serg