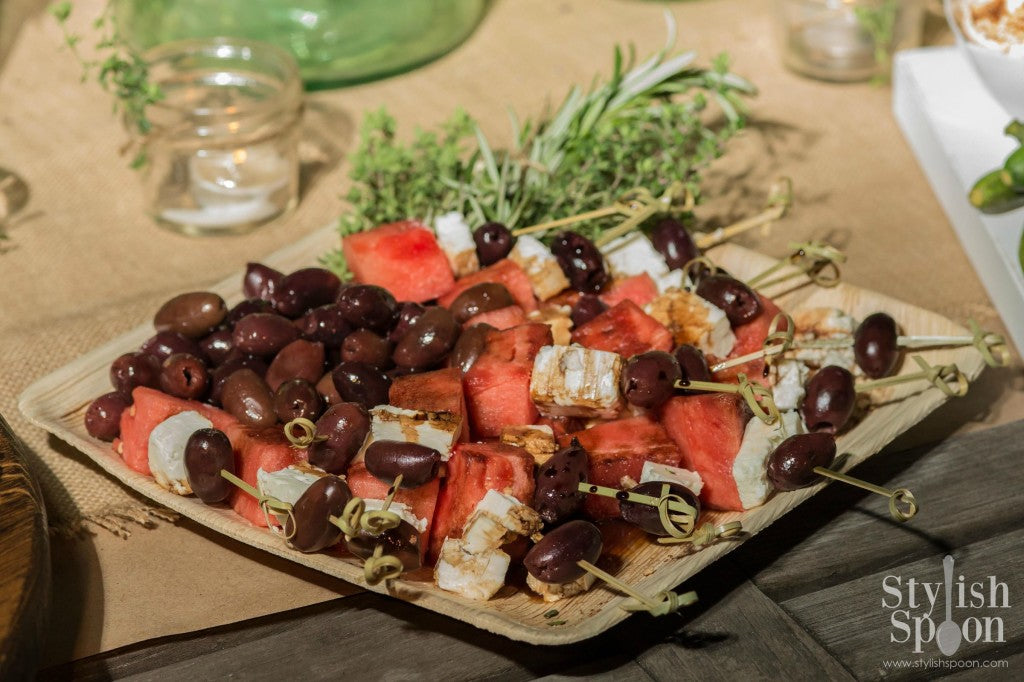 Several years ago I ordered a salad with watermelon, feta and black olives from a restaurant in my hood that has since closed. The salad was so pretty, with the watermelon and feta cut into equal sized cubes and served in a checkerboard pattern. It was topped with a sprinkling of chopped black olives and fresh mint. I really enjoyed the sweet and salty combo and the use of watermelon as the star of an otherwise savory salad. I hardly have the patience to make a checkerboard salad for each of my guests (that was something I may have done pre-kids, along with hand-tying chives to make sopressata & grape tomato blossoms). But I have since used that watermelon and feta salad as my inspiration of many summer recipes, including these easy to make watermelon, feta and kalamata olive skewers. They're like the salad on a stick. And People love eating things on a stick. Seriously. There's something really fun about skewers and my people go nuts over them. I think it's partly that people wouldn't normally take the time to skewer a perfectly composed bite of food themselves. When I'm thinking about a menu for a cocktail party, I often include at least one thing to serve on a stick.
I served these watermelon, feta and black olive skewers for my ladies' night garden party that I hosted and there wasn't a skewer left by the end of the eve. You can make the skewers a few hours in advance, but wait until right before you serve them to add the drizzle of balsamic vinegar. I added the balsamic a bit too early and it bled into the feta. It still tasted great, but it didn't quite look as fresh as I had hoped it would.
Recipe :: Watermelon, Feta & Kalamata Olive Skewers
If you like sweet and salty combos, try these watermelon and feta skewers for your next warm-weather party. Double the recipe for larger crowds.
Ingredients
2 C. watermelon, cut into 1" cubes
4 oz. Greek feta cheese, cut into 1" cubes
8 oz. Kalamata olives
Balsamic vinegar
bamboo skewers
Slide one olive onto each skewer, followed by a cube of feta and a cube of watermelon. Repeat with remaining ingredients, saving extra olives as a garnish for the serving platter. Store in the fridge for up to 2 hours. Drizzle with refrigerator for up 1 hour, if desired. Drizzle with balsamic vinegar just before serving.
http://stylishspoon.com/2015/08/29/recipe-watermelon-feta-kalamata-olive-skewers/
Copyright Stylish Spoon - www.stylishspoon.com - All rights reserved