The best restaurants know that a meal is partly about the dining experience. I am all about using a great restaurant experience as the inspiration for entertaining at home. This party pro tip for keeping everyone warm on a chilly night is just that – a great idea I jacked from one of my favorite restaurants.
There's a dock-side restaurant in Gloucester, MA called The Market that we've eaten at every summer since it opened in 2010. The food is amazing (seasonal farm-to-table fare), but we often have less than ideal weather for eating at the open-air restaurant. It's usually a million and one degrees and my husband, who tends to run 10 degrees hotter than me anyway, ends up broiling during the meal. Last year we had the opposite weather. It was way too chilly to be eating on the water, but we kept our coveted reservation at the Market anyway. Thankfully, when we got to the restaurant, there were cozy wool blankets draped over each chair. The little miss and I wrapped ourselves in the blankets and were able to enjoy our dinner despite the chill. (Note that the husband did not need the blanket!) The blankets were a small gesture, but they really enhanced our experience by making us more comfortable.
I loved this idea of having cozy blankets for people to wrap themselves in to keep warm. So when it came time to host my ladies night garden party on a chilly night, I grabbed a bunch of throw blankets from my apartment, which all happen to be in earth tones so they looked especially well coordinated when I folded and stacked them on a side table, and put it right where everyone was coming in so they would see the blankets there for the taking.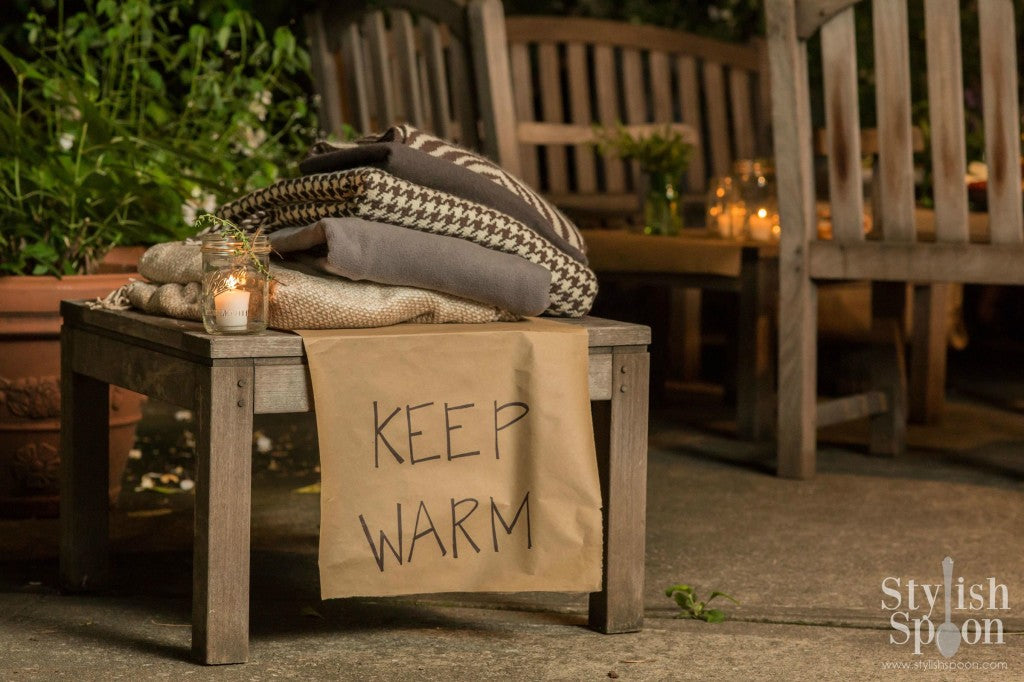 You don't need the actual "keep warm" sign – it's pretty self-explanatory – but I thought it was cute to include on a piece of kraft paper leftover from covering the table where the food was set out. Bringing out blankets for outdoor entertaining on a chilly night seems obvious, yet I can recall many a party that I and others have hosted where we ended up in fleeces or sweatshirts. Sweatshirts will do the job, but being wrapped in cozy blankets is a lot more stylish!
Bottom photo from my garden party snapped by Photos by Serg