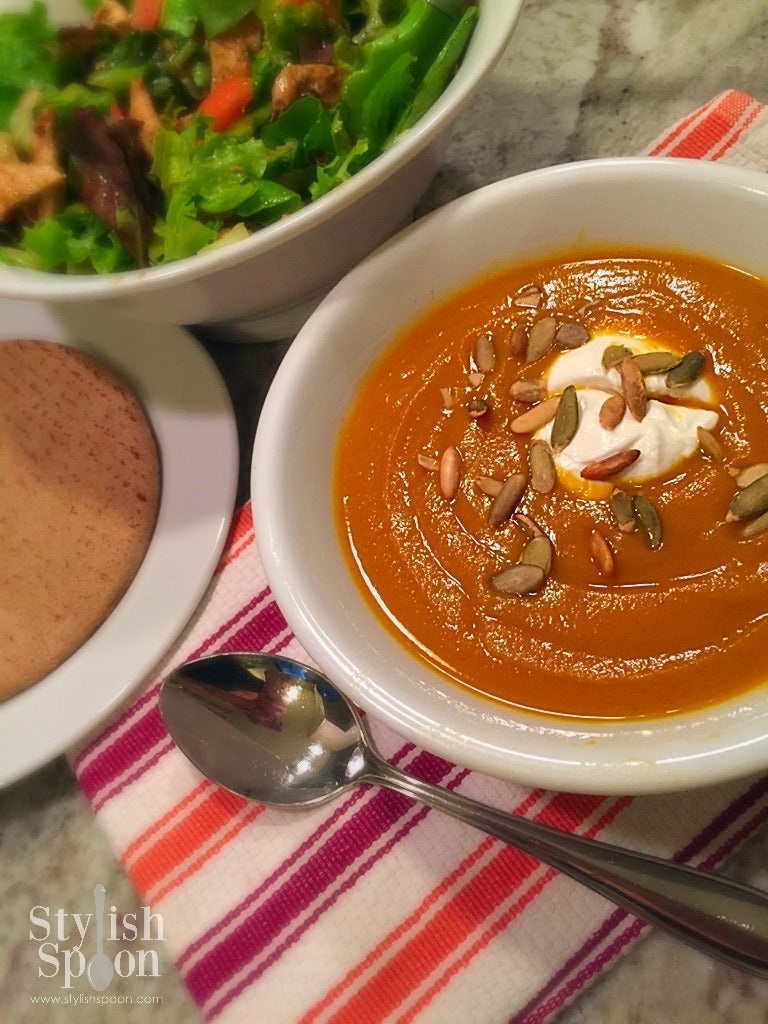 I posted this recipe several years ago and this butternut squash soup is still in my regular rotation (a lot of my friends make it too!). I thought I would repost for those who haven't come across it in the archives. There are a lot of recipes for butternut squash soup floating around the interweb, but this one is by far my favorite. Most of the flavor comes from roasting the butternut squash in the oven before adding it to the soup. The high temp makes the natural sugars in the squash become even more concentrated. I often roast the squash one day while I'm home doing things around the house, scrape the roasted squash into a container and put it in the fridge or freezer until I'm ready to make the soup. Breaking it up into two steps makes it feel even easier to make.
For years I have been using an immersion blender to puree the soup, which has the advantage of keeping this a one pot meal. I have since gotten a Vitamix (thanks to my seriously thoughtful/generous husband who randomly surprised me with it in January a few years ago to cure my case of post-holiday blues). While pureeing the soup in the Vitamix gives me another piece of equipment to wash, it is so worth it. The puree becomes silky smooth and even more luscious. It's still great with a regular or immersion blender, but if you have a Vitamix definitely use it for this recipe.
The soup feels creamy like a bisque, but doesn't have any dairy in the soup itself (I often garnish the soup with a dollop of Greek yogurt – I like the contrasting temperature and how the sweetness of the squash is tempered by the tartness of the yogurt – but it isn't necessary). I've been dairy-free for the past 5 months – I'm breastfeeding my younger one and her digestive system is much happier when I don't have any dairy. It's only temporary, but being dairy-free has taken some of my favorite recipes out of the rotation (I'm talkin' about you, crustless spinach quiche!). Not this soup though; butternut squash is perfect for my current diet. While I don't necessarily make butternut squash soup because it's healthy, I love that it's packed with nutrients and has very little fat. I often make it vegan by using vegetable stock. It's a great recipe for Meatless Mondays too.
As I said in the original butternut squash soup post, this soup can be dressed up or down. I've served it as a course at fancy dinner parties (which are few and far between at my house these days), but I mostly make it for our family on the weekends. I like to serve it with grilled cheese and sliced Asian pears for lunch. Other times, like this past weekend, I'll make it for dinner with salad and warm whole wheat pita. The little miss didn't seem thrilled with the ideas of the soup this past weekend (even though she loved it last winter – kids are so fickle!), so I offered up some honey and cinnamon for her to drizzle/sprinkle into the soup. That did the trick. She polished off her whole bowl.
A warm and cozy fall soup, that happens to be vegan and gluten-free.
Ingredients
3 lbs. Butternut squash (about 1 large)
1 med. onion, chopped
8 cloves garlic (5 if they are large), minced
3.5 cups vegetable or chicken broth
1 tsp. salt
¼ tsp. fresh-ground black pepper
Optional: add Nutmeg (1/2 tsp.), cinnamon (1 tsp.) and cloves (1/4 tsp.)
Plain Greek yogurt or low fat sour cream for garnish (optional)
Chives, fresh thyme, minced (optional)
Toasted pepitas or pine nuts (optional)
Preheat oven to 400˚F. Cut squash in half lengthwise; remove seeds and roast in oven, cut side down, on pan covered with tinfoil and nonstick spray for 40-50 minutes (until completely soft when pierced with a knife).
Meanwhile, in a large pot sauté onion and garlic in 1/2 cup broth (if you are using nutmeg, cinnamon and cloves add it now). Scrape squash flesh from skin/peel and add to onion mixture (discard the peel). Add broth and bring to boil; then reduce heat and simmer, with the lid on, for 20 minutes.
Puree soup in blender (1/3 at a time), keeping lid of blender cracked to vent the steam out. Serve in bowl with dollop of Greek yogurt swirled in and top with any of the optional garnishes sprinkled on top.
http://stylishspoon.com/2015/10/20/recipe-vegan-butternut-squash-soup/
Copyright Stylish Spoon - www.stylishspoon.com - All rights reserved