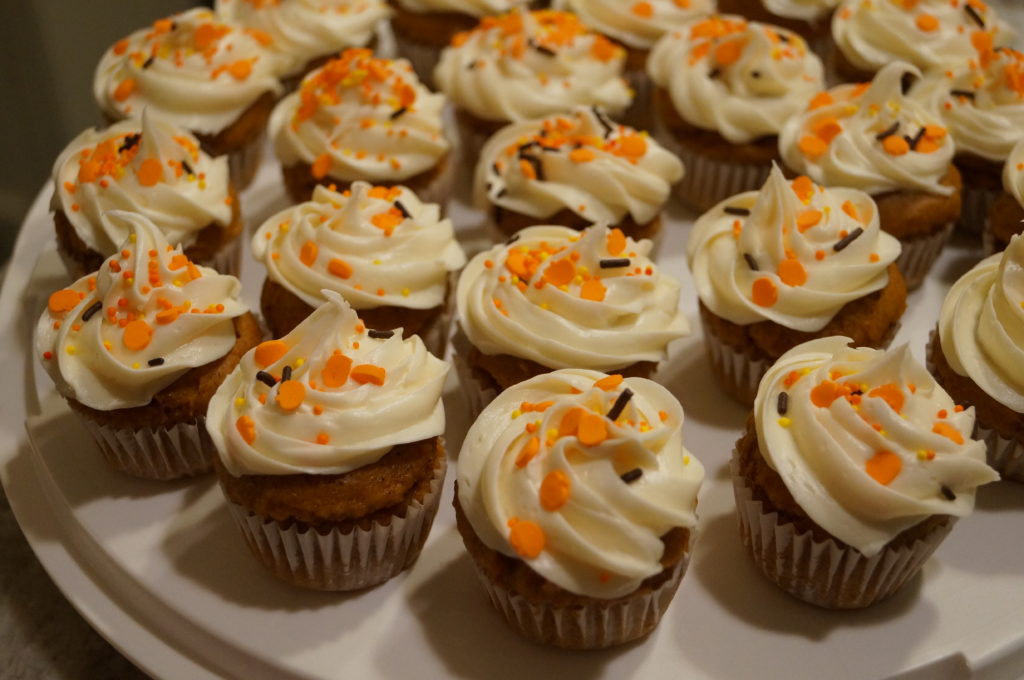 This is a serious cheat recipe. Canned pumpkin and a few spices make a boxed cake mix into a party-worthy fall treat. I make these every fall to rave reviews (especially from my husband, who literally eats each mini muffin in one bite). The original recipe is from my friend Sharon and it's a Weight Watchers recipe (the oil and egg are replaced with canned pumpkin so less fat and more fiber). The pumpkin cupcakes practically melt in your mouth. They are really delicious and so easy. If you have anywhere you are going and want to bring a fall flavored treat make them.  Trust me, you will not regret it and it will only take about 30 minutes to make.
This time around I topped the mini pumpkin muffins with cream cheese frosting and made them into a cupcake for the little miss's Halloween class party. I usually make my own frosting. But today I was too tired after several night-time feeding sessions with the little little miss. Even though I already had a package of cream cheese on the counter coming to room temp, I picked up a container of cream cheese frosting while the cupcakes were cooling and used it instead. (Note: I hate to waste food so I also picked up some whole wheat bagels for my husband and the little miss to have in the AM with cream cheese). Anyway, make your own cream cheese frosting with the recipe below (in the notes for the recipe) that I usually use, or use store-bought. Some days you have it in you to make your own frosting, other days you don't. And some days picking up festive cupcakes from the store is just fine too. There's no wrong way to celebrate a holiday.
Easiest Ever Pumpkin Cupcakes with Cream Cheese Frosting
Canned pumpkin and a few spices make a boxed cake mix into a part-worthy fall treat.
Ingredients
18.25 oz. unprepared yellow cake mix (such as Duncan Hines)
12 oz. canned pumpkin
1 tsp. cinnamon
1/2 tsp. nutmeg
1/4 tsp. cloves
8 oz. cream cheese frosting (homemade or store-bought)
Fall cupcake toppings such as sprinkles, pumpkins or leaves (optional)
Line mini muffin tins with mini cupcake liners.
Combine dry cake mix, pumpkin and spices in a large bowl and beat until fully combined. (Note: Do not add the cake mix add-ins called for on the box - water, oil, eggs, etc.).
Divide batter among muffin tins and bake according to directions on cake mix package.
Notes
To make a cream cheese frosting, combine 8 oz. softened cream cheese, 1 stick softened butter, 2 cups powdered sugar and 1 tsp. vanilla extract.
http://stylishspoon.com/2015/10/31/recipe-easiest-ever-pumpkin-cupcakes-with-cream-cheese-frosting/
Copyright Stylish Spoon - www.stylishspoon.com - All rights reserved