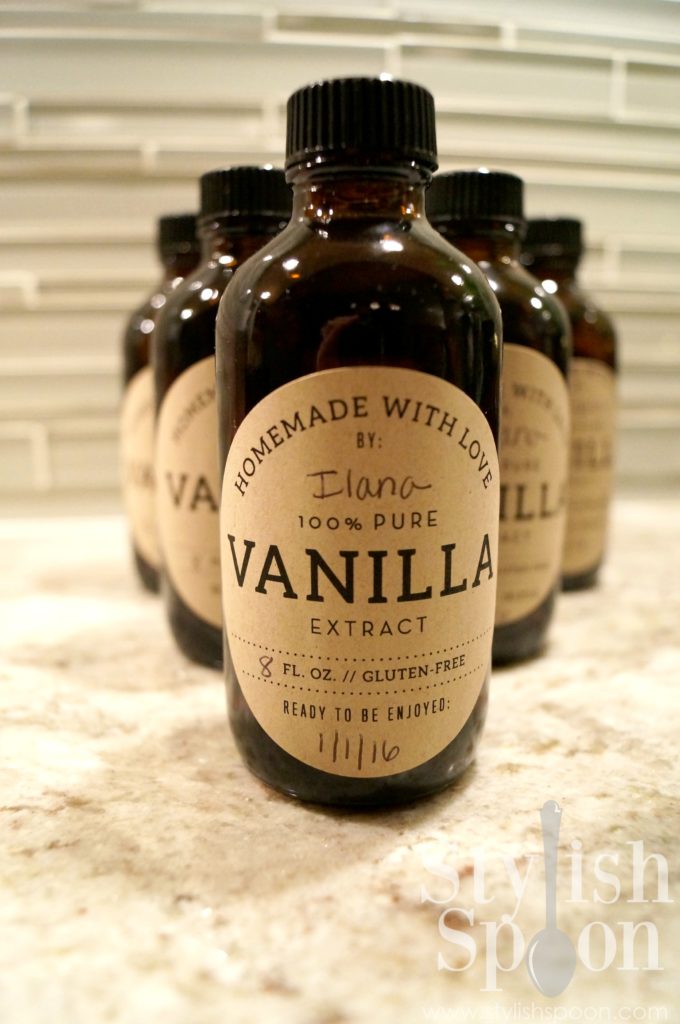 I've been making and selling Vanilla Bean Sea Salt, which leaves me with pounds of empty vanilla bean pods. I scrape the vanilla beans from the center of the pods and after I make each batch I have a huge mound of sad scraped pods on the counter. The beans I use are organic Madagascar vanilla beans and it would be such a waste to toss the empty beans. I hate kitchen waste and I think many of you do too since one of the most popular recipes on this site is my Asparagus End Soup.
My friend Jessica suggested that we make vanilla extract with the empty pods. I do go through massive amounts of vanilla extract: I use pure vanilla bean extract when I bake, in the healthy oatmeal pancakes I make most weekends, I often add vanilla extract into my smoothies in the morning, and I add a few teaspoons of vanilla extract into a mug of warm non-dairy milk (usually almond or coconut) every night, along with a few shakes of cinnamon. Vanilla extract, especially the pure, organic vanilla extract, is not cheap. This seemed like a great way to use up the scraped vanilla beans!
I brought Jessica some of the empty vanilla bean pods and she and I each made several jars full of vanilla extract; Jessica used Bourbon and I used gluten-free vodka. Both vanilla extracts turned out great after steeping for a few months, so I took the rest of the empty vanilla beans and made several jars for my pantry and to give as hostess gifts.
I wanted to make pretty labels for the vanilla bean extracts that I planned to give as gifts. I had lofty aspirations of designing my own printable labels, but when I found an easy printable template on Pinterest from Tasty Yummies in a great tutorial on how to make homemade vanilla extract, I decided to simplify and use those for the project. A quick Amazon Prime order of Avery 2.5″ round kraft labels ($8.39/ pack of 225 labels on Amazon) and I had the labels for the project the next day. The only issue I had with the free printable template was that the text on several of the labels was not centered and some were even slightly cut off. This seems to happen, unfortunately, whenever I print round labels. Maybe people have better luck or are more patient with adjusting their printer settings. I just went ahead and printed several sheets, picked the best looking labels and recycled the ones that were crooked or partial cut off.
You don't actually need a recipe for making homemade vanilla bean extract. Stick several vanilla bean pods in a jar and cover with your alcohol of choice. Let it sit for at least 6 weeks (the more the better), shaking the jar every once in a while so the vanilla beans disperse in the jar, and then use it however you would use store-bought vanilla extract. If you want a general guideline for proportions, I used about 3 vanilla bean pods per 4 oz bottle. I cut the beans in half because they were too long whole to fit into the bottle (so 6 pieces per bottle). I then used a metal funnel to fill the rest of the bottle with vodka. The ratio is about 1/8 lb. vanilla bean pods to 750 ml. bottle of vodka.
Homemade vanilla bean extract would be a great DIY party favor, especially for a bridal shower for someone who loves to bake. The vanilla extract bottles with printable labels look great and are actually something that most people use. I used Amber glass bottles from Amazon ($12.23/12 bottles) and Tito's Handmade Vodka because it's certified gluten-free. You can use several different kids of alcohol (bourbon, rum, vodka), depending on what you like.
This project is best done well in advance since the vanilla beans need to steep in the alcohol for at least 5 weeks. I love that the free printable label template that I used has a space for putting the use after date, so if you don't have time to make them in advance, at least everyone knows when it's safe to use as an extract.
Homemade Vanilla Extract Recipe
Make high quality homemade vanilla bean extract for a fraction of the cost of store-bought.
Ingredients
2 bottles 750 ml vodka (use gluten-free if necessary, such as Tito's)
1/4 lb. vanilla bean pods
12 glass bottles (4 oz. each) with lids
Printable labels (I used Avery 22808 brown kraft labels)
Mini funnel
Wash bottles in dishwasher to sterilize. Cut vanilla bean pods in half and place 6 pieces in each 4 oz. glass bottle. Using funnel, cover with vodka. Screw on caps, wipe outside of bottles with dry paper towel and add labels, if using. Store for 6 weeks, shaking every once in a while, then use as you would store-bought vanilla extract.
Notes
I use leftover vanilla bean pods that the beans have been scraped out of. They still have tons of flavor and lots of little beans left for flavoring the alcohol. You can use the whole beans too, if you'd like.
http://stylishspoon.com/2016/03/14/diy-homemade-vanilla-extract-recipe/
Copyright Stylish Spoon - www.stylishspoon.com - All rights reserved